Today being the last day of the
Miso Soup series
, I'd like to now broaden your "miso horizons" by giving you more options when it comes to what goes into your miso soup.  Really, anything you feel like putting in your soup can be thrown in, but I will give you some ideas to help give you a little creative push.  You can add more miso to make the broth rich and hearty, or decrease the amount to make it light and delicate.  You can add just a couple of ingredients to keep it simple, or add many and have your miso soup be more like a miso stew.  Here are just a few ingredients to get you thinking (seriously, there are SO MANY MORE).  I bet you could come up with at least 2 right now that aren't on this list.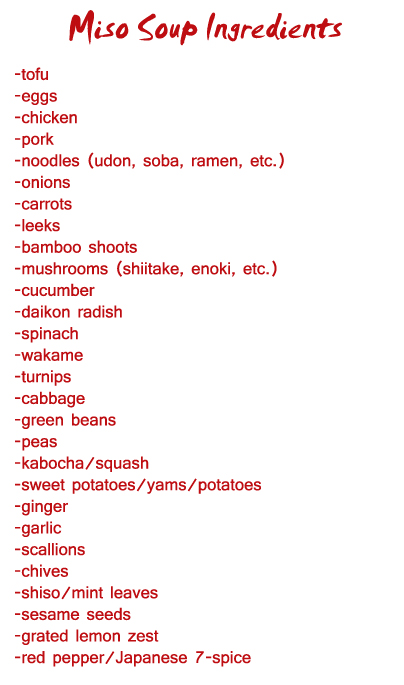 To end this week, I'd like to share with you a simple miso soup recipe that uses white fish fillets (whatever white fish you like best) and is garnished with sliced scallions.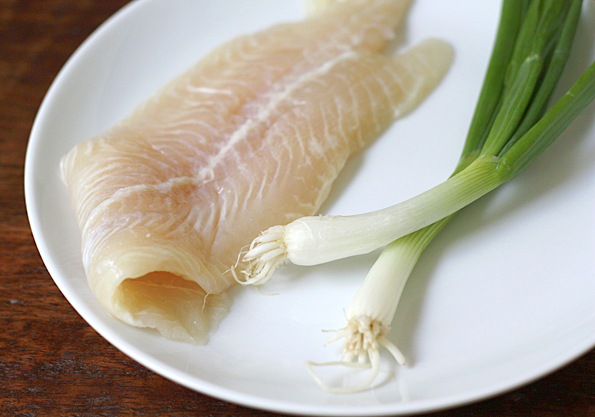 When I made this particular miso soup, I decided to only use a shiro miso ("white" miso) that was more muted in flavor so as not to overpower the delicate flavors of the fish.  The soup is light and flavorful, and if you're ready to branch out from the regular tofu and wakame restaurant combo, this is the perfect first step.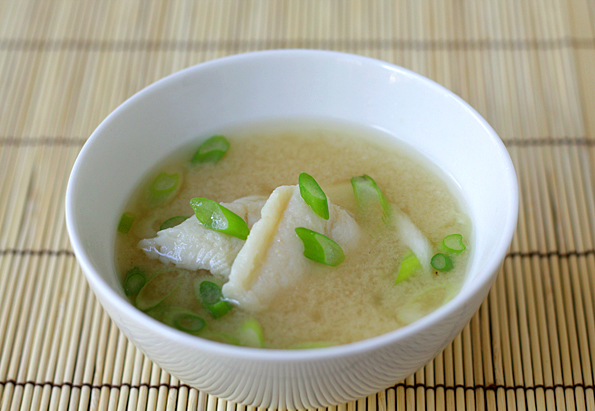 Print This Recipe
White Fish Miso Soup
Makes 4 servings
3 1/2 cups dashi
7 ounce white fish fillet (use your favorite white fish), cut into 4 portions
1 – 2 scallions, thinly sliced
4 tablespoons shiro miso
1. In a pan bring the dashi stock to a boil over medium heat.  Add the fish and cook it for about 3 to 4 minutes (or until it is cooked through).
2. Reduce the heat to low.  Add the miso to the dashi (using one of the methods detailed in the basic miso soup post) to the dashi, stirring the soup to combine everything, and reheat slightly (but do not boil).
3. Divide the soup between 4 bowls and garnish with the sliced scallions.
=========================================================
MISO SOUP CHALLENGE:
If you are willing to take the miso soup plunge by making your own miso soup from scratch, I'll make you a deal: go buy the ingredients, make some type of miso soup, take a picture (or two) of your adventure (the store, your dirty pots and pans, the skeptical look on your husband's/wife's face, etc.), and your finished product and email them to me.  I will feature all of the miso soup adventures that I get during the first week of February.  I can't wait to see if anyone is up to the "challenge" . . . .