kalua pig tacos
(using leftover
kalua pig
) and
zakkoku mai onigiri
(using leftover
zakkoku mai
). 
Tori Zosui
is another fantastic recipe that can use up leftovers.  Tori Zosui is a thick rice porridge with chicken.  Zosui is like a poor man's risotto, and is a perfect way to use up leftover Japanese rice.  Zosui is made by by simmering precooked/leftover rice in an enriched chicken stock until the grains of rice are tender and plump.
Many recipes direct you to simmer chicken pieces in dashi, while other recipes direct you to make more of a traditional chicken stock and add ingredients like kombu while the stock is cooking to give the stock more flavor.  I've cheated in my recipe by using previously prepared chicken stock and simmering a bit of kombu in it to give it added flavor.  A hot bowl of zosui is so comforting, especially when it is cold outside or you are feeling under the weather.  Zosui is also very popular with little ones.  Squirrel often finishes her own bowl of zosui and then wants to eat mine.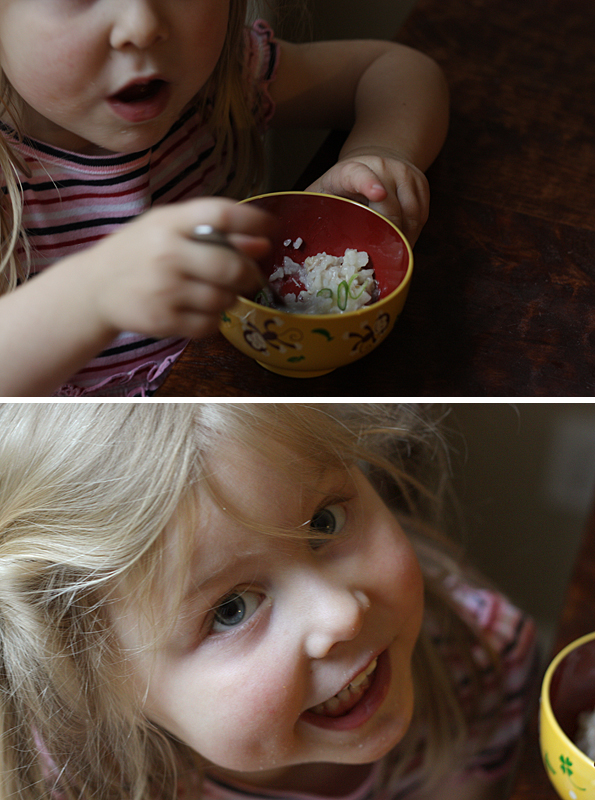 Guilty as charged.
I usually make zosui when I have leftover roast chicken, but you can poach or roast a chicken breast specifically for your zosui.  (It would also be really good with leftover kalua pig . . . .)  Then you just shred the chicken into small strips, add it to your zosui, and heat it for about a minute until your chicken has heated through.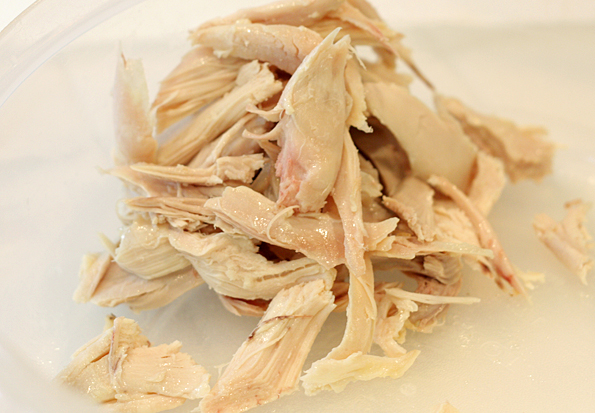 I like to stir in grated ginger at the end and garnish my zosui with sliced scallions for extra flavor.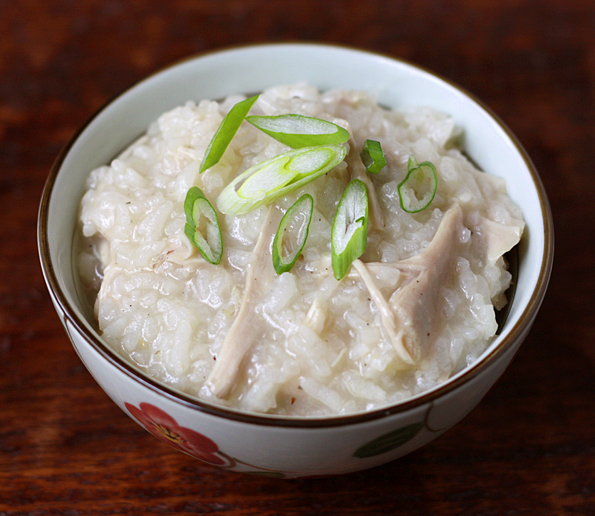 Print This Recipe
Tori Zosui—Japanese Rice & Chicken Porridge
Makes 2 – 3 servings

2 cups chicken stock
12 — 13 square inches dashi kombu
1/8 teaspoon coarsely ground black pepper
1 1/4 — 1 1/2 cups cooked Japanese rice
1/3 — 1/2 pound cooked chicken (skin and bones removed), shredded into thin strips about 1/4-inch wide and 1 1/2-inches long
1/2 teaspoon freshly grated ginger
2 – 3 scallions, thinly sliced
Salt and pepper to taste

1. Put the chicken stock and kombu in a pot.  To draw out maximum flavor, let the kombu soak for 10 to 15 minutes before placing the pot over high heat.  Bring the stock to a boil over high heat.  When the stock begins to boil, remove the kombu and discard it.  Turn down the heat to low heat  and season the stock with the black pepper.  Keep the broth at a simmer.

2. Place the cooked rice in a strainer and rinse under cold water to separate the grains and remove any excess starch.  Drain the rice thoroughly before adding it to the chicken stock.  Add the rice to the stock and simmer it in the stock over low heat for 10 minutes, or until each grain of rice swells to at least twice its original size.

3. Add the chicken strips to the simmering rice soup and cook until it has heated through, about 1 minute.

4. Add the grated ginger to the pot and stir.  Season to taste with salt and pepper.  Serve immediately in deep bowls and sprinkle with the sliced scallions.

I love recipes that use up little leftovers bits of previous meals.  Good examples that I've shared in the recent past are