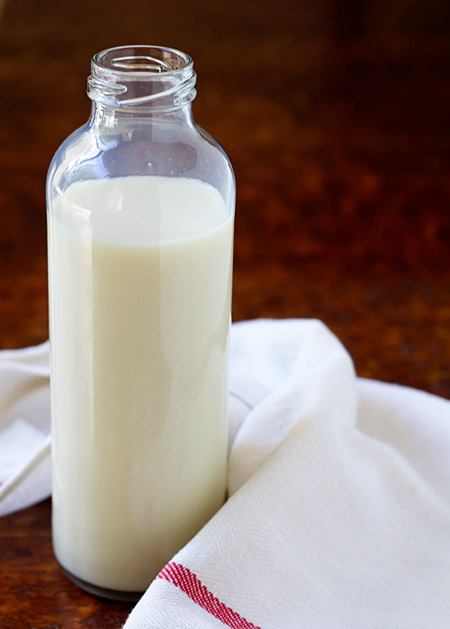 Making soymilk is easy peasy and doesn't require any special equipment.  I'm sharing my soymilk recipe and the simple process with a video tutorial today on Eating Rules as part of October Unprocessed, a challenge to go for one month without eating processed foods, to forgo all of the extra salt, fats, sugars, preservatives, flavorings, and artificial colors that are increasingly being added to the foods being manufactured for our consumption.  The hope is that everyone participating will become more aware of what they are putting into their bodies and hopefully even make some permanent healthy changes.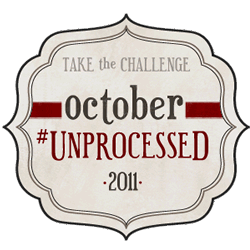 So what about soymilk?  The two ingredients needed to make soymilk are water and soybeans.  That's it.  Pick up a carton of soymilk at the grocery store though, and the ingredients list will most likely look something more like this (and this is a very short and tame list compared to some I've seen!):
Water, Whole Soybeans, Evaporated Cane Juice, Tricalcium Citrate, Sea Salt, Carrageenan, Vanilla Flavor, Natural Flavors, Vitamin A Palmitate, Vitamin D2, Riboflavin (B2), Vitamin B12.
See what I mean?  Before you go and learn more about the soymilk making process, here are a couple of equipment pointers:
Flour sack dish cloths make fantastic pressing cloths.  I bought a pack at my local grocery store, folded one in half and sewed up the two sides to make a bag.  This makes pressing out the soymilk even easier!
Having an electric kettle is a definite plus.  I don't have one, though I'm going to have to change that!  I recently taught a tofu making class at Andrew's house and we used his electric kettle to prep our boiling water for making the soy milk and it was so much more convenient!  I love the look of this VE Hybrid Water Boiler & Warmer from Zojirushi (love the flexibility of using battery power if I want to).
If you try out making your own soymilk, I would love to hear about it!