Kuromame, a traditional Japanese New Year food, are black soybeans that have been slowly simmered in water with a bit of sugar and soy sauce.  The finished beans are soft and sweet.  "Mame" means "bean" in Japanese, and signifies "healthy and hard-working."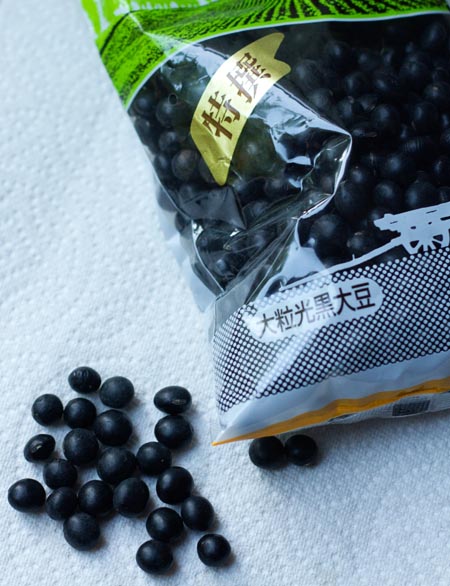 Eating kuromame during the New Year represents being diligent and remaining in good health.  Whether or not this will come true for you, kuromame does supply a rich source of protein and its delicious!  My friend Noriko tells me that the leftover broth from cooking the beans is also good for sore throats.

Print This Recipe
Kuromame (Sweet Simmered Black Soybeans)
Recipe as shared by my friend Noriko
Makes 8 to 10 servings
10.5 ounces kuromame (dried black soybeans)
11 cups water
1 1/2 cups granulated sugar
2 1/2 teaspoons soy sauce
1 teaspoon baking soda
1. Thoroughly rinse the beans in cool water, then drain and set aside.
2. Bring the water to a boil in a large pot. Then add the sugar, soy sauce, and baking soda and let simmer for 3 minutes, then remove from the heat. Add the rinsed beans to the bot, cover, and let the beans soak overnight.
3. Place an otoshibuta (a small lid that fits inside the pan) in the pot, and simmer the beans on low heat for about 8 hours, adding additional water as needed so that the beans stay immersed.  The beans are done when they are very tender.