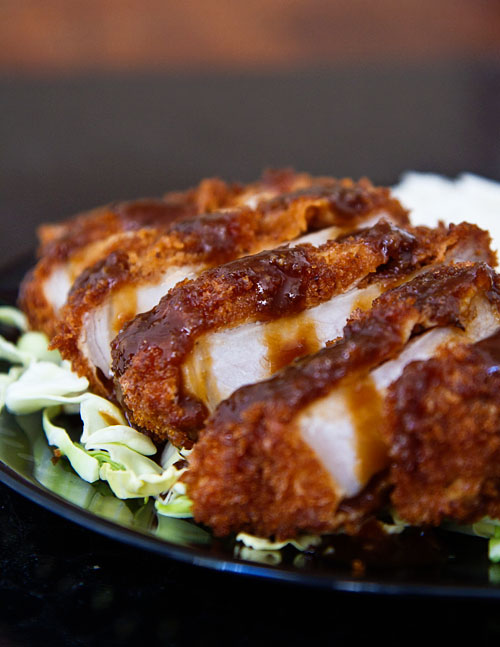 This past weekend a Japanese friend came to visit, and at her request, I made miso katsu and miso soup for dinner.  (She was feeling a bit homesick!)  Miso Katsu is a version of tonkatsu (juicy breaded and deep-fried pork cutlets served with a thick, sweet and tangy sauce and served with shredded cabbage and steamed rice) that is a specialty in Nagoya, Japan.  Instead of the usual thick, sweet and tangy sauce that is served with tonkatsu, miso katsu is served with a miso-based sauce using hatcho miso, a dark red miso paste.  Nagoya and its surrounding area is famous for its red miso, particularly Hatcho miso, which is traditionally made from pure soy beans (no grain is added) that are steamed, rather than boiled, which takes longer to ferment (a minimum of two years).  Hatcho miso has an intense, rich flavor.  It is known as the "emperor's miso" and is highly prized in Japan.
The great thing about miso katsu is that the sauce is much easier to make that the traditional tonkatsu sauce—fewer ingredients and it only takes a few minutes to whip up!  The cutlets are super easy too, just dust them lightly with flour, dip them in beaten egg, and then coat them in panko.  If you're nervous about deep frying, don't be!  If you have a candy thermometer, deep frying is a piece of cake.  As soon as your oil is at temperature, just drop two of the cutlets in and cook them for three minutes, flip them and cook for three more minutes, and then place them on a wire rack to drain.  If they're cooked at the right temperature, they'll be light and crispy instead of oily.  Just make sure that you let the oil cool completely before you dispose of it!
It had been too long since I'd had miso katsu and I had forgotten how much I love it.  We don't eat a lot of meat here in the Fuji household, as we've really been trying to move toward a more plant-based diet, but I am always willing to make an exception for pork.  It's my weak spot.  When miso katsu is good, it is really good.  I love biting through the light crispy breading into the juicy cutlet, and the miso sauce adds a burst of flavor.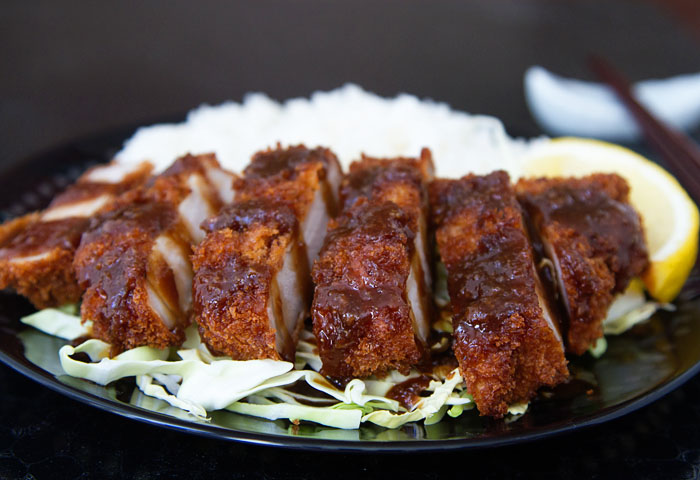 Print This Recipe
Miso Katsu (Breaded Pork Cutlet with Red Miso Sauce)
Makes 4 servings
Recipe Notes: If you're worried about the cutlets getting cold after frying them, keep them in an oven preheated to 180 degrees Fahrenheit until you are ready to serve them.  If cooked at the proper temperature, the cutlets should not be oily.
6 boneless pork chops, each about 1-inch thick
Salt and freshly ground black pepper, for seasoning
All-purpose flour for dredging
2 large eggs, beaten with 4 teaspoons cold water
Panko (Japanese bread crumbs), for coating
vegetable oil, for deep-frying
3 cups very finely shredded green cabbage
Lemon wedges
Miso Katsu Sauce (recipe below)
Steamed Japanese rice
1. Place a pork chop between two layers of plastic wrap and pound it with the flat side of a meat tenderizer until it is about 1/3 inch thick. Season both sides with salt and pepper. Repeat the process with the remaining pork chops.
2. Heat 2 inches of vegetable oil in a deep-fryer, stockpot, or large wok until the oil reaches 375 degrees Fahrenheit.
3. While the oil is heating, lightly dust the seasoned pork chops in the flour. Dip them, one at a time, in the egg wash, then coat each of them well with the panko.
4. When the oil is at temperature, fry the chops, two at a time, for about 3 minutes. Then turn them and fry them for another 3 or 4 minutes, until they are a deep golden brown and cooked through. Place them on a wire rack to drain and repeat with the remaining chops.
5. To serve: Slice the cutlets across their width into 1/2-inch strips.   Place each cutlet on top of a mound of shredded cabbage.  Drizzle with some of the miso katsu sauce.  Serve with steamed Japanese rice and a lemon wedge.
Miso Katsu Sauce
1/3 cup Hatcho miso or aka miso (red miso)
1/4 cup mirin
2 tablespoons soy sauce
2 tablespoons granulated sugar
1. Mix all the ingredients together in a small saucepan and heat over medium heat, making sure not to let it boil (the miso will become grainy if it boils), until the sauce thickens slightly.  Remove the saucepan from the heat and set aside until ready to use. The sauce can be kept in the refrigerator in an airtight container for 5 days.