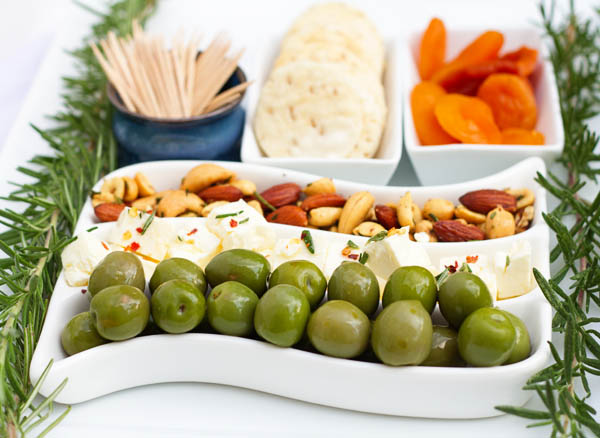 Entertaining during the holidays can be stressful, but pulling together a quick party tray isn't stressful, and can add a lot to a holiday spread.  I always start with one or two items I know I want to feature, and then I add on from there.  This time I had some beautiful VERDI Castelvetrano olives that I wanted to feature.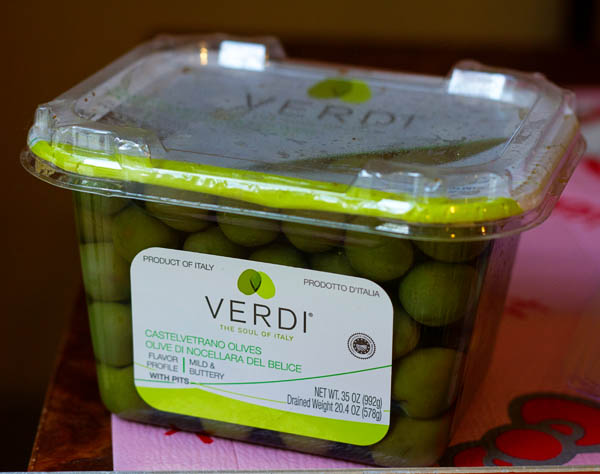 VERDI olives are new to the US and are currently sold in Costco Wholesale Clubs in the Midwest.  The Castelvetrano olives are a beautiful bright green color and have a light buttery taste.  They make a perfect partner to all sorts of items.  VERDI Olives has generously provided a $50.00 COSTCO Cash Card for a giveaway, so one of you can put together your own party tray this holiday season! (Giveaway Details after the recipe.)

I decided to make some marinated feta.  I just throw some fresh rosemary and dried red chili pepper flakes in a jar with cubed feta, top it off with olive oil and then let it marinate in the refrigerator for at least a day, but there are many variations you can try, like this recipe from Whole Foods.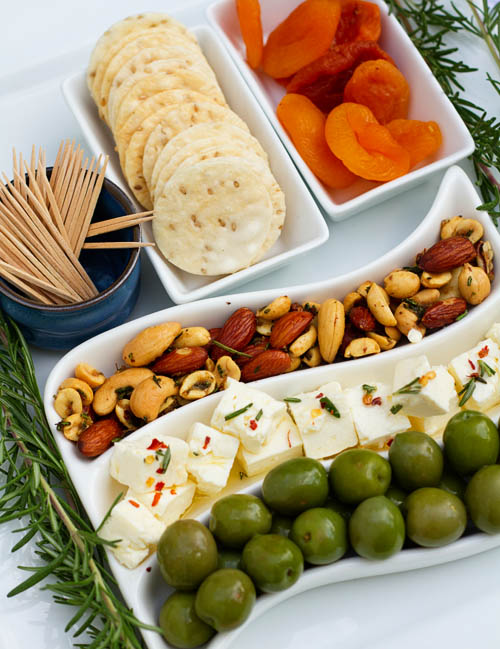 I added some rice crackers and dried apricots to the tray and then I made some rosemary roasted nuts.  This recipe was kindly shared with me by Todd Porter (White On Rice Couple) last week after I tasted some nuts he had made and then begged him for the recipe.  So good.  Toasted nuts are tossed in a mixture of browned butter, fresh rosemary, brown sugar, and smoked sea salt.  I don't know how roasted nuts can get any better.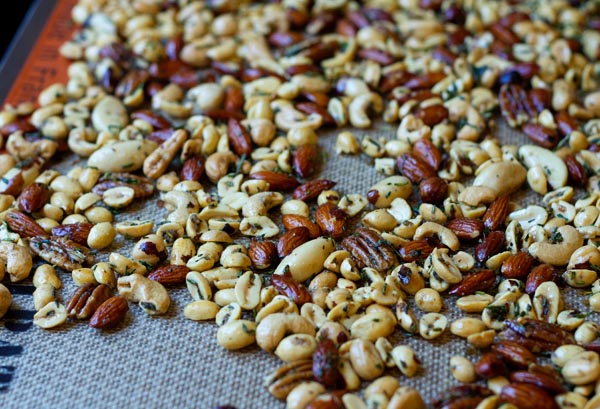 If you're looking for a homemade gift to give someone, a jar of these nuts would be perfect!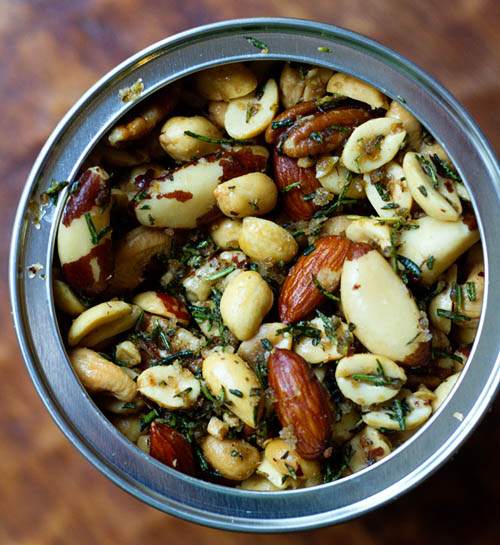 Print This Recipe
Rosemary Roasted Nuts
Recipe as explained by Todd Porter, White On Rice Couple
Makes 1 pound of nuts
1 pound mixed nuts
1 tablespoon butter
3 tablespoons minced fresh rosemary
2 teaspoons light brown sugar
1 tablespoon smoked sea salt
1. Preheat the oven to 350 degrees Fahrenheit. Spread the nuts out in a single layer on a rimmed baking sheet. Roast the nuts in the preheated oven for 10 minutes, or until golden and fragrant. Stir several times during roasting to prevent the nuts from burning. Transfer the nuts to a large mixing bowl.
2. Heat a small skillet over medium heat. Add the butter, stirring while it melts. Continue to cook until specks of brown develop at the bottom of the pan. Stir these up and continue cooking until the butter turns a golden brown color. Add the rosemary and stir around the pan once or twice, then stir in the brown sugar and remove from the heat.
3. Add the butter mixture to the nuts and toss to coat. Add the sea salt to the bowl, and toss again. Spread the nuts to cool on a lined baking sheet. Serve warm or let cool.
============================================================
VERDI Olives $50 COSTCO Cash Card Giveaway
One reader will win a $50 COSTCO Cash Card.  To enter to win, leave a comment below.  Contest ends Wednesday, December 21, 11pm EST.  Winner will be chosen by Random.org and will be notified by email.
This giveaway is closed, and the winner was chosen.  The winner was comment #42, Eileen Sanborn.  Congratulations!!
* This giveaway was provided by VERDI Olives.