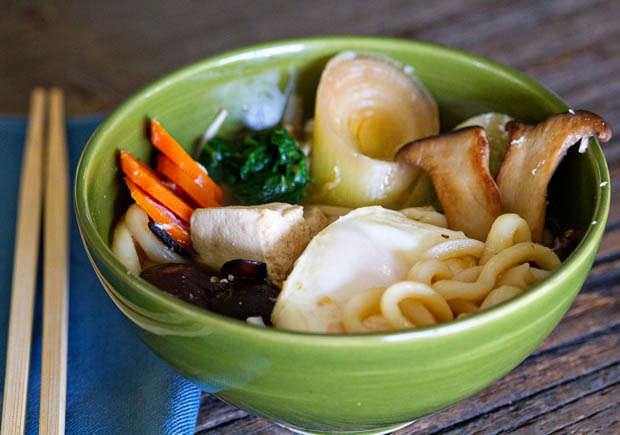 I'm going to go out on a limb here and say that my vegetarian version of nabeyaki udon is even better than my recipe for regular nabeyaki udon that I shared with you earlier this week.  Seriously.  This version came about because the Fujilings and I were making a trip to Kim's house (Rustic Garden Bistro) for a "Chicken Play Date."  Our friends Andrew (Eating Rules) and Nancy (A Communal Table) met us at Kim's house to meet and schmooze with her 16 chickens and then cook and eat lunch together.  Kim requested udon, but Andrew is a vegetarian.  I was determined that our udon was going to be just as delicious as what I usually make.  We easily met that mark, and then some.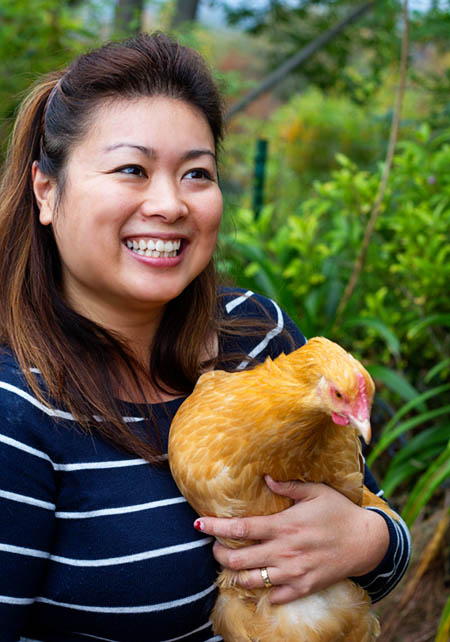 We loved seeing all of the chickens and their fun personalities.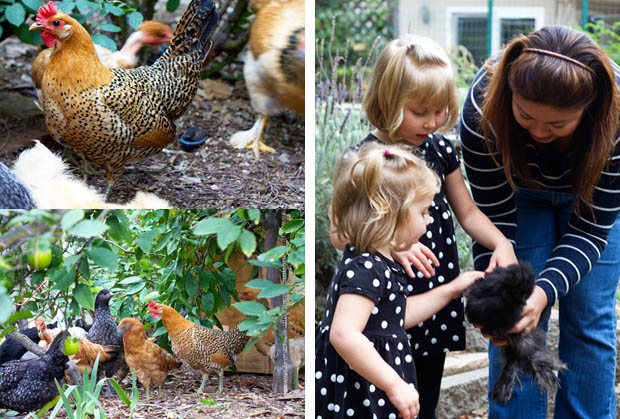 Then it was into the kitchen to blanch spinach, saute mushrooms and tofu, and assemble a big pot of vegetarian nabeyaki udon.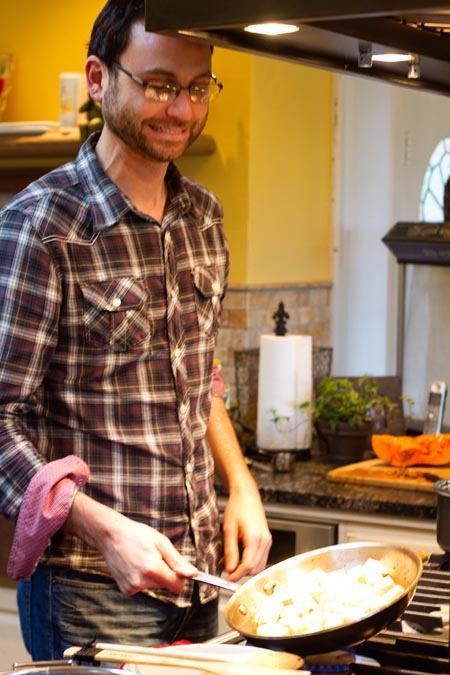 I've said it before, but food is so much more than food.  Food brought us together for more than filling our bellies.  Being together in the kitchen, chopping and stirring, laughing and talking, with giggles of the Fujilings in the background as they played in Kim's dog crate (no joke), was like filling up a reservoir in the soul.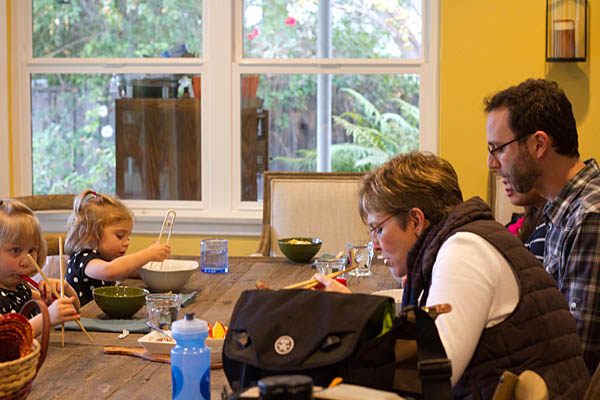 So find some loved ones and get yourself into the kitchen to make some nabeyaki udon.  This udon has  the thick chewy udon noodles and vegetables of the regular nabeyaki udon, but is made with a mushroom stock base.  Plus it sports three varieties of mushrooms—shiitake, king trumpet, and enoki mushrooms and cubes of sauteed tofu.  If you can't find some of the mushrooms, substitute your favorites!  Have other favorites toppings? Add them!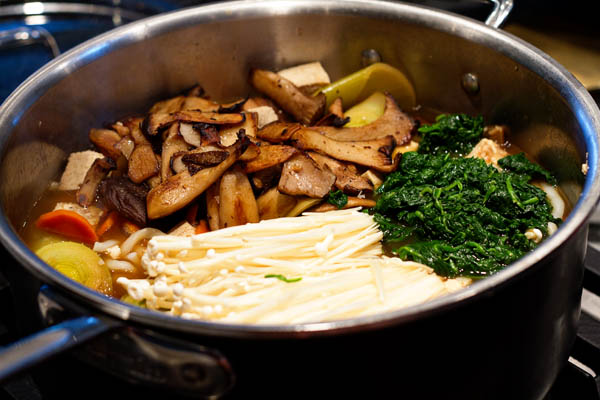 Print This Recipe
Three Mushroom Vegetarian Nabeyaki Udon
Makes 6 to 8 servings
For the mushroom stock:
7 cups water
1 piece kombu (approximately 12-square inches in size)
1 ounce dried shiitake mushrooms
For the soup:
1/3 cup soy sauce
3 tablespoons mirin
1 teaspoon salt
4 cloves garlic, finely minced
1 rounded tablespoon grated fresh ginger
6 ounces spinach
1 tablespoon toasted sesame oil
10 ounces king trumpet mushrooms, sliced lengthwise
pinch of sea salt
14 ounces extra-firm tofu, cut into 1-inch cubes
2 large carrots, peeled and thinly sliced on the diagonal
2 leeks, cleaned and cut into 1-inch slices on the diagonal
21 ounces fresh udon noodles
1 package enoki mushrooms (approximately 7 ounces), ends trimmed
6 — 8 large eggs (depending on how large you want your servings to be)
shichimi togarashi, to garnish
1. Make the mushroom stock: Place the dried shiitake mushrooms and kombu in a pot with the water. Bring the water almost to a boil and then turn down the heat to maintain a simmer. Simmer for 5 minutes. Remove the pot from the heat and let the stock stand for 3 minutes. Squeeze the mushrooms to release the stock they have soaked up, then strain the stock through a fine-mesh strainer and set aside. Cut off and discard the shiitake stems, then cut an "X" into the top of each mushroom cap and set aside.
2. Prepare the spinach: Bring a large pot of water to a rolling boil and cook the spinach for one minute. Quickly drain the spinach and plunge it into a bowl of cold water. Drain and rinse with cold water until the spinach is completely cold. Squeeze out the water, then cut into 1-inch lengths. Set aside.
3. Prepare the king trumpet mushrooms and tofu: Heat the sesame oil in a saute pan, then add the sliced king trumpet mushrooms and pinch of sea salt. Saute until the mushrooms are cooked through, browned, and starting to become crispy in places. Remove the finished mushrooms to a bowl and set aside. Add the cubed tofu to the pan, adding additional oil as necessary to prevent the tofu from sticking to the pan, and saute until the tofu is browned. Set aside.
4. Make the soup: Mix the mushroom stock, soy sauce, mirin, and salt together in a 4-quart saucepan, then stir in the garlic and ginger.
5. Add the sliced carrots, leeks, and shiitake mushrooms, then bring to a boil over medium heat. Simmer until the carrots are tender.
6. Add the udon noodles, king trumpet mushrooms and tofu, then place the spinach in 5 small bundles on the top. Simmer for 3 minutes.
7. Separate the enoki mushrooms into 5 bundles and place them on top of the soup. Gently crack the eggs, one at a time, into the soup. Cover the pot with a lid, and let simmer for 3 minutes, then turn off the heat and let sit to allow the eggs to finish cooking. Serve hot. Garnish with shichimi togarashi, if desired.