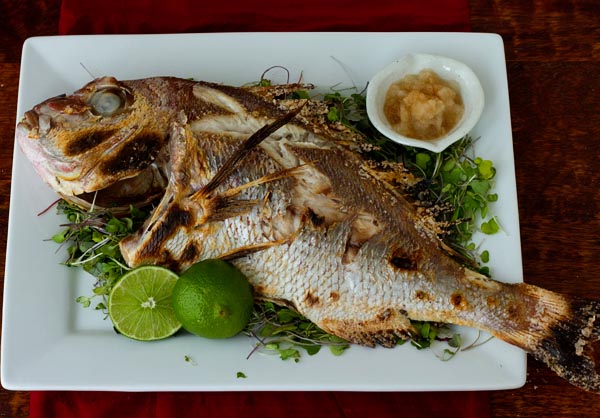 The days surrounding the New Year are rich with celebration and symbolism.  The Japanese New Year ("oshogatsu") is one of the most important holidays of the year, with preparations starting many days before January 1st, and celebrations continuing for days after.   Tai no shioyaki, or Japanese salt-grilled sea bream, is a traditional part of osechi-ryori, or traditional Japanese New Year foods, and one of my personal favorites.  Osechi foods are prepared in advance, as stores in Japan are closed for the first several days of the New Year.  Originally it was also a taboo during the first three days of the New Year to use a hearth and cook meals, except when cooking ozoni, a stew made with sticky mochi (like a rice taffy).  Osechi-ryori is a traditional method of cooking that is based on ancient methods of preserving food, such as curing things in salt or vinegar.  Everything is made to be eaten at room temperature and to be kept for several days without refrigeration.  The food is tightly packed into beautiful lacquer boxes called jubako.  Each food also has a symbolic meaning, and great care is taken to include lucky colors such as red and white.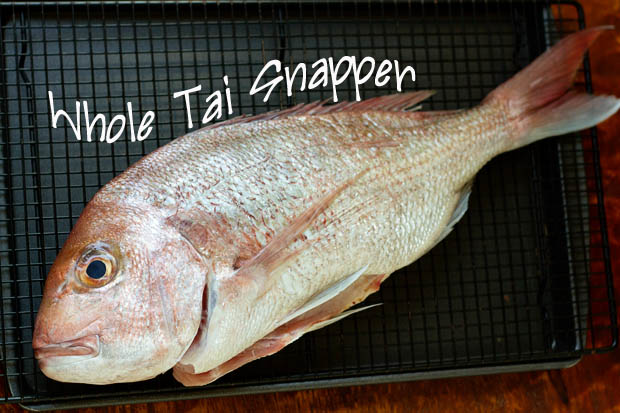 Tai, or sea bream, is known as the "king of fish" and is one of the stars of the New Years feast.  It is associated with the Japanese word medetai, which literally means "auspicious" or "celebratory."  Thus the tai is a particularly wise choice of foods to serve when praying for good fortune during the coming year.  In addition, Ebisu, one of the "seven lucky gods of Japan" (and the only one out of the 7 who is native to Japan) is usually depicted carrying a fishing rod and a large tai under his arm.
(Ebisu, as depicted by Mike Collins in Deus Libris)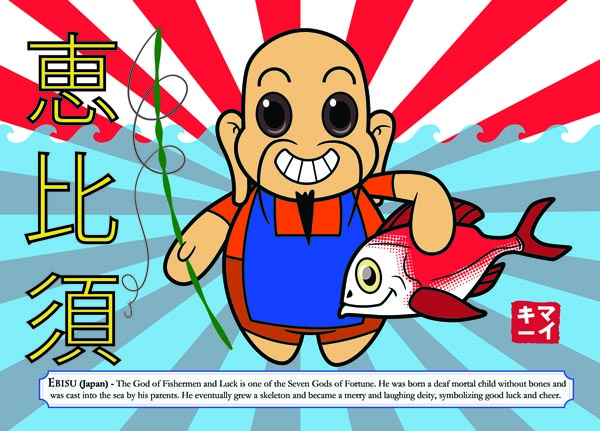 Ebisu is worshipped by fisherman, who pray to him for a good catch and safety at sea.  He is also regarded as the god of commerce.  On January 10, the Tohka Ebisu festival is held.  Small bamboo branches decorated with the image of a tai are sold and later displayed in homes and shops as a wish for prosperity.  You may have noticed that my logo used to include a small tai in it, or that my Sustainable Seafood Tour badge also depicted a tai.  I love what the tai represents in Japanese culture.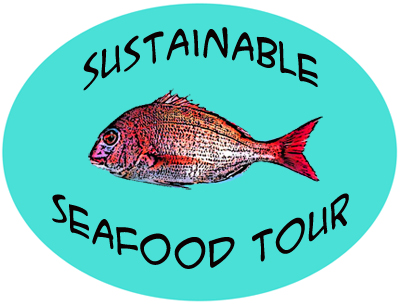 I thought that sharing my recipe for tai no shioyaki (salt-grilled sea bream) would be the perfect kick-off to a series of posts celebrating the Japanese New Year food traditions.  I thought it would be especially fortuitous to launch the series with a bit of a new look, featuring my own lucky tai, designed by the talented artist Mike Collins whose Ebisu is shown above, and who illustrated The ABCs of Halloween book that I recently shared.  If you don't see the new header, make sure and clear your browser's cache, it's there!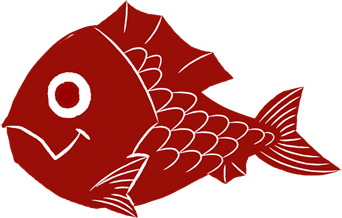 For being so lucky and delicious, it's a pretty mean looking fish!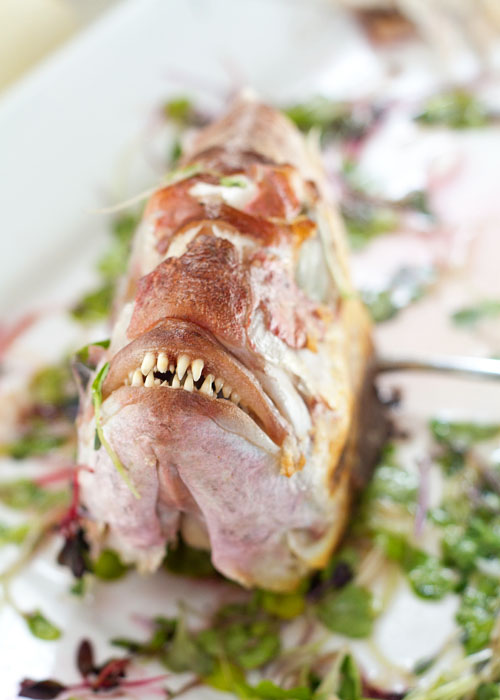 Salt-grilling a whole fish is one of my favorite ways to serve cooked fish, and salt-grilled tai is the best of them all!  Plus, the process couldn't be easier.  You start out by sprinkling salt over the fish and letting it sit for 30 minutes.  Then you rinse off the salt, press salt into the fins, and add a final light sprinkling of salt, cut an "x" into the flesh to assist in even cooking, and grill it!  The fish is always plated pointing left, appearing to be swimming.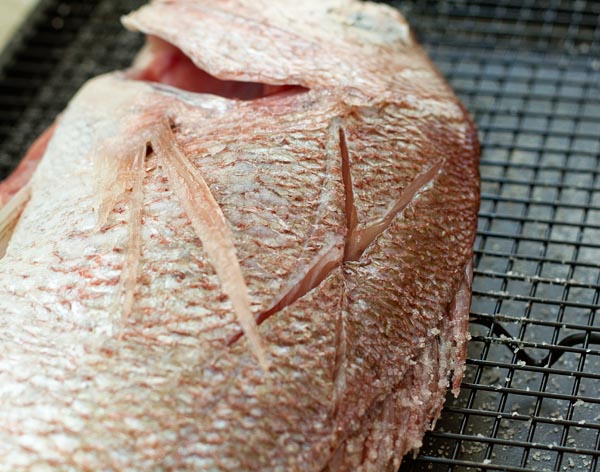 I saved the head and added it to my rice cooker, along with Japanese rice, a splash of mirin and soy sauce, and a pinch of salt, to make tai-meshi, or rice with fish.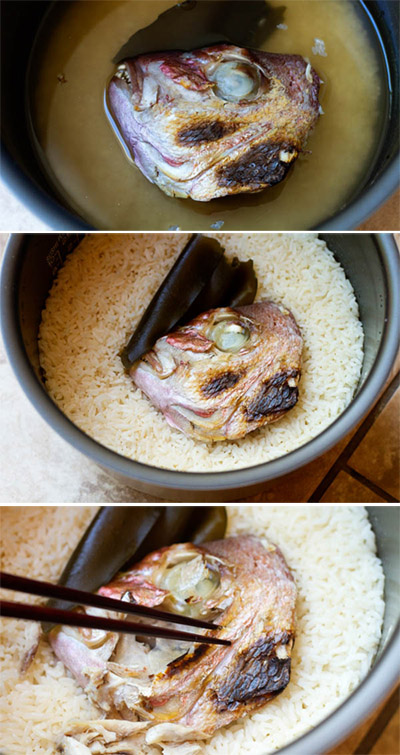 The cheeks are my favorite part and I love that nothing goes to waste!!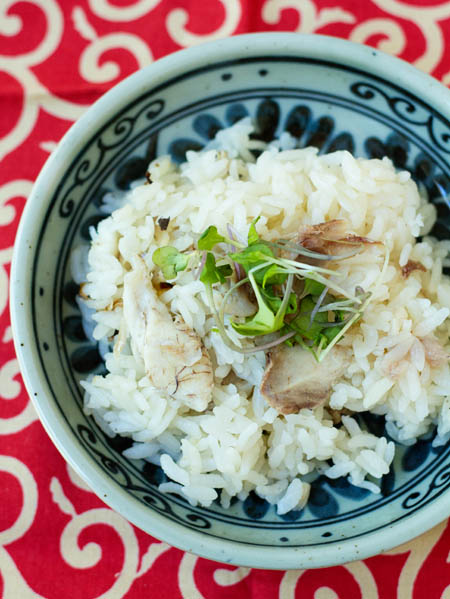 To celebrate the upcoming New Year, I have teamed up with I Love Blue Sea to offer you a discount on a whole tai snapper, so you too can prepare a bit of luck in your kitchen!  From now through the end of 2011, use the discount code goodfortune to receive 12% off (for 2012!) your order!  The tai from I Love Blue Sea are even more auspicious than most, in my book, because they are sustainably sourced, something that's hard to find when it comes to tai these days.  So order yourself a tai and enjoy a bit of good fortune and a delicious meal to celebrate the arrival of 2012!

Print This Recipe
Tai no Shioyaki (Salt-Grilled Sea Bream)
Number of servings depends on size of fish used
1 whole tai snapper, head on, scales removed and cleaned
sea salt
Micro Greens
Lemon/lime wedges
Grated daikon radish seasoned with a few drops of soy sauce
1. Measure out 1 1/2 teaspoons of salt for each pound of fish. Sprinkle 1/2 of the salt on one side of the fish and the other half on the other side of the fish. Place the fish on a cooling rack over a baking sheet to catch the juices, and let it stand at room temperature for 30 minutes. Rinse the salt off the fish and wipe dry.
2. Preheat the broiler (set on high for about 10 minutes) or grill.
3. To assist in even cooking, cut 2 slashes in the thickest parts of the flesh on each side of the fish. Take 1/4 teaspoon of salt between your thumb and forefinger and press it onto the tail. Repeat with the back fin, making it stand up as you press the salt on it. Repeat with the fins near the gills. This gives these areas a nice crust once cooked. Now lightly sprinkle the entire fish with salt.
4. Brush the rack with oil right before adding the fish. Place the fish about 4 inches from the coals, or broiler, cooking the ride side first. Grill for 7 to 8 minutes, then turn the fish and grill it for 4 to 5 more minutes.
5. Check to see if the fish is done by inserting a knife between the backbone and top fillet and lifting the fillet slightly off the bone. If the flesh does not want to separate from the bone, cook the fish a few minutes longer and check again. Fish continues to cook after it's removed from the heat, so it should be removed from the heat when a trace of translucency still remains in the center and you encounter a bit of resistance near the backbone when you try to life the fillet.
6. Let the fish rest for 4 minutes per inch of thickness before filleting. Serve the fish warm or at room temperature on a bed of micro greens with lemon or lime wedges and grated daikon radish seasoned with a few drops of soy sauce.