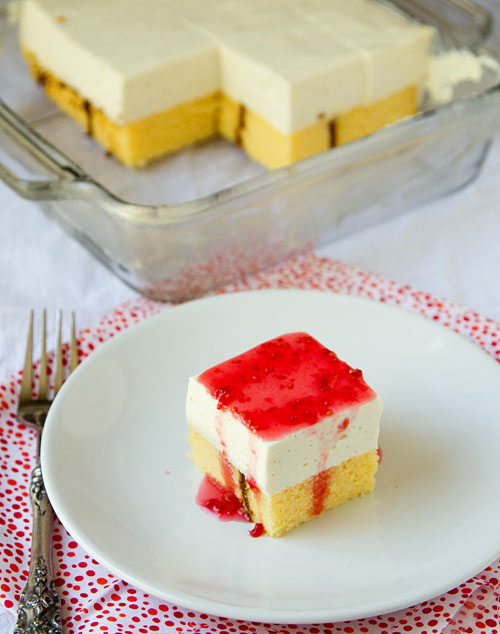 I recently made a tofu cheesecake for dessert—a no-bake, lightened up version of cheesecake that uses tofu and powdered gelatin.  Usually when I make cheesecake, lightened up or not, I make it in some sort of cookie crust.  As I was whipping up the filling for this cheesecake, however, the process reminded me of a wonderful strawberry jelly cake I made at a media night for FoodStory, cooking classes and workshops taught by Yoko Isassi in downtown Los Angeles.  The evening was a blast, filled with some of my favorite Japanese foods, like temarizushi, and plenty of good conversation.
But my favorite thing we made and ate was the strawberry jelly cake, not only because I adore strawberries, but because we used slices of castella cake to form the bottom layer.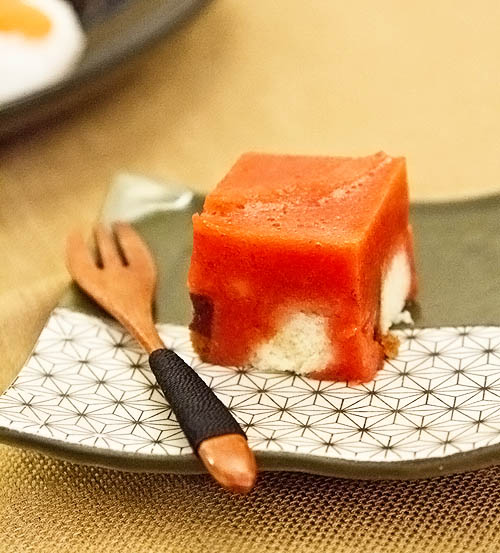 It was this cake layer that I thought of as I was preparing the cheesecake filling, and what would you know?  I happened to have a Castella cake in the refrigerator that I had meant for something else, but ended up not using!  Castella, or kasutera, as it's called in Japan, is a popular Japanese sponge cake that is believed to have been introduced in Japan by Portuguese missionaries in the 16th century.  So I pulled out my Castella cake, removed the paper lining on the bottom, and fit the slices into the bottom of an 8×8-inch baking dish.  Then I finished my cheesecake filling and poured it over the Castella layer and put it in the refrigerator to set and chill.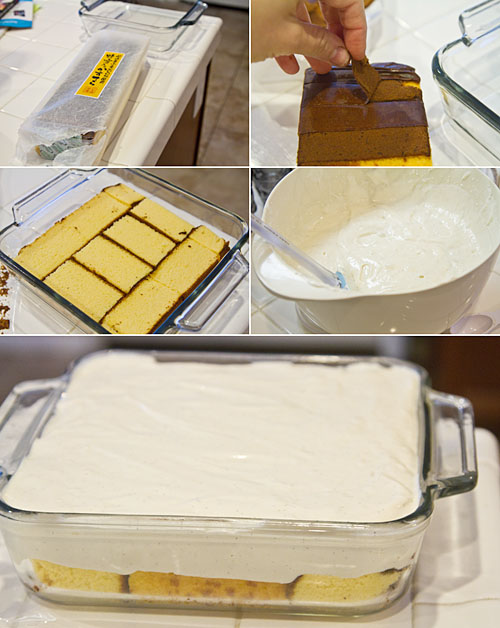 When it was time to serve, I pulled it out and cut it into squares, then thinned some homemade raspberry jam with some water to make a syrup, and spooned it over the top of each piece.  I love tofu cheesecake—it's rich and creamy and easy to make—but the addition of the soft, buttery Castella cake layer made this cheesecake even better!  So thank you to Yoko Isassi for the inspiration!  If you're in the Los Angeles area and want to have a hands-on Japanese cooking experience, try out the FoodStory workshops!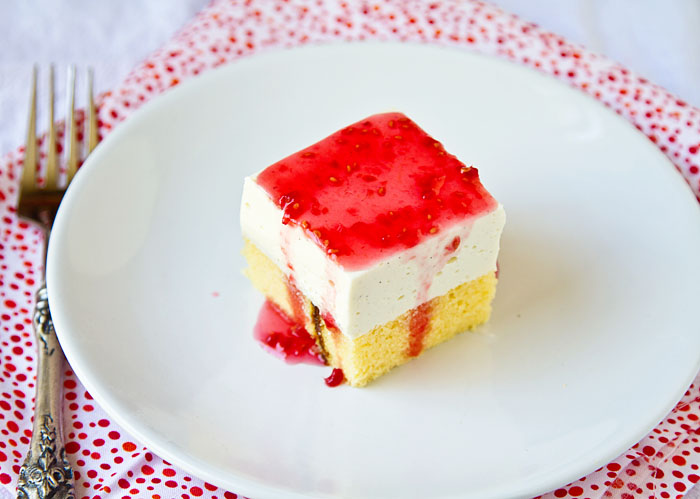 Print This Recipe
Tofu Kasutera Cheesecake
Makes 9 servings
For the Kasutera cake layer:
1 (16 ounces/1 pound) kasutera (castella cake) cut into 3/4-inch thick slices
For the Cheesecake layer:
12.3 ounces  (one box) extra firm silken tofu (like Morinaga's extra firm silken tofu)
2 tablespoons freshly squeezed lemon juice
16 ounces cream cheese, at room temperature (or Neufchâtel to lighten things up even more)
3/4 cup granulated sugar
1 vanilla bean, split lengthwise and seeds scraped out
1/4 teaspoon salt
1/2 cup heavy cream
2 1/4 teaspoons (1 packet) powdered gelatin
Raspberry jam mixed with cold water to reach desired consistency, for serving
1. Prepare the Kasutera cake layer: Line the bottom of an 8-by-8-inch baking pan with the slices of kasutera.  Cut pieces of cake as needed to fill in any gaps. Set aside.
2. Prepare the cheesecake layer:  Put the tofu and lemon juice into a food processor and puree until smooth.
3. Beat the cream cheese, sugar, vanilla, and salt together in a large mixing bowl until fluffy.  Add the tofu mixture and mix until smooth and incorporated.
4. Put the heavy cream in a small saucepan and heat over medium-low heat until the cream is warm to the touch, but not hot.  Sprinkle the gelatin over the warm cream and stir until it has dissolved, then remove the saucepan from the heat and pour into the cheese cake mixture and stir to combine.
5. Assemble the cake: Pour the cheesecake filling over the prepared kasutera layer. Cover and chill until set, at least 4 hours.
6. When ready to serve, remove the cheesecake from the refrigerator. Run a knife down the edges of the cake to separate it from the sides of the baking pan. Slice the cake into 9 pieces, wiping the knife blade clean between each cut to ensure clean edges.
7. Spoon some raspberry jam over each piece of cake and serve.  Best eaten within 36 hours after making.