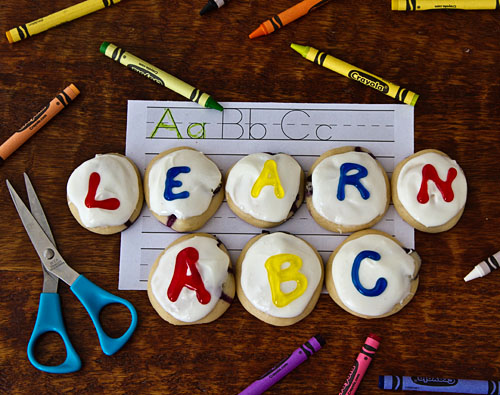 Blueberry yogurt cookies with lemon cream cheese frosting—soft, moist cookies with juicy blueberries topped with a cream cheese frosting make a fun after-school treat! 
"Labor Day is a glorious holiday because your child will be going back to school the next day. It would have been called Independence Day, but that name was already taken." –Bill Dodds
Yesterday Squirrel asked me several times to explain what holiday it was and why we were celebrating "labor."  I remember being so excited to get past labor day when I was younger, because I waited for my first day back to school with eager anticipation.  The weeks before that first day were filled with trips to the store to stock up on things like pencils, paper, and three-ring binders.  I loved planning out everything for the start of school.  Things are a bit different in our school district here, because Squirrel had her first day of school at the beginning of August!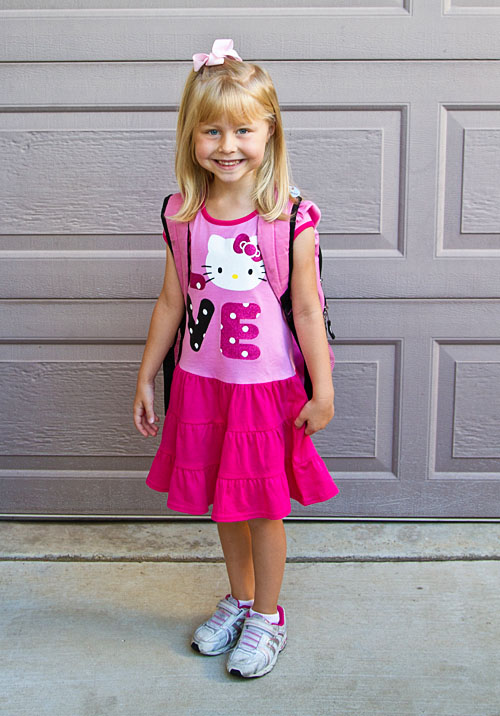 I meant to share this with you last week, for the August edition of Lucy Eats!, but August hit our family like a tornado, and so scheduling got thrown out the window.  Lucy is as excited as Squirrel to get back to school.
To celebrate the back-to-school excitement, we decided that little Lucy and the Fujilings needed a special after-school treat, so I dreamed up these blueberry yogurt cookies and topped them with a lemon cream cheese frosting.  This is a drop cookie (cookies are formed by dropping spoonfuls of dough onto a baking sheet with a spoon), because the batter is very sticky.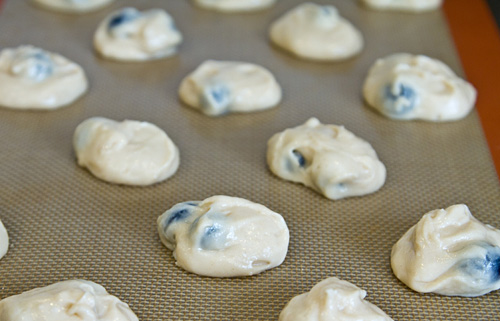 These cookies don't have any butter or oil in them, so they're healthier than the normal cookie.  The finished cookies are soft and moist.  I decorated our cookies with some decorating gels in primary colors to give them a more festive feel.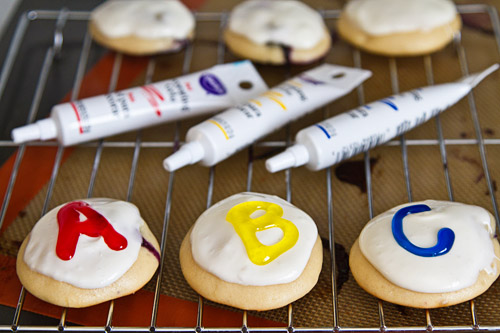 Having to do homework doesn't seem so bad when you've got cookies to help get you through it, right?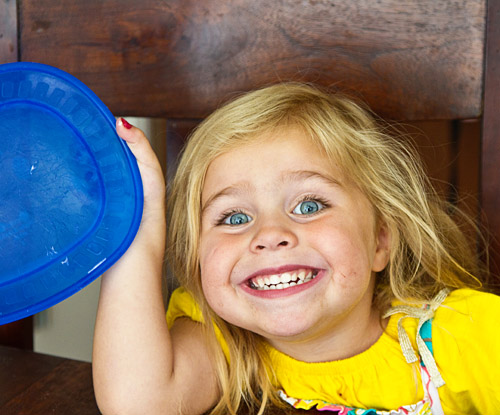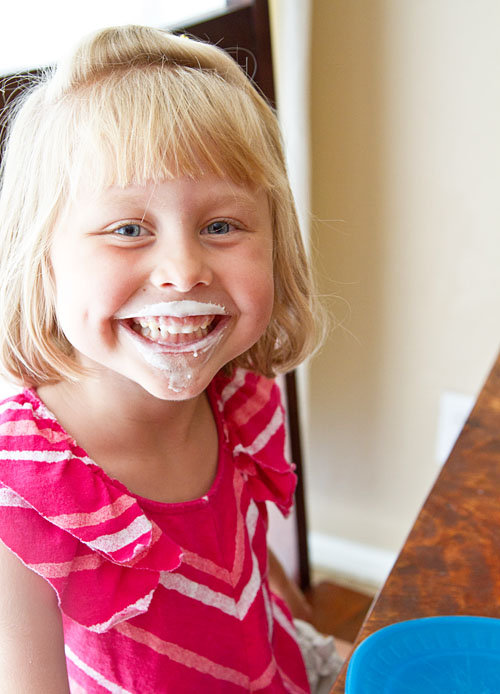 So happy Back-to-School days from the Fujilings, the Tiki Machine team, and Lucy!
*Added note, 2/07/13: There has been some discussion in the comments about calling these cookies "cookies."  Some have noted that they have a muffin-like texture.  I would agree!  As noted above, these cookies are soft and moist.  I chose to call them cookies based on the definition of cookie found in my go-to source for food classification: The New Food Lover's Companion, by Sharon & Ron Herbst, which says, "A cookie can be any of various hand-held, flour-based sweet cakes—either crisp or soft."  The definition explains that there are six basic cookie styles, one of which is a drop cookie, which "is made by dropping spoonfuls of dough onto a baking sheet."  Muffin, muffin bite, cookie…whatever you choose to call them, they're delicious!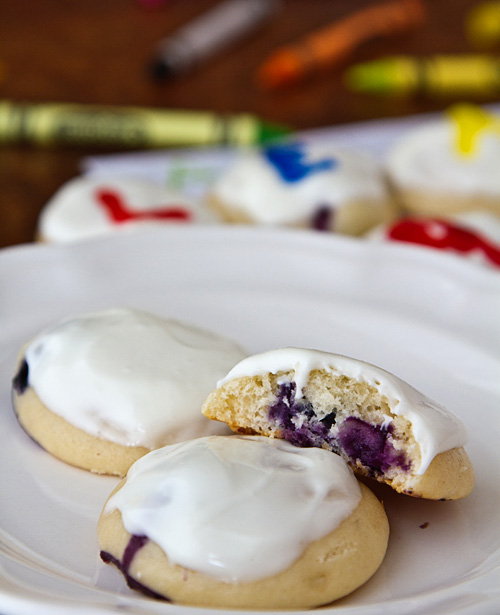 Print This Recipe
Blueberry Yogurt Cookies with Lemon Cream Cheese Frosting
Makes about 48 cookies
* Recipe Notes: These cookies are soft and moist, reminiscent of a muffin top!  I used fresh blueberries, but frozen work great too.  The cookies are also delicious without the frosting.
For the blueberry yogurt cookies:
1 cup granulated sugar
1 1/2 cups plain Greek yogurt
1 large egg, beaten
1 teaspoon vanilla
2 cups all-purpose flour
2 teaspoons baking powder
1/2 teaspoon salt
1 cup fresh blueberries
For the lemon cream cheese frosting:
1 (8-ounce) package cream cheese, softened
2 3/4 cups confectioners' sugar
1/4 cup fresh squeezed lemon juice
2 teaspoons grated lemon zest
1. Make the cookies: Preheat the oven to 375 degrees Fahrenheit. Grease several baking sheets, or line them with silicone baking mats, and set aside.
2. In a large mixing bowl, mix together the sugar and yogurt, then blend in the egg and vanilla.
3. In a separate bowl, whisk the flour, baking powder, and salt together, then blend it into the wet yogurt mixture. Gently fold in the blueberries.
4. Drop tablespoonfuls of cookie dough onto the prepared baking sheets, leaving about 2 inches of space between each cookie. Bake for about 10 minutes, until the cookies start to barely brown at the edges. Remove from the oven and let the cookies cool on the baking sheet for two minutes, and then move the cookies to a wire cooling rack to cool completely. Some of the blueberries will burst during baking—this is to be expected and will not affect the taste!
5. Make the frosting: Beat the cream cheese with an electric mixer on medium speed until smooth and creamy. Slowly add the confectioners' sugar and lemon juice and beat until creamy, about 3 minutes. Stir in the lemon zest. Spread on top of the cooled cookies. These cookies are best eaten within 1 to 2 days.