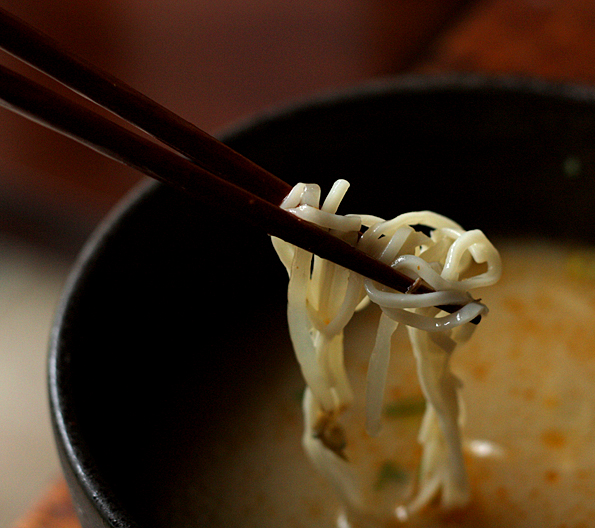 The sounds of traffic were loud in my ears as Mr. Fuji pushed the button that slid open the door to the little nondescript noodle shop on a busy street of Tokyo.  A small counter curved around an open kitchen, with swiveling bar stools beneath it covered in worn looking leather-like material.  As the door slid shut behind us, the traffic outside became a muffled roar and a man behind the counter, his head swathed in a strip of patterned fabric, called out "Irasshaimase!"  We slid onto a pair of the bar stools and each ordered a bowl of ramen.  I watched in interest as the man behind the counter ladled cups of steaming hot miso broth into large bowls filled with noodles.  He slid the bowls across the counter to us, and I pulled mine close, my stomach growling hungrily.  I pulled some chopsticks out of their paper sheath, carefully broke them apart, and then surveyed my bowl.  I grabbed a couple of noodles with my chopsticks and awkwardly tried to stuff them into my mouth as broth dripped down my chip.  I tried again, with even less success, dripping broth down the front of my shirt.  I then became aware of a sound that was coming from various locations along the counter—a very distinct slurping sound.  I snuck a glance to my right.  I was sitting next to a Japanese man dressed in a dark suit.  He was propelling noodles into his mouth by efficiently slurping them from his bowl guided by his chopsticks.  I then noticed that everyone in the room was using the same technique.  I also noticed that they were managing to keep their faces and clothing clean.  I leaned over to Mr. Fuji on my left and asked him about the slurping.  He explained that unlike rules of etiquette in the US, it was ok to slurp your noodles in Japan.  In fact, slurping noodles is considered to be a sign that you are enjoying your meal.  I have since had multiple Japanese friends explain that inhaling air through slurping when eating hot noodles improves the flavor.  That first noodle experience happened a few days after we moved to Japan the first time in 2002, and was one of my first etiquette lessons in a line of many.  For a while afterward, I awkwardly and self-consciously slurped my noodles, but slowly got the hang of it until I too could eat a bowl of noodles without wearing half of it.
When we moved back to the US I realized that it would no longer be polite to enthusiastically slurp down my noodles, and so I returned to the etiquette I grew up with, doing my best to twirl my noodles around a fork  when in public.  If you ever eat noodles in our home, however, you will notice that we employ the slurping method.  When I look at a bowl of noodles I can practically hear them begging me to slurp them.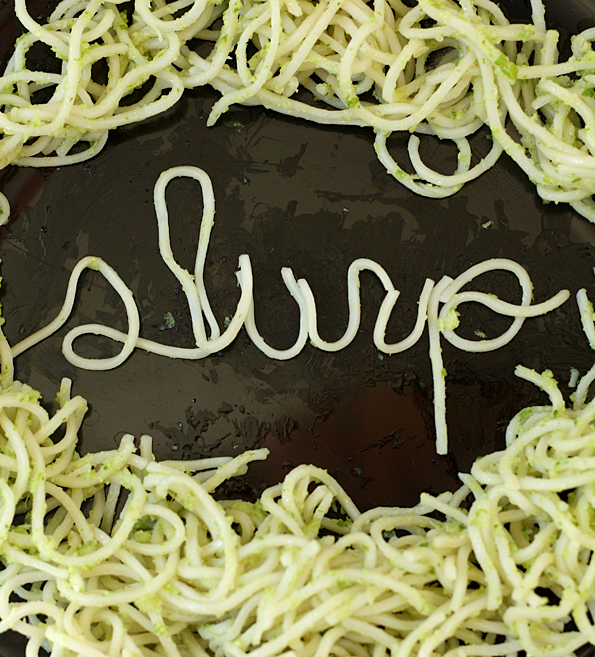 Even Squirrel is mastering it, though aren't kids just naturally adept at noodle slurping?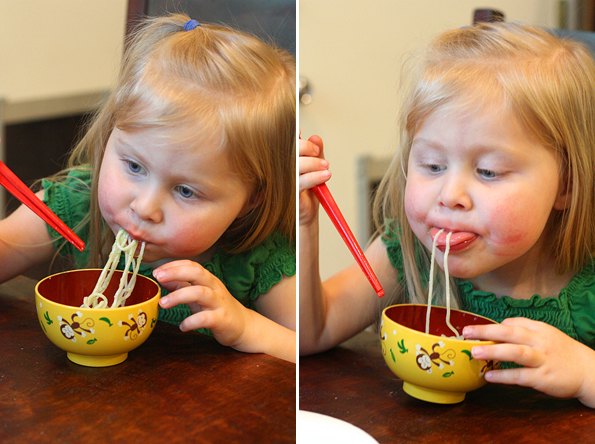 I personally think we should start a campaign to make changes in our noodle etiquette here in the US.  I miss my public slurping.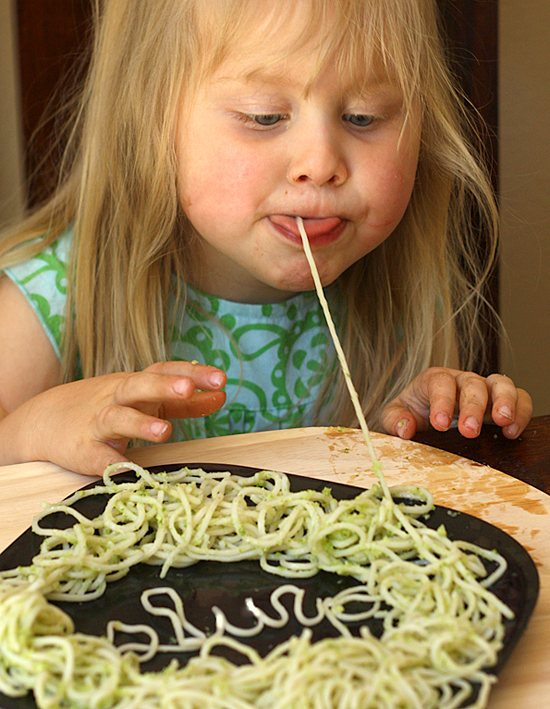 If you need to practice your slurping for the campaign, I'm providing you with a quick and simple noodle recipe.  All you do is make some chuka soba (chow mein) noodles,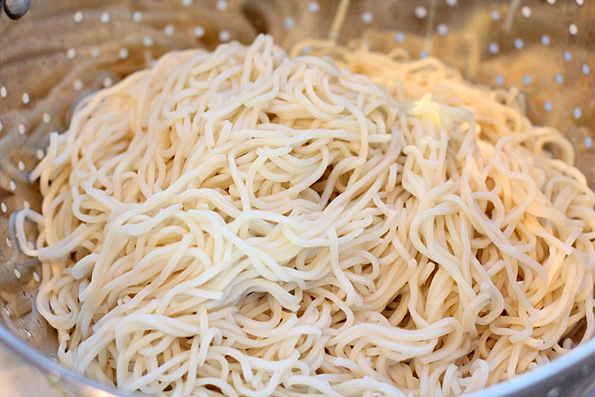 and toss them with a simple ginger scallion sauce (adapted from one of my favorite chicken recipes).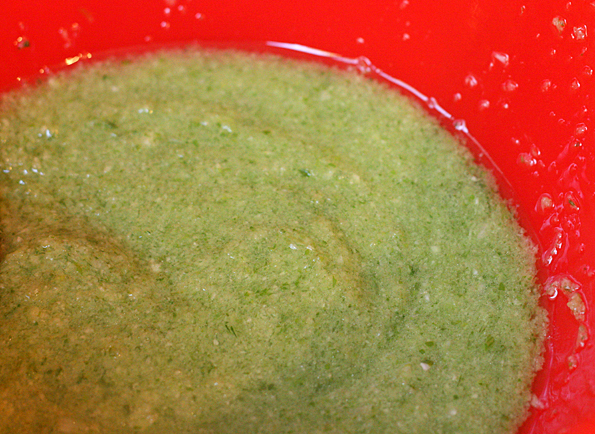 You can eat them alone, or with some chicken or other meat.  Most recently, I served them with chicken breasts that I cut in half lengthwise, seasoned them with Chinese Five Spice Powder, salt, and pepper, and then cooked them on the grill.  If you're on a diet, these noodles may not be the best menu choice, but if you are in need of comfort food, ginger scallion noodles are the way to go!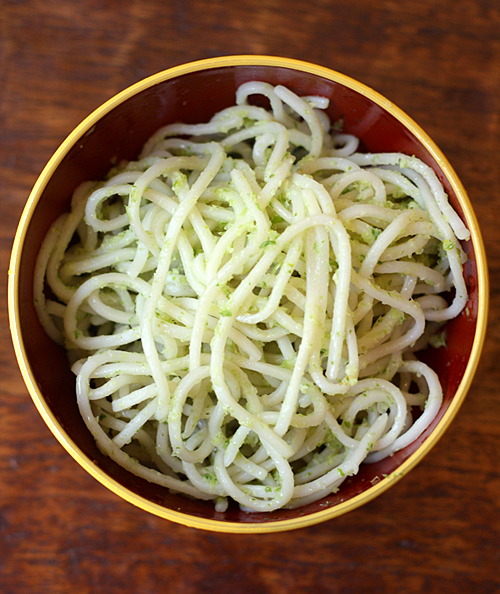 Print This Recipe
Ginger Scallion Slurping Noodles
Makes 6 servings
12 ounces dried chuka soba (chow mein) noodles
2 medium-size bunches of scallions, ends trimmed and discarded
1 4-inch piece of ginger, peeled and cut into large chunks
2 teaspoons salt
10 tablespoons oil, canola or vegetable
1. Prepare the noodles according to the package directions.  Set aside.
2. In a food processor, combine the scallions, ginger, and salt.  Pulse the mixture until it is finely minced and the ingredients are well-combined.  Put the mixture in a large heat-proof bowl.
3. In a skillet or wok, heat the oil until it is slightly steamy. Immediately pour the oil over the green onion and ginger mixture, being careful to shield yourself from the hot oil in case it splatters a bit (this should crackle a bit and if it doesn't your oil was not hot enough).  Stir.
4. Reheat the noodles if needed and then pour the ginger scallion sauce over them and toss the noodles to coat them in the sauce.
This is my entry in the 2010 Eating Your Words contest hosted by Tangled Noodle and Savor the Thyme.