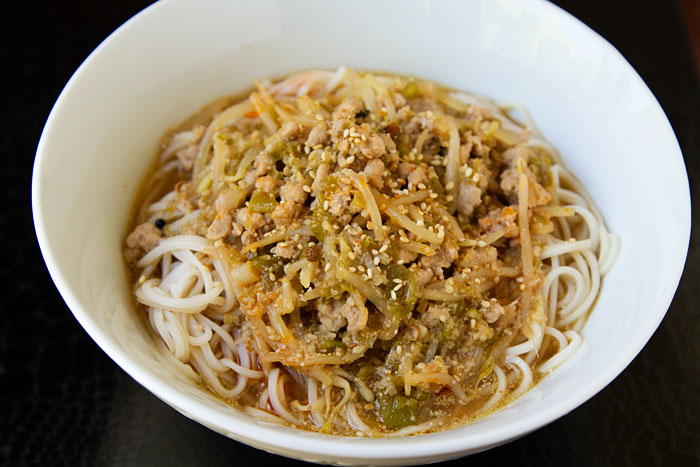 Hatch chile season (August through September) makes me ridiculously happy, and the Hatch chile recipe that I'm sharing with you today just makes me plain giddy.  (If you're looking for Hatch chiles, Frieda's sells them at Ralph's grocery stores.)  I am a total chile head, and Hatch chiles are one of my all-time favorites because of their incredible flavor and aroma.  They're a long green pepper grown exclusively in the Mesilla Valley near hatch, New Mexico.  When they are roasted, their aroma will have you hovering over them, waiting until they have cooled off enough to chop them up and add them to whatever you've got cooking.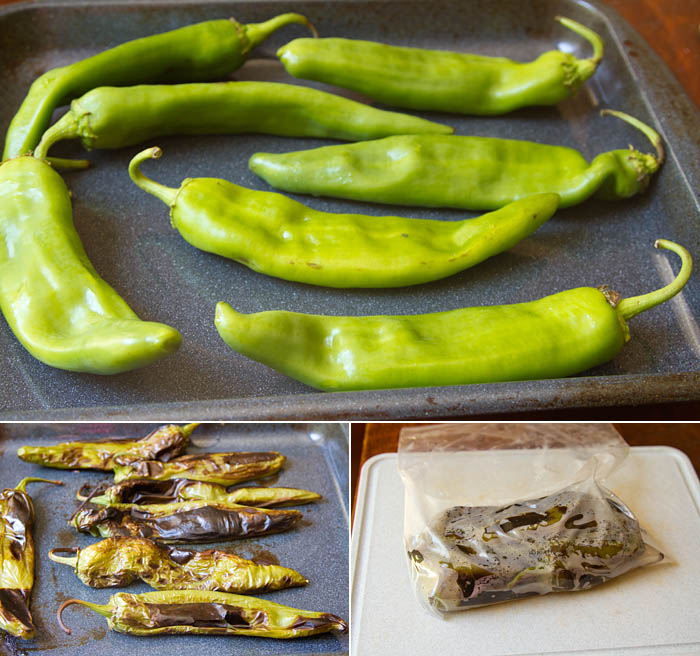 We love adding the roasted chiles to things like hashbrowns, omelettes, burgers, soups, etc.  I recently roasted a batch of chiles and used them to make tantanmen, a popular Japanese version of a Chinese Sichuan noodle dish.  The dish consists of a spicy sauce, Sichuan peppercorns, minced pork, and scallions which is all served over noodles.  In my version, I substituted roasted Hatch chiles for some of the more traditional ingredients to give them dish a Southwestern twist.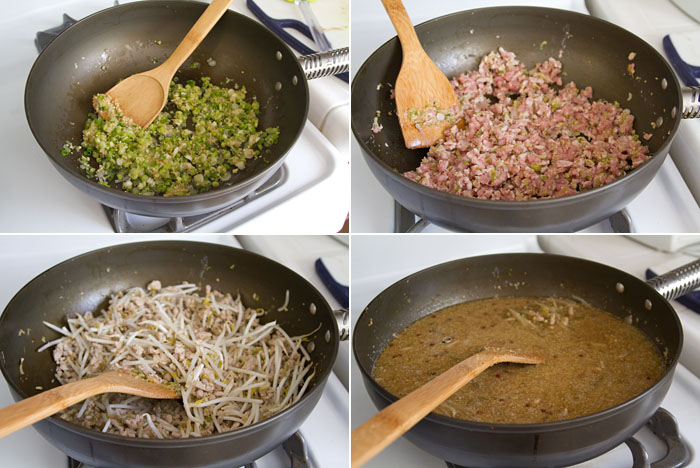 Although this dish may sound a bit confused (a Japanese version of a traditional Chinese Sichuan noodle dish with a Southwestern twist), the result makes total sense.  The combination of the aromatic Sichuan peppercorns with bright roasted Hatch chiles add a fabulous tingly heat, while the toasted sesame seeds add creamy nuttiness and the red miso paste gives the whole mixture a boost of umami.  In short, its one of those meals that will have you asking for seconds, and then thirds, and then . . . .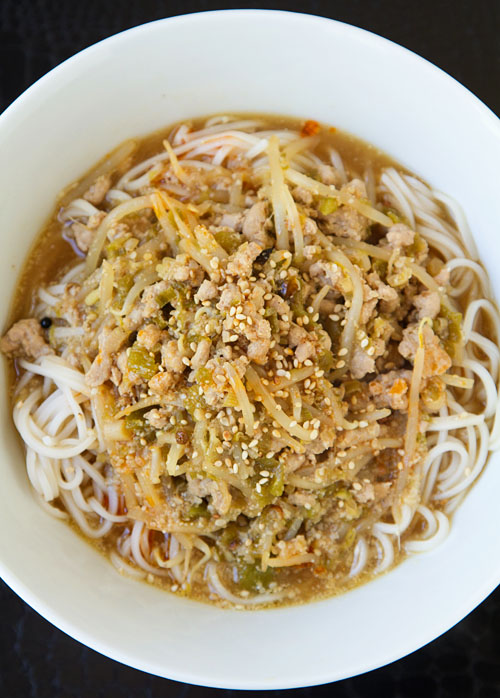 Print This Recipe
Hatch Chile Tantanmen
Makes 6 servings
3 fresh Hatch chiles (extra hot Hatch chiles if you can get them!) (for medium spicy, add additional chiles for a spicier finish!)
Tantan Sauce:
1/2 cup toasted white sesame seeds, ground
1/3 cup oyster sauce
1/4 cup rice vinegar
1/4 soy sauce
3 tablespoons red miso (aka miso) paste
2 tablespoons toasted sesame oil
2 tablespoons granulated sugar
3.5 cups water
1 tablespoon toasted sesame oil
2 bunches scallions, thinly sliced
5 cloves garlic, minced
2 inches fresh ginger, minced
12 ounces ground pork
8 ounces bean sprouts
3 tablespoons Szechuan peppercorns, coarsely chopped
14 ounces dried chuka soba noodles, cooked according to package directions and drained
Toasted white sesame seeds and chile, to garnish
1. Roast the Hatch chiles: Turn on the oven broiler to high-heat and put on a pair of plastic gloves (to protect your skin from spicy oils in the chiles). Place the whole Hatch chiles on a baking sheet about 5 inches from the broiler element. The skins of the chiles will begin to blister and turn black. Turn the chiles to char all the sides evenly. Once the skin is evenly charred, place the hot roasted chiles in a paper or plastic bag to steam and "sweat" for 15 minutes. This helps loosen the skins.
2. Peel the skins off of the roasted chiles. Once they are peeled, finely chop the chiles and set them aside.
3. Make the Tantan sauce: Whisk all the sauce ingredients, except the water, together in a large bowl, then slowly whisk in the water. Set the sauce aside.
4. Add the sesame oil to a large saute pan or wok and saute the scallions, garlic, and ginger over low heat until they become fragrant. Add the ground pork, increase the heat to high heat, and continue stir-frying, crumbling the pork as you cook.
5. When the meat is lightly browned, add the bean sprouts and continue to stir fry. When the bean sprouts are tender, add the finely chopped Hatch chiles and szechuan peppercorns and stir-fry until fragrant.
6. Add the Tantan sauce to the meat mixture, and cook until the sauce has heated through. Season with salt and pepper as needed.
7. Divide the cooked chuka soba noodles among 6 bowls and top each serving of noodles with a large ladle full of the tantan meat mixture. Garnish with additional toasted white sesame seeds and chili oil, to taste.