When I was invited to participate in a Tailgating event at
Kitchen Play
, and was given the challenge of coming up with 2 tailgating themed recipes featuring
Jarlsberg cheese
, I was excited. 
Kitchen Play
is a new site devoted to connecting food bloggers and PR professionals through fun sponsored events.  The participating bloggers are compensated for their work. Come up with 2 fun recipes using one of my favorite cheeses
and
get paid to do it? Yes please!  Jarlsberg cheese is a fantastic Norwegian cheese that is reminiscent of Swiss cheese, but even better.  It is a bit sweeter than Swiss cheese and has a distinct nutty flavor.
My girls love it, not only because it's delicious, but because they love the holes in it.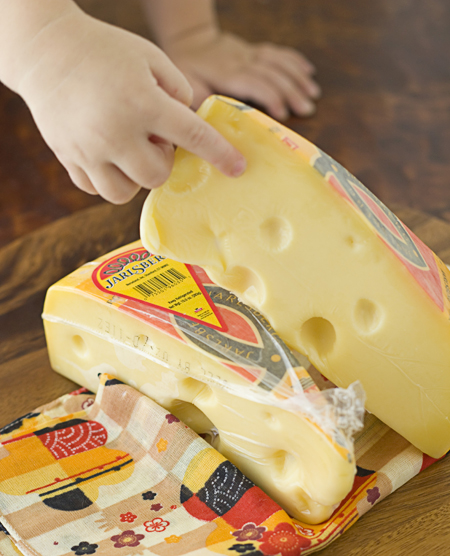 Along with the tailgating recipes, I am giving away a Jarlsberg Tailgate Tote!  Details on how to enter the giveaway can be found after the recipe.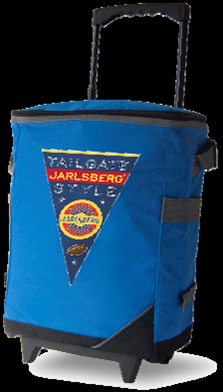 I decided to come up with two recipes that had Asian influences, would please both adults and children alike, and would be easy to make and take to any tailgating party.  I made Jarlsberg Cheese & Asian Pear Turnovers and Sweet Potato & Jarlsberg Cheese Croquettes.  First up is the recipe for the turnovers.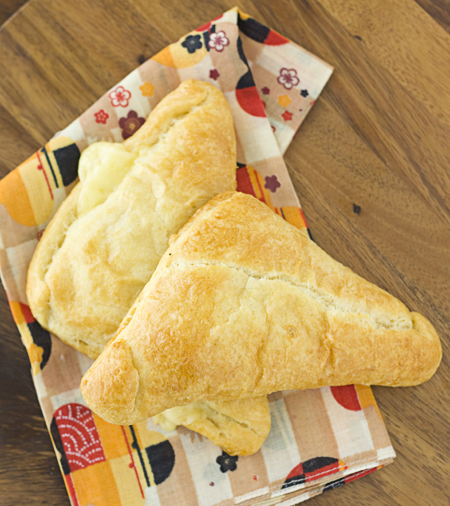 I fell in love with Asian pears (or "nashi" as they're called in Japanese) when we first moved to Japan.  Despite it's name, an Asian pear is more like an apple than a pear.  It is crisp and fragrant and is wonderful paired with more savory items.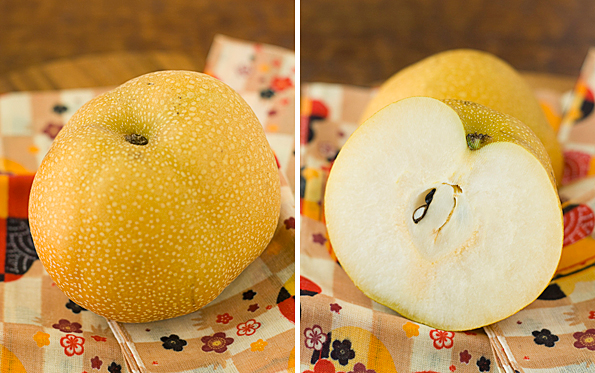 Due to the high water content, you only use a small slice of pear for each turnover to avoid getting soggy pastry, but the pear provides a juicy fragrant balance to the creamy rich cheese.  Asian pears tend to be a bit more expensive, but since you are using a very small amount, this is not an expensive dish to make.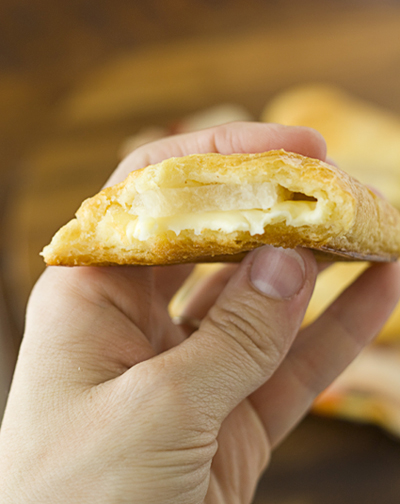 I used a can of refrigerated crescent roll dough to make my turnovers, by separating the dough into 4 rectangles, pressing the seams together, then cutting each rectangle in half to make 8 squares.  These make larger turnovers, similar in size to half a slice of sandwich bread.  You could always make mini turnovers for appetizer sized portions.  Puff pastry could also be used for these turnovers.  However, I find that due to the need to thaw out puff pastry, the crescent roll dough is a much easier and quicker option.  In addition, the crescent roll dough travels much better once baked than puff pastry.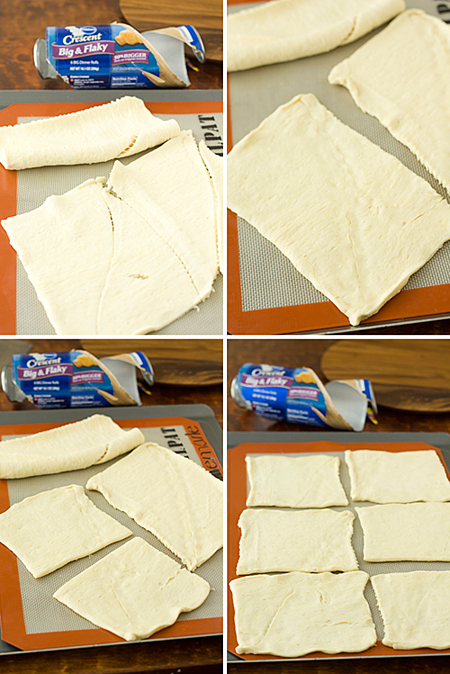 Assembling the turnovers is easy.  All you have to do is place several slices of cheese and a slice of pear on each square of dough, sprinkle a pinch of nutmeg on top, fold the other half of dough over and pinch the sides together.  Then into the oven they go until they are golden brown!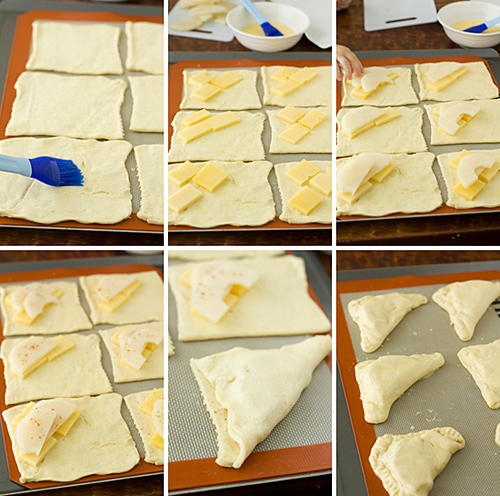 These turnovers are like fancier grilled cheese sandwiches.  Make them ahead of time, wrap them in foil, and then place them on the grill briefly to reheat them.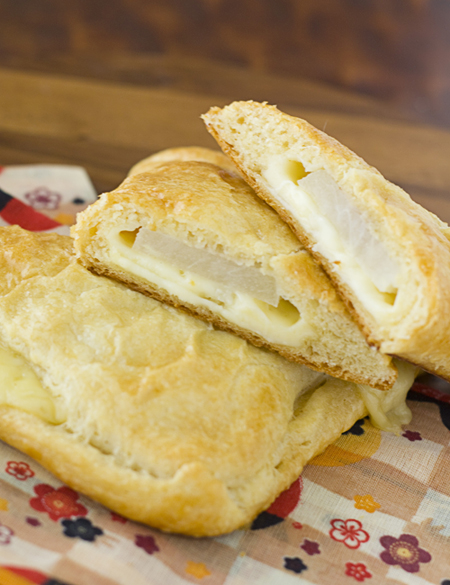 Print This Recipe
Jarlsberg Cheese & Asian Pear Turnovers
Makes 8 turnovers
1 can (8 ounces) refrigerated crescent roll dough
1 large egg
2 tablespoons water
8 ounces Jarlsberg cheese, cut into thin slices
1/2 Asian pear (about 4 ounces), cut into thin half slices
1/2 teaspoon ground nutmeg
1. Preheat the oven to 350 degrees Fahrenheit.  Separate the crescent roll dough into 4 rectangles, then press the perforations together to seal.  Cut each rectangle in half to make squares (8 squares in total).  If the pieces are not quite square, gently stretch them into shape.  Beat together the egg and water and brush each square with the mixture.
2. Place 1 ounce of sliced Jarlsberg cheese and 1 slice of Asian pear on one corner half of each square.  Sprinkle a pinch of nutmeg over each square.
3. Fold the other half of the dough over the filling to form a triangle.  Use your fingers or a fork to seal the edges together.  Brush the tops with the egg mixture.  Place on an ungreased baking sheet, or a baking sheet lined with a silicone baking mat, and bake for 16 to 19 minutes until golden brown.
====================================================
To enter the giveaway for the Jarlsberg Tailgate Tote: Leave a comment telling me how you would use Jarlsberg cheese in a tailgating dish!  If you need some inspiration, go check out the Jarlsberg Tailgating site for all kinds of awesome ideas!  I will keep the comments open until Wednesday, October 6th, 10 PM PST, and announce the winner (using a random number generator) on Thursday, October 7th.  This giveaway is open to US addresses ONLY.
Bonus Entries: (*Each bonus entry requires a separate comment to be counted!*)
2. Follow @fujimama on Twitter. RT this post and then come back and leave a separate comment telling me you've done so. NOTE: You must be following @fujimama for this entry to count.  You can even just copy and paste this tweet to make it easy: @fujimama Jarlsberg Tailgate Tote giveaway—are you ready for your next tailgating party? http://su.pr/7lMe9g
3. Become a fan on Facebook. Come back and leave a separate comment telling me you've done so (or if you already "like" me on Facebook).
4. Become a fan of Jarlsberg Cheese on Facebook.  Come back and leave a separate comment telling me you've done so (or if you already "like" them on Facebook).
5. Sign up for our RSS Feed or Email Subscription.  Come back and leave a separate comment telling me you've done so (or if you're already a subscriber).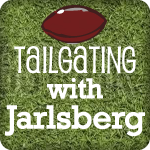 * Disclosure: This post is sponsored by Jarlsberg Cheese.  I was compensated for my work developing and photographing this recipe for the tailgating event.