For my second Jarlsberg cheese
tailgating recipe
, I decided to make Sweet Potato & Jarlsberg Cheese Croquettes. (To see my first tailgating recipe, see my post about
Jarlsberg Cheese & Asian Pear Turnovers
.)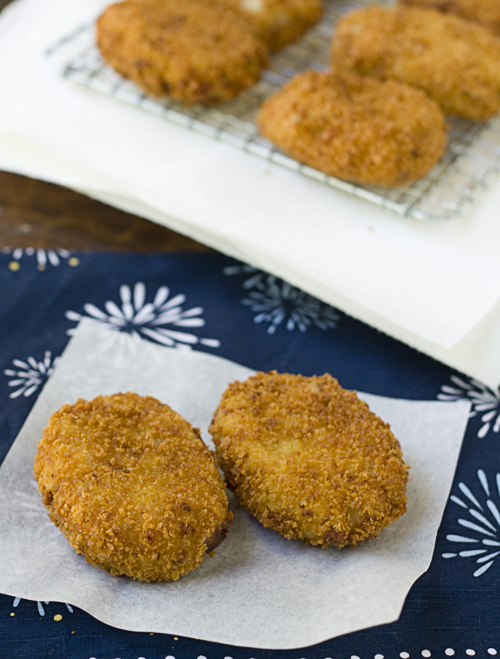 Many Western dishes were introduced in Japan at the turn of the twentieth century, and were absorbed into Japanese cuisine as they were adapted to the Japanese palate.  Croquettes are one such dish.  Although French in origin, they are now very popular in Japan (known as "korokke" in Japanese), and can be bought pre-made in the deli sections of grocery stores, in bakeries, and even convenience stores.  They are often served with Worcestershire sauce and shredded cabbage.  Japanese croquettes are made from mashed potato or sweet potato, ground meet or fish, and onion, shaped into patties, coated in panko breadcrumbs, and quickly deep fried until they are golden brown.  Japanese croquettes are a perfect vehicle for Jarlsberg cheese.   Instead of using meat or fish, I substituted shredded Jarlsberg cheese, then cooked them up as I normally would.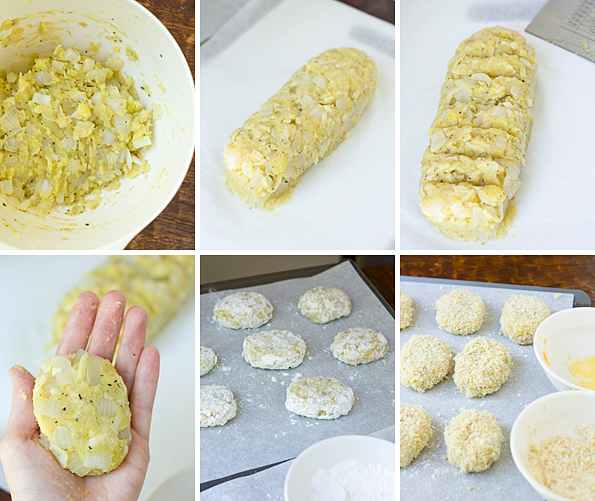 The patties are deep fried at a very high temperature because they only need to be quickly browned on the outside, since the ingredients have already been cooked.  Also, if the oil temperature is too low, the patties will burst and absorb too much oil and become greasy and unappetizing.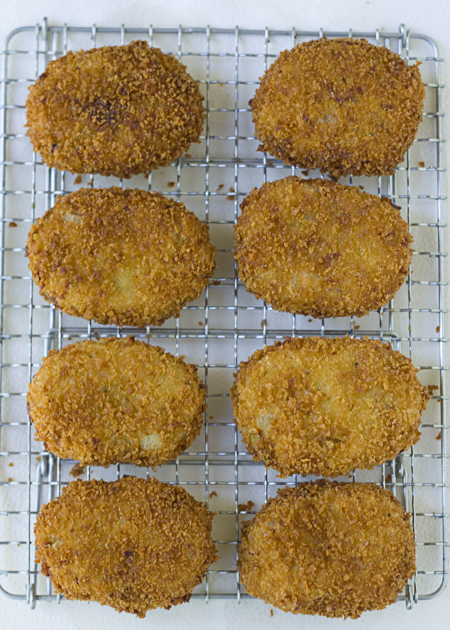 These croquettes are bursting with flavor.  You bite through the light crispy exterior into a creamy and cheesy interior.  The slightly sweet mashed sweet potato pairs perfectly with the nutty sweetness of the Jarlsberg cheese.  Onions add a savory element and contrasting texture, and a bit of fresh basil adds a wonderful aromatic layer to the flavor.  The great thing about these croquettes is that they can be eaten at room temperature, or reheated in a grill basket or the warming rack of a grill.  They are delicious served with a lemon wedge, or accompanied by your favorite coleslaw!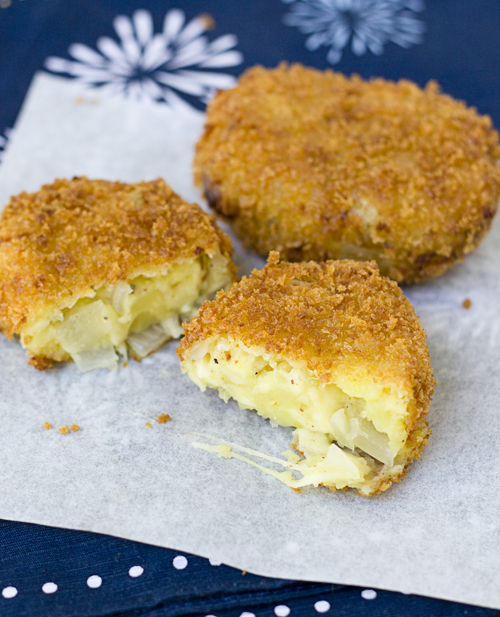 Print This Recipe
Sweet Potato & Jarlsberg Cheese Croquettes
Makes 4 servings (8 croquettes)
1 large (about 14 ounces) yellow-flesh sweet potato
5 ounces Jarlsberg cheese, shredded
1/2 medium yellow onion, chopped
2 teaspoons vegetable oil
1 tablespoon fresh basil, minced
salt and pepper, to taste
1/4 teaspoon ground nutmeg
1/2 teaspoon Worcestershire sauce
1/4 cup all-purpose flour
1 large egg, beaten
1 1/2 cups panko breadcrumbs
vegetable oil for deep frying
lemon wedges, for garnish
1. In a large pot of water, simmer the sweet potato with its skin on until it is soft.  Drain and discard the water.  Peel the sweet potato and cut it into large pieces.  Return the pieces to the empty pot, and dry-cook them over medium heat, shaking the pot back and forth, for 1 to 2  minutes, to remove excess water from the sweet potatoes.
2. Transfer the sweet potatoes to a bowl and coarsely mash them with a fork or potato masher .  Set them aside.
3. Heat a skillet and add the 2 teaspoons of vegetable oil.  Add the chopped onions to the skillet, and cook them over medium-low heat, stirring, until they are soft, about 3 or 4 minutes.  Add the minced basil and give several stirs.
4. Add the onions to the mashed sweet potatoes and combine.  Add salt and pepper to taste.  Add the nutmeg and Worcestershire sauce.  Let the mixture cool and then refrigerate it, covered, for 10 minutes.  Mix in the shredded Jarlsberg cheese and then refrigerate for another 10 minutes.  Refrigeration makes the mixture firmer and easier to shape.
5. Form the mixture into a thick log and cut each log into 8 pieces.  Shape each piece into an oval, flat patty, about 3.5-inches by 2.5 inches.
6. Put the flour, beaten egg, and panko breadcrumbs into three separate bowls.  Dredge each patty with flour.  Dip each patty in egg.  Pat the patty well with the panko breadcrumbs to cover every surface.
7. Heat 2 inches of vegetable oil in a deep skillet to 370 degrees Fahrenheit.  Cook several patties at a time until they are golden brown, about 2 minutes.  Turn them half way through the cooking time so that they cook evenly.  Drain the patties on a rack without overlapping them.  Serve the croquettes with lemon wedges to garnish.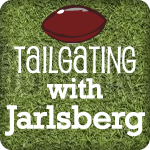 * Disclosure: This post is sponsored by Jarlsberg Cheese.  I was compensated for my work developing and photographing this recipe for the tailgating event.