* Don't miss out on the current LFM giveaway! Enter to win a copy of the cookbook No Whine with Dinner!
I am so excited about today's post written by Kellie (aka, Little Bo), my new intern! That's right, LFM has an intern!  It feels kind of weird saying that, but it's all Kellie's fault.  She lives a few minutes away from me and when I found out this summer that she had started a food blog (Little Bo Bakes), I decided that she had no choice but to be pulled into the wonderful food blogging community.  In September she went with me to Camp Blogaway.  After the event we were talking about blog internships and she told me that she wanted to be my intern.  I think I laughed—be my intern?  But I'm a nobody! Yes, I have a few awesome readers, but surely not enough to be worthy of an intern!  But Kellie insisted.  So after life got in the way and slowed things down a bit (ahem…tonsillectomy nightmare anyone?), we're finally getting underway!  Kellie is one of those people who you can't help but like.  She is bubbly and warm and incredibly talented.  (I love this picture of her that I snapped at Camp Blogaway…hopefully she doesn't kill me for sharing it! Hey Kellie, think of it as intern initiation…)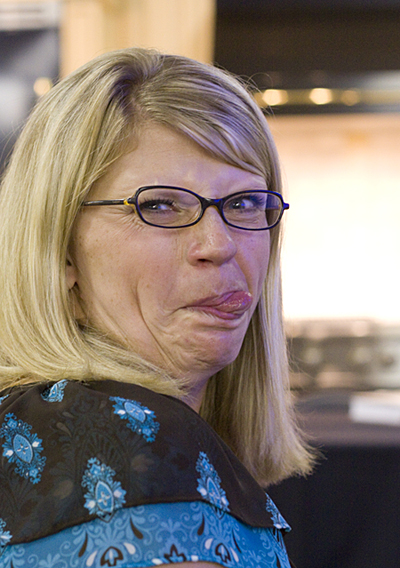 I can't wait for y'all to get to know her too!  To introduce her to all of you, I asked her to write a post about a recipe that would tell us a little more about her.  I'm excited that she is sharing her recipe for her signature cookies with you.  I got some of these a couple of days ago on a Christmas goodie plate and they quickly disappeared!  Don't forget to check out Little Bo Bakes, Bo's fabulous food blog, after drooling over her cookies!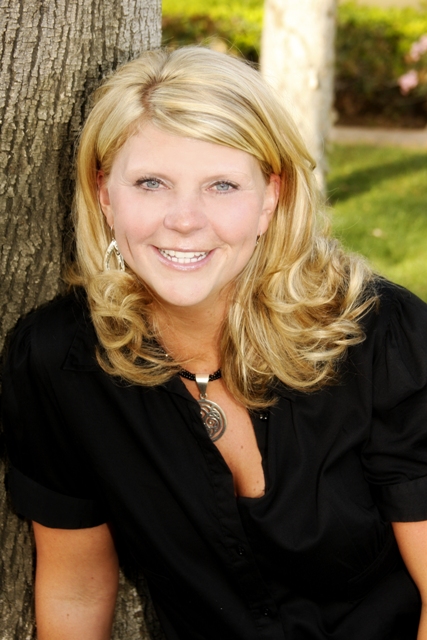 Hi! I'm Kellie (aka, Little Bo), from Little Bo Bakes! How cool is it that I get to guest post on La Fuji Mama today? So exciting! Can I just tell you how wonderful La Fuji Mama is? I am so happy to know her and work with her! She is such a sweetheart. If you ever get the chance to meet her…make sure you do! Your life will be better for it! Thank you for letting me post today!!
This time of year, I bake. I bake A LOT. And…I love it. I love getting my kitchen squeaky clean, making my mental baking list, and pulling out all of my mixing bowls! I love when it gets to that point just before Christmas, when you start thinking about all of the amazing people in your life who you want to…feed. Those people who just ooze loveliness and you want to show them how lovely you think they are by making them wonderful treats! I love to make several different cookies/candies/goodies and wrap them up in cute packages and deliver these treats to my loved ones.  This was the tradition in our home as I grew up, and I am thrilled to report that the tradition has extended into my home as an adult. As I type now, my sister and my mother are making caramels and peanut chews in the kitchen to add to our little packages of goodies!
I grew up in a house full of women! I am third of four girls, and we learned from a young age, the love of baking. My mother and father were wonderful cooks and bakers. We all were blessed with some of their talent. Some of us are excellent cooks, while ALL of us love baking. (I did NOT get blessed with the cooking gene, much to my husband's dismay…but I think the baking makes up for it. At least I think so.)  As we all grew up we all developed a talent for making our "signature cookie." This is the cookie that we are known for in our circle of sisters. This is the cookie that defines us in the family as "bakers". ( I use the "baker" term lightly as we are in no way professionals…just enthusiasts!) This is the cookie that I am hoping is in their cookie jars when I walk in the door of my sister's houses.
The oldest, Stacey, is known for home-made brownies that are super yummy. (Not a cookie…but just as good.) The second oldest, Sarah, makes the best Chocolate Chip cookies I have ever had in my life. The baby, Jackie, (who loves baking as much as I do) makes a mean Snicker doodle… if a Snicker doodle can be mean. And I have the perfected The Peanut Butter cookie.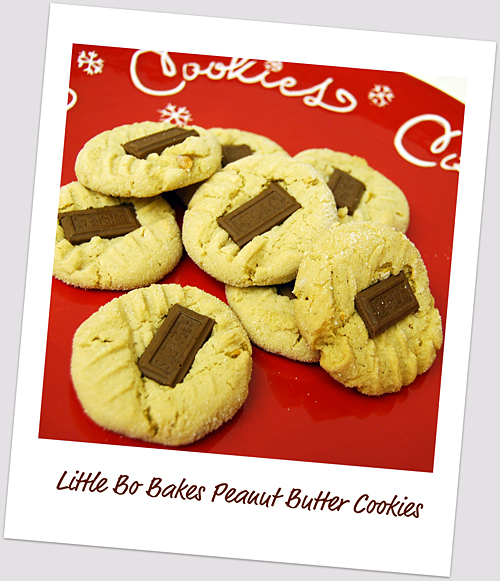 For me, Peanut Butter cookies say "comfort" just by looking at them. They are made with love and require just a bit of extra effort. That little criss-cross pattern on the top makes them look so full and happy. Pushing that square of chocolate into a warm cookie makes me feel so accomplished! I love to look at a counter full of freshly baked peanut butter cookies and see the excitement in my little son's eyes as we gently push a Hershey chocolate into each one. These cookies are family cookies.
These cookies are my family's Christmas cookies. These cookies will always be in our Christmas goody packages. Maybe they might make it into yours too!
Happy Holidays!


Print This Recipe
Little Bo Bakes Peanut Butter Cookies
Makes 30 cookies
1 cup granulated sugar
1 cup brown sugar, packed
2 large eggs
1 cup butter
1 cup peanut butter
1/4 cup milk
1 tablespoon vanilla extract
4 cups all-purpose flour
2 teaspoons baking soda
1 1/4 teaspoon salt
granulated sugar, for rolling the dough balls
30 Hershey's mini chocolate bars or Hershey's kisses, unwrapped
1. Preheat the oven to 350 degrees Fahrenheit.
1. Cream together the granulated sugar, brown sugar, eggs, and butter. Add the peanut butter, milk, and vanilla.
2. In a separate bowl, combine the flour, baking soda, and salt and then add to the sugar mixture. Mix well.
3. Shape the dough into 2 inch balls and then roll the balls in the granulated sugar. Make a criss-cross pattern on each dough ball by pressing a fork into the dough and slightly flattening the ball.
4. Bake the cookies on un-greased baking sheets for 10 — 12 minutes, or until they are a very pale gold color. Remove the cookies from the baking sheets onto a cooling rack. Gently press a mini chocolate bar or Hershey's kiss into the center of each cookie as soon as they are moved to the cooling rack. Cool.
* To learn even more about the amazing Bo, check out her profile page here on LFM!