Have you entered to win a gorgeous super sharp santoku knife yet?  If not, there's still time!  Enter the contest!
————————————————————————————-
I would not normally associate Indian cuisine with Beverly Hills, so you can imagine my skepticism when Mr. Fuji and I met up with friends and fellow bloggers Jaden Hair, Matt Armendariz, Gaby Dalkin, Rachelle Lucas, Lucy Lean, and Jenny Kayano for dinner at Nirvana Restaurant in Beverly Hills last month.  My skepticism was immediately turned into surprised delight after I tasted our appetizers.  Among them were some amazing crispy mushrooms stuffed with cheese and cilantro and a delicious chewy naan bread stuffed with cheese.  The main courses were equally delicious, including Sikandri Raan, a tandoor roasted leg of lamb with meat so tender that it basically melted in my mouth.  One of the best dishes of the evening was the Dal Nirvana—a dal dish made with urad dal, a black skinned lentil, that is slowly cooked for 20 hours in a tandoor oven.  I could curl up with a spoon and a big bowl of that dal and die happy.  We finished with a round of delicious desserts.  One in particular was the other best dish of the evening—the carrot halwa, a thick carrot and milk pudding.  What a delicious way to end a meal!  The chef was kind enough to email me the recipe, and now I'm going to share it with you.  Hopefully this recipe will convince you that you need to head on over to Nirvana and sample the rest of the delicious menu if you're ever in the area!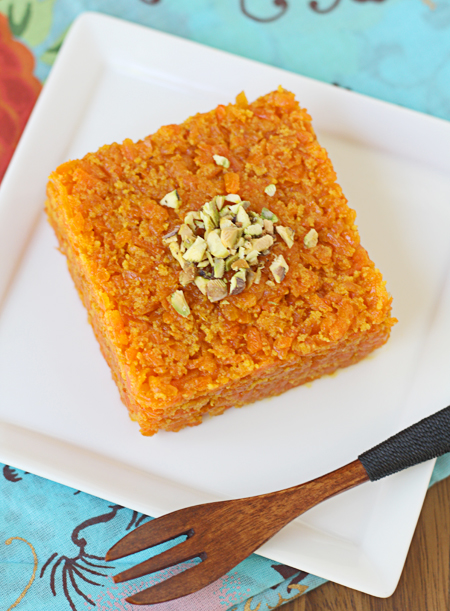 The carrot halwa is a simple recipe, though it takes some time to prepare.  If you have kids like mine, they'll be begging for more after having a taste, so the work put into making it will pay off!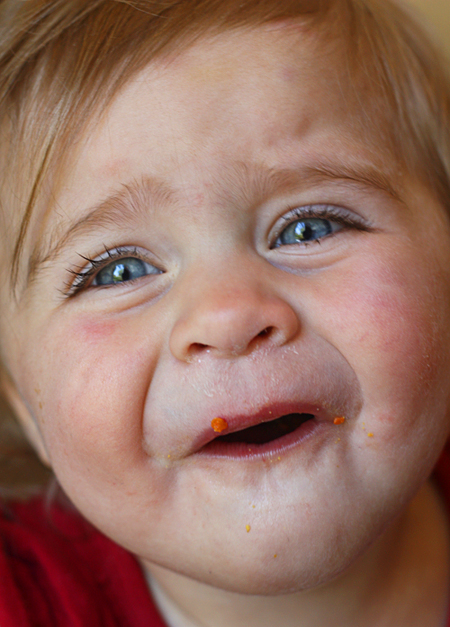 You start out by slowly simmering two pounds of grated carrots in milk, until the carrots have soaked up the milk and become nice and soft.  Then you add sugar, powdered milk, and cardomom seeds and cook everything for another 5 minutes.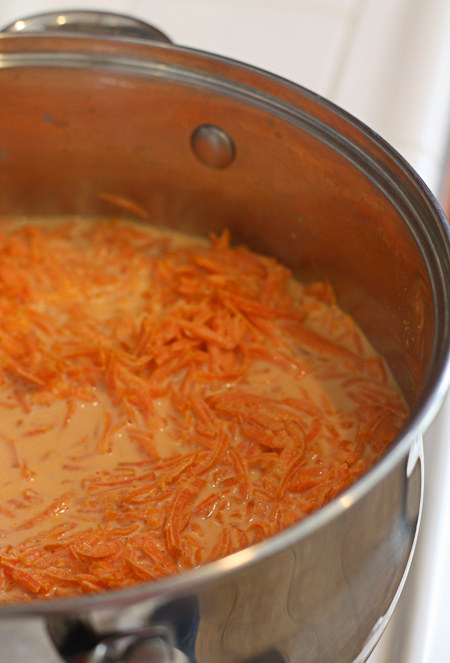 Then you cook the carrot mixture in hot ghee (clarified butter) in a large frying pan until it is golden brown.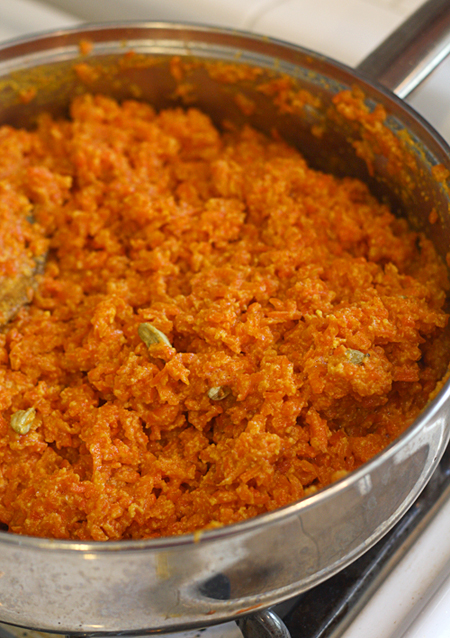 At this point you can spoon it into bowls and garnish it with some cashews or crushed pistachios, or you can press it into a mold to make it into a nice shape.
The finished pudding is full of flavor—lots of wonderful creamy carrot flavor of course, but also a wonderful aromatic spiciness from the cardamom and a nuttiness from the ghee and from browning everything at the end.  This is definitely a dish where you can taste love in every bite!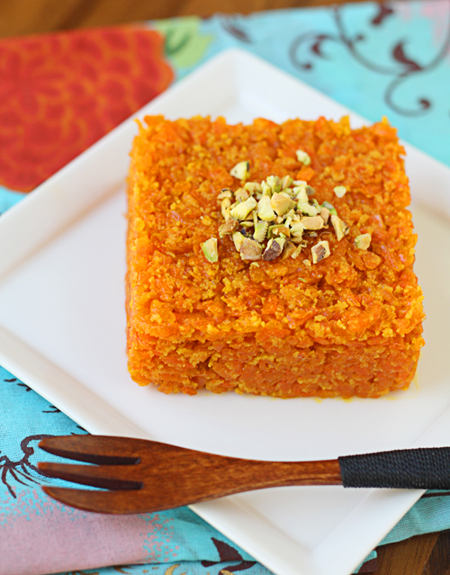 Print This Recipe
Nirvana's Carrot Halwa
Makes 8 — 10 servings
2 pounds grated carrots
4 cups milk
2 cups granulated sugar
1 2/3 cup dry powdered milk
1 teaspoon cardamom seeds
3 tablespoons ghee
Optional: Cashews or crushed pistachios for garnish.
1. Put the carrots and milk in a large pot and bring to a boil over medium heat, and then reduce the heat to medium-low.  Cook, stirring frequently until the milk is absorbed into the carrots.
2. Add the sugar, dry powdered milk, and cardamom seeds to the pot.  Stir everything together and cook the mixture for 5 minutes, then remove from the heat, and set aside.
3. In a large frying pan, heat the ghee over high heat, then add the carrot mixture.  Cook and stir until the mixture turns a golden brown, then remove it from the heat and serve.  The halwa can be served in bowls, or pressed into a mold to be shaped.  Optional: cashews or crushed pistachios can be used as a garnish.