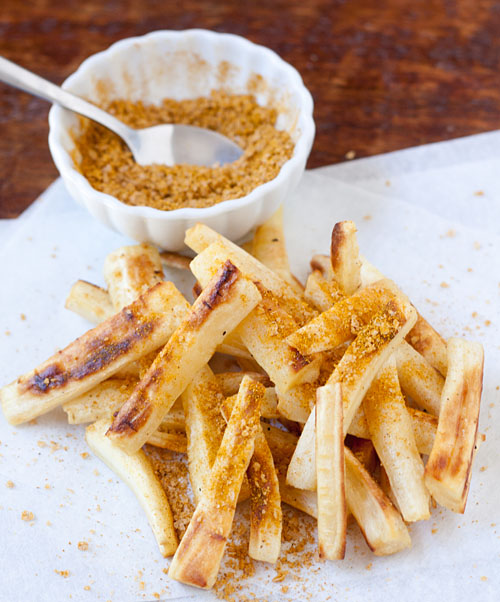 As it gets easier and easier for us to buy produce from around the world when it would otherwise be out of season locally, and our food becomes increasingly more processed, I love that there are companies pushing back and trying to provide us with other affordable options.  I've been trying to make small changes in the way my own family eats (come take the October Unprocessed challenge with me!), increasing our consumption of local foods as we decrease consumption of processed foods.  Last week I attended a STAR Olive Oil tasting at Todd and Diane's (White On Rice Couple) gorgeous new studio.  The party was to celebrate STAR Fine Foods launching a new extra virgin olive made completely from olives grown here in California.  We got to sample a variety of olive oils, experiencing the difference that region makes on the final flavor of the oils.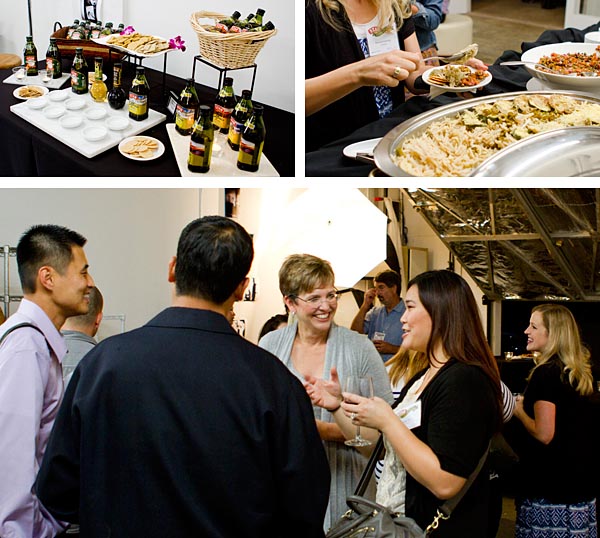 I loved the new oil, so I went out the next morning and picked up a big bottle at the grocery store to experiment with in my kitchen.  STAR Fine Foods is a 113-year old California olive oil importer founded by the Giurlani family in San Francisco in 1898.  Despite being a California company, STAR has always imported their oils from around the world, until now.  The California olive oil is delicious with a light fruity taste and surprisingly peppery finish.  I've enjoyed playing around with it in different foods (it makes a fantastic vinaigrette).  I love my butter, but have been trying to use less of it, taking cues from the Mediterranean diet.  Olive oil only has 2 grams of saturated fat (the "bad" fat) per tablespoon as opposed to butter's whopping 7 grams.  The main type of fat in olive oil is monounsaturated fat, which may even provide certain health benefits.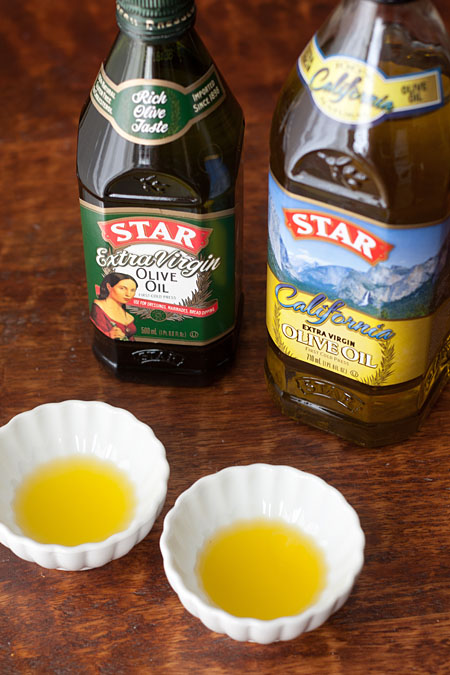 Yesterday morning I was up early to go walking with a friend.  Before I left, I popped in on Twitter to see what was going on in the world and saw an exchange between Gordon Ramsay and a man living in the UK about seasoning roasted parsnips with curry.  Out of curiosity, I tweeted Ramsay, saying that I had never thought of seasoning roasted parsnips with curry, and asked if he added anything else.  Ramsay replied, saying that he just used curry powder and salt.  The simple combo sounded so good that I decided it was going to be on our dinner menu.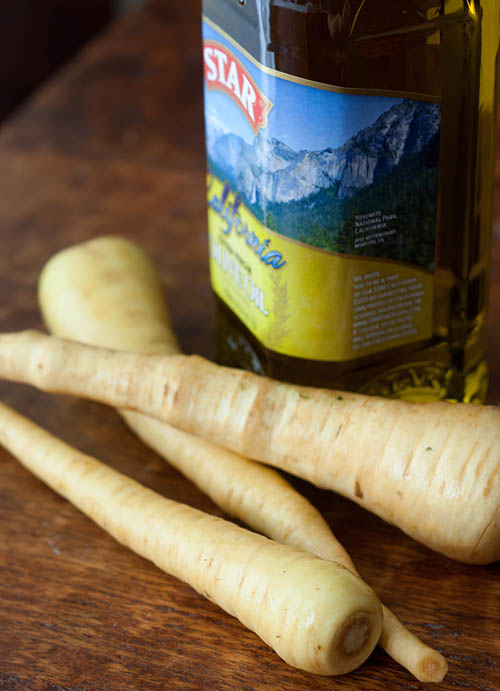 I peeled a pile of parsnips and cut them into sticks, then tossed them in a bit of the California olive oil with a sprinkling of salt and pepper and roasted them in the oven until they were tender and the edges were turning golden brown.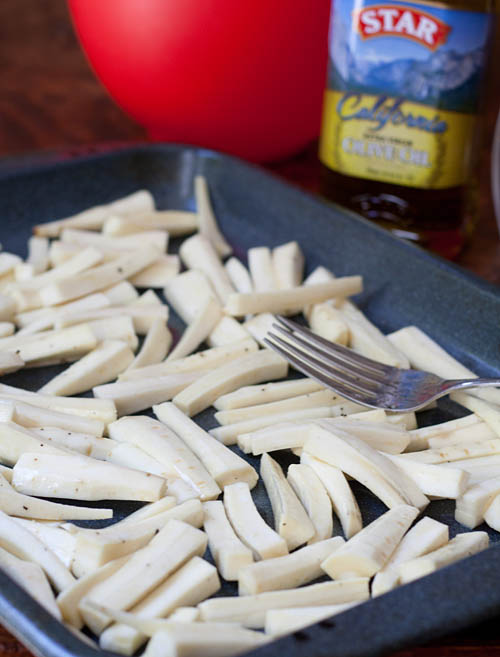 While they were in the oven I mixed up a simple curry salt.  (Seriously simple . . . yep, you guessed it, just curry powder and salt. Would I ever lie to you?) The parsnip "fries" got a healthy sprinkling of the curry salt when I pulled them out of the oven.  We ate them for dinner last night with a simple pan-fried steak.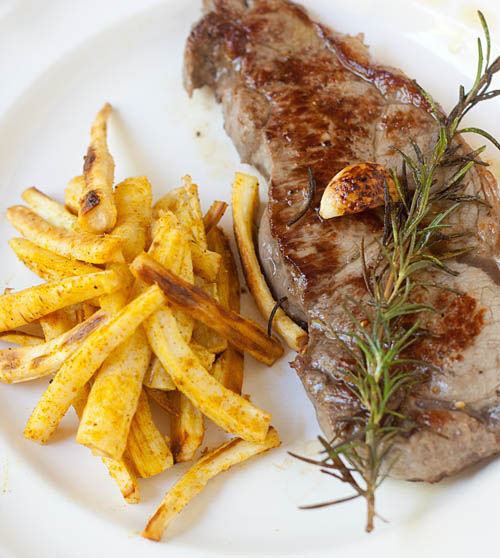 I've never seen non-Japanese food disappear from the Fujiling dinner plates so fast!  I was one happy mama. Not only did my kids eat everything on their plates without complaint and the meal was hassle-free made with things in season and a bit of liquid love from California olives, but the food was so good that I'm still thinking about it.  This is why I love the food community.  If it weren't for Gordon Ramsay sharing his ideas and expertise, I wouldn't have put incredible roasted parsnips on my dinner table last night that were better than any deep-fried french fry I could have fed my girls. Roasted parsnips are delicious as they are, but the curry salt elevated them to a completely new level of taste bud tingling perfection.  I believe that food should be about love, so I'm passing on the love by sharing this with you.  Eat up—parsnips are good for you.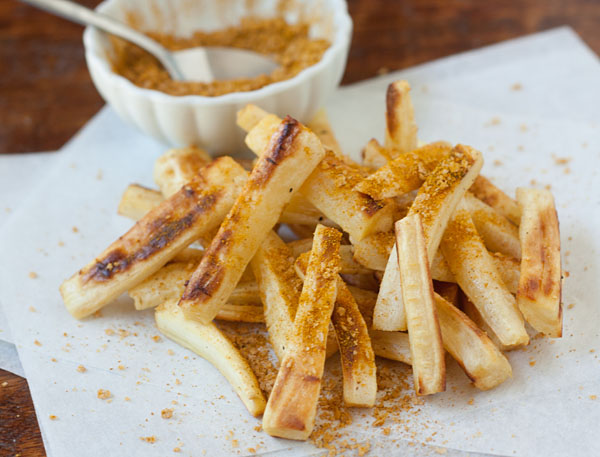 Print This Recipe
Roasted Parsnip "Fries" with Curry Salt
Makes about 4 servings
For the roasted parsnips:
1 1/2 pounds parsnips
2 tablespoons olive oil
1/2 teaspoon coarse salt
1/4 teaspoon freshly ground black pepper
For the curry salt:
2 1/2 teaspoons fleur de sel
1 1/2 teaspoons curry powder
1. Preheat the oven to 425 degrees Fahrenheit.
2. Peel and cut the parsnips into sticks (about 3-inches long). Toss the sticks with the olive oil, salt, and pepper in a bowl.
3. Spread the sticks in a roasting pan and roast in the oven for about 20 minutes, or until tender and golden at the edges.
4. Make the curry salt: Mix the fleur de sel and curry powder together.
5. Sprinkle the roasted parsnip "fries" with curry salt, to taste.