When I was in middle school a bagel shop opened up in town called The Bagel Peddler.  I remember my mom taking my brothers and me there on several occasions, and I remember that my favorite bagel was their jalapeno bagel.  On one occasion, I remember getting a jalapeno bagel and eating it toasted, slathered with cream cheese, and topped with smoked salmon.  I don't remember if I ordered it that way, or if I added those toppings at home—all I remember is that it was GOOD.  A chewy bagel with a bit of tangy heat from jalapenos, mixed with the creaminess of cream cheese and the smokey richness of smoked salmon is a winning combination.  I was thinking about that combination a couple of days ago when I went to the grocery store to buy some nori (dried sheets of seaweed), which we were out of, and the thought occurred to me that the same combination might work well in sushi.  Yesterday the girls and I tried out the idea, making temaki sushi (hand-rolled cones of nori filled with sushi rice and other ingredients) and serving them with a simple baby arugula salad.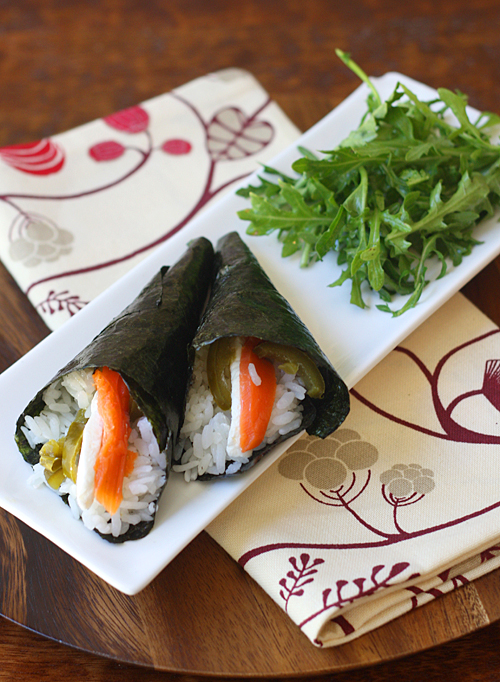 The rolls were fantastic.  I filled them with strips of cream cheese, smoked salmon, and lightly pickled sliced jalapeno peppers.  This delivered all of the same things that I loved so much in that bagel—chewiness from the rice and nori, a bit of tangy heat from the jalapenos, creaminess from the cream cheese, and the smokey rich flavor of smoked salmon.  For the salad, I dressed some baby arugula with a bit of the leftover sushi-zu (vinegar mixture used to make sushi rice).  The nuttiness of the baby arugula flavored with the tangy sweet dressing complimented the rolls nicely.  Not only did I like them, but Squirrel liked them as well.  Giving Squirrel temaki sushi and baby arugula salad for lunch guarantees a very happy little girl.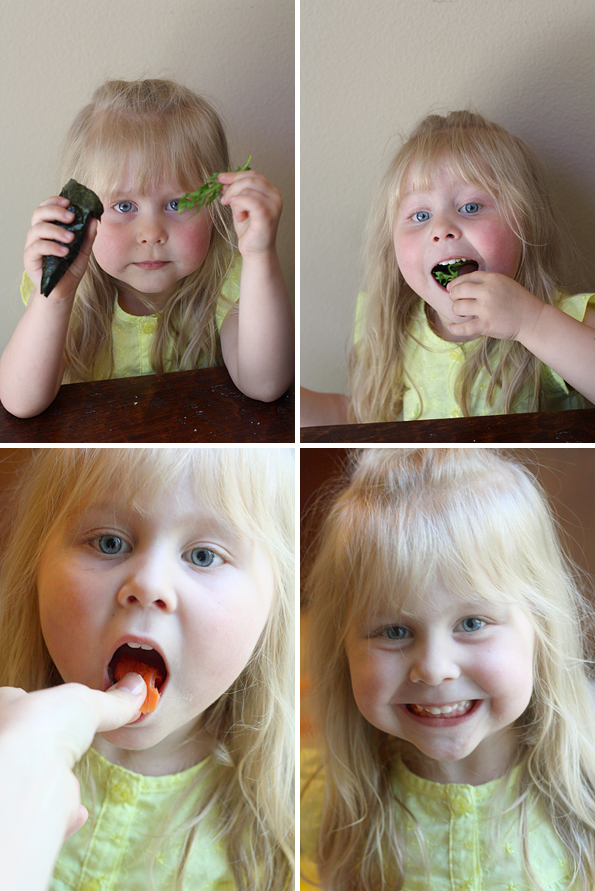 I think Bug will be following in her big sister's footsteps, because yesterday we determined that she definitely loves smoked salmon.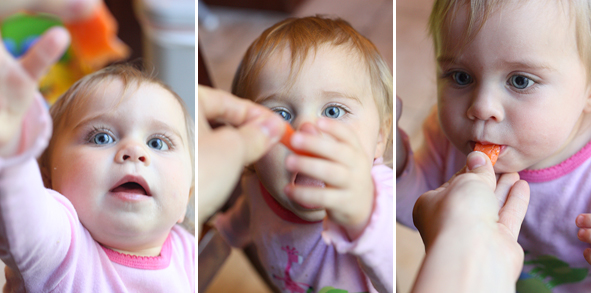 One of the things I love about sushi, is that it is actually very economical to make at home.  When using more expensive ingredients, like smoked salmon, a small amount goes a long way.  Plus, if you make it at home, you can put whatever you want in it—making it a great vehicle to introduce new ingredients to kids.  I have found that temaki sushi is especially fun with kids because it's like giving them a savory ice cream cone.  The shape adds appeal for them, and it's easy to eat and hold because it's a hands-on activity, no chopsticks required.
How To Make Temaki Sushi
Making temaki is so easy.  First prepare your sushi rice and slice your ingredients that you are using to fill your rolls with into long strips.  For these rolls, I sliced up smoked salmon, jarred pickled jalapeno peppers, and part of a block of cream cheese.  Then cut full sheets of nori in half lengthwise.  You will need one half sheet of nori for each cone that you make.
When I fill my rolls, I usually do so holding the nori in my left hand, but for purposes of showing you how to do this, I did it on a cutting board.  Lay your nori horizontally, with the rough side facing up (or hold the sheet horizontally with one hand, rough side facing up).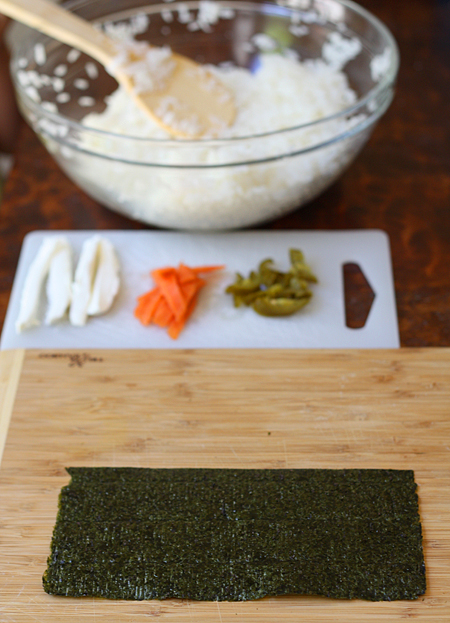 Slightly dampen your other hand with water (this helps prevent the rice from sticking to your hand) and spread 2 to 3 tablespoons of the sushi rice on the left side of the nori.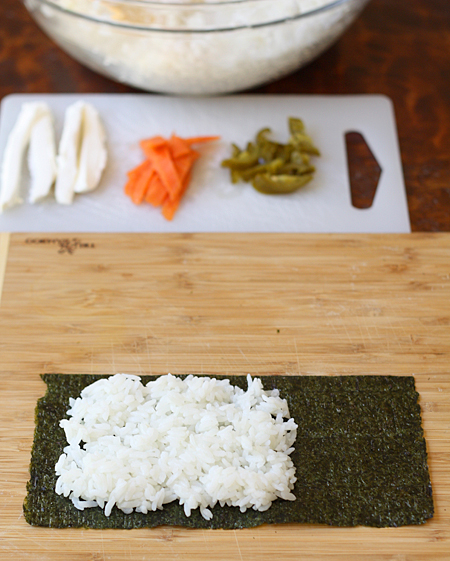 Arrange your other fillings on top of the rice.  I find that it helps with the rolling of the cones to lay the fillings diagonally across the rice, pointing up towards the top left corner of the nori.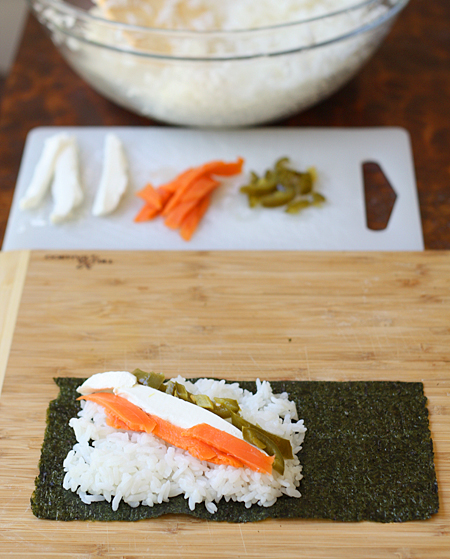 Wipe your damp hand on the right hand side of the nori (this will act as a glue to hold the cone together when you roll it).  Then fold the bottom left-hand corner of the nori over the fillings and tuck it under the other side.  This will start to form your cone shape.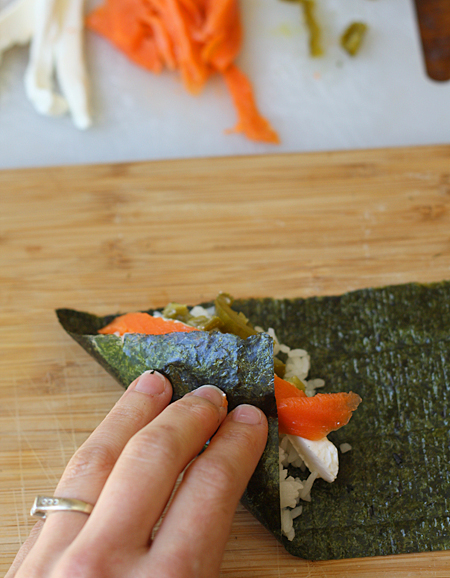 Then roll the remainder of the nori around to finish the cone shape.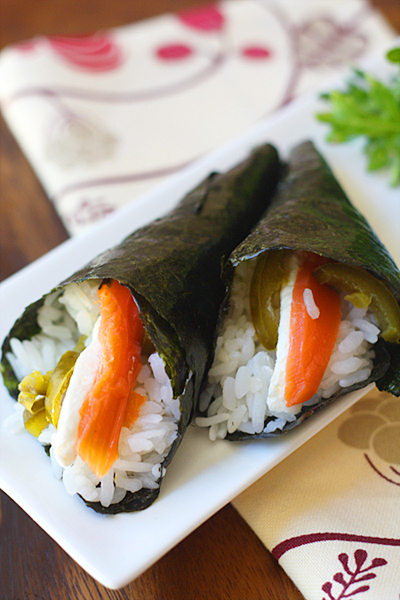 =============================================
Coming Next: Sushi-su and sushi rice!