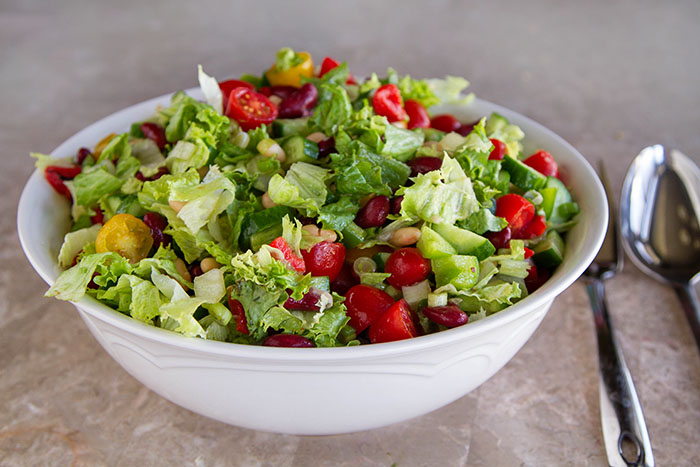 May 1st, the day the Empire State building officially opened 83 years ago, the day the movie Citizen Kane premiered 73 years ago, the day the first KMART store opened 52 years ago, and the day Elvis Presley married Priscilla Ann Beaulieu 47 years ago, among many other events—who knew today was such an important day?  Unfortunately things just aren't as scintillating in the Fuji household as any of these events, and so we'll have to settle for a chopped salad.  I know, I can already hear the collective sigh of disappointment.  But before you all shuffle off to find something more excited to do, this chopped salad is delicious, and today does mark the beginning of National Salad Month!
This particular salad is modeled after a salad that my dad made while I was visiting a few weeks ago.  My dad makes salads like he makes sandwiches, by opening up the refrigerator and cupboards and throwing in whatever he finds.  Watching him, you would think his salads would be a little on the disaster side, but the opposite is true.  He has the uncanny ability to make whatever he decides to put into his salad bowl all play nicely.  The salad he made last month was bursting with fresh produce, including my all-time favorite creamy California avocados.  I asked him what he had used as a dressing and it turned out that he had used olive oil, salt, and pepper.  That's it!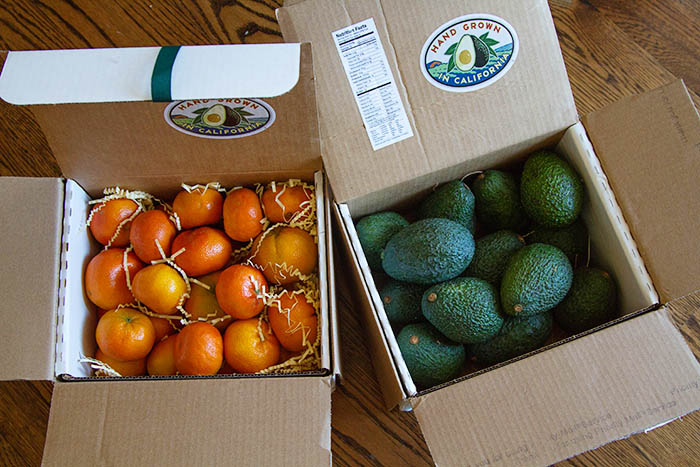 I recently got a couple of care packages in the mail from my Avocado Sister, Mimi Avocado, who also happens to be on of the masterminds behind California Avocados Direct, an avocado gift box company.  I am the luckiest girl on the planet to have a friend like her!  One box was filled with perfect California avocados from the trees on her avocado ranch.  The other box was filled with seedless Tango mandarin oranges, another one of my favorite things.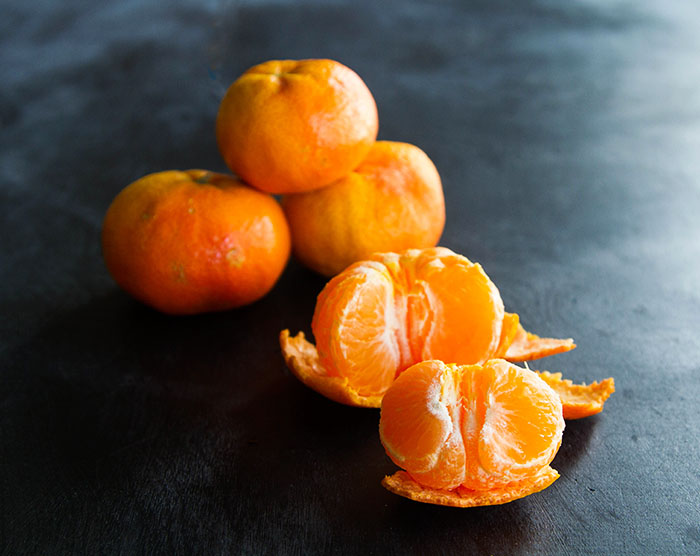 I had promised myself that I was going to make something with some of the oranges…but well, maybe I shouldn't make promises that I can't keep, because the oranges were devoured quicker than I could say "guilty"!  They are so sweet and juicy that they are seriously better than candy.  (Note: You can order both the avocados and Tango mandarins from California Avocados Direct . . . a perfect Mother's Day gift!)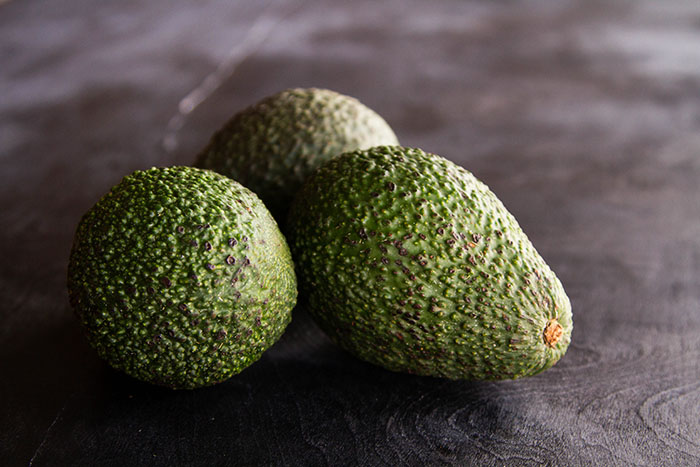 So there went the oranges, but luckily the avocados forced me into patience, due to the fact that they are hard when they're picked (avocados won't begin ripening until after they are picked), which forced me to wait until they did their thing and softened.  The nerve!  By the time the first few were perfect, I had already decided I wanted to whip up a chopped salad inspired by my dad's salad.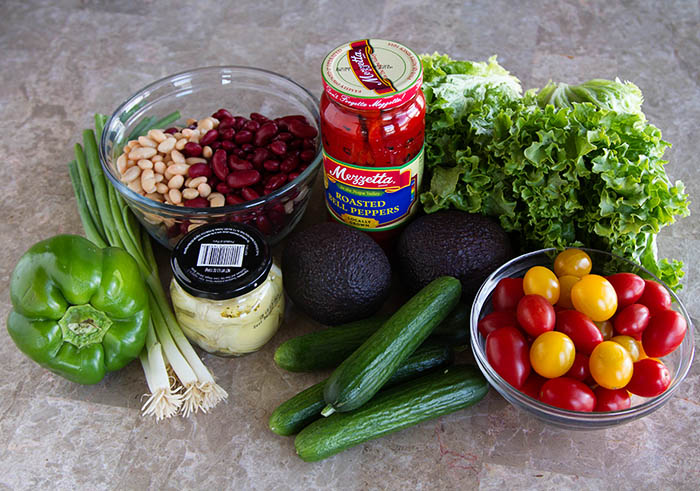 I chopped up a bunch of fresh produce, tossed it all in a large bowl, then drizzled my favorite California Olive Ranch Arbosana extra virgin olive oil over it all and tossed it again to coat, then added salt and pepper to taste.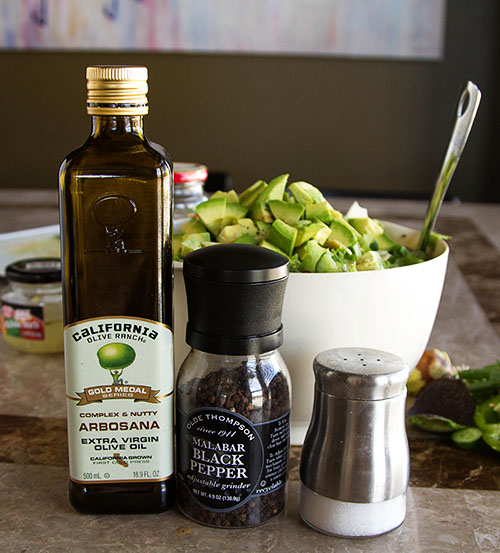 The simplicity of the dressing helps everything shine, without covering up any of the wonderful flavors that the produce has to offer.  Adding roasted red bell peppers and marinated artichoke hearts helps to make the flavors pop.  A perfect way to enjoy spring, this salad makes a wonderful side dish or a light main.  Happy May 1st!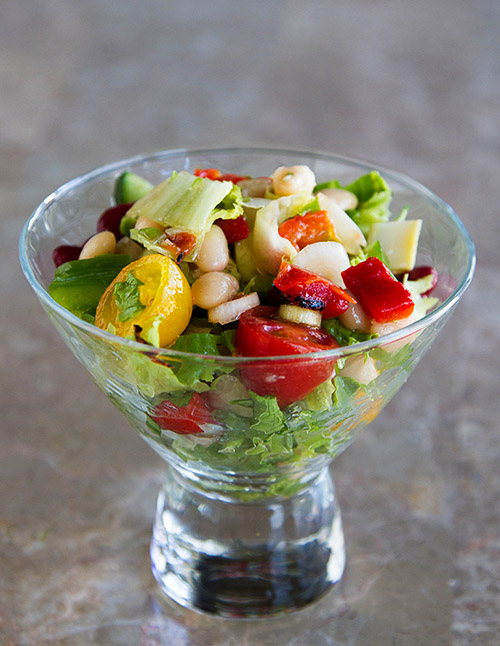 Print This Recipe
Spring Chopped Salad
Makes approximately 10 servings
6 ounces green leaf lettuce (1 small head), finely chopped
6 ounces red grape tomatoes, halved
6 ounces yellow grape tomatoes, halved
6 scallions, white and light green parts, thinly sliced
4 baby cucumbers (about 9.5 ounces), chopped
1 green bell pepper, deseeded and chopped
3 California avocados (peeled & pit removed), chopped
1 (6.5 ounce) jar marinated artichoke hearts, drained and hearts roughly chopped
5 ounces roasted red bell peppers, roughly chopped
1 (15 ounce) can dark red kidney beans, drained and rinsed
1 (15 ounce) can white northern beans, drained and rinsed
1/4 cup extra virgin olive oil, plus more as needed
Salt and Pepper, to taste
——————————————
1. Put all of the ingredients, except for the olive oil and salt and pepper, into a large bowl and gently toss to combine.
2. Drizzle the olive oil over the ingredients in the bowl and toss to coat. Add additional oil, about 1 teaspoon at a time, as desired. Then add salt and pepper to taste.
*Recipe Notes: You can substitute one large cucumber in place of the baby cucumbers. Make sure to peel the cucumber first before chopping, however, as the skin on normal cucumbers is much more bitter than that of the baby cucumbers. This salad is wonderful for switching things out! You could add some fresh finely grated lemon zest and the juice of a lemon or two. You could also add some of the oil from the jar of marinated artichoke hearts. Substitute your favorite beans for the dark red kidney beans and white northern beans, or substitute your favorite vegetables.
——————————————————–
*Disclosure: Mimi sent me a box of avocados and a box of Tango mandarins as a gift.  I chose to write about the produce because I love it!