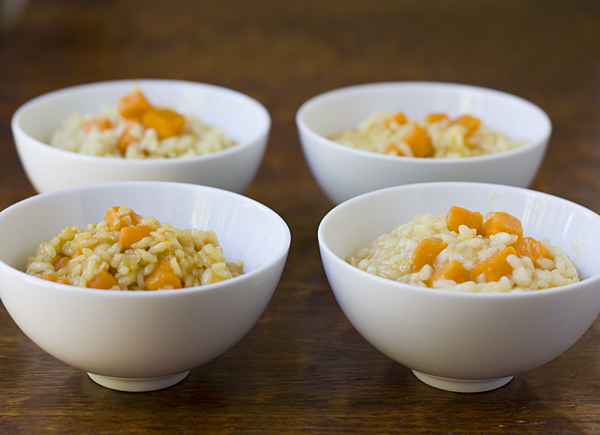 When MarxFoods contacted me a while back asking if I would be interested in trying out and comparing several different varieties of risotto rice, I had to pause.  I had never thought about there being multiple varieties of rice that could be used to make risotto.  When it comes to rice, my "field of expertise" lies with the varieties of rice used in Japanese cuisine.    So I enthusiastically said yes to the opportunity to expand my culinary education.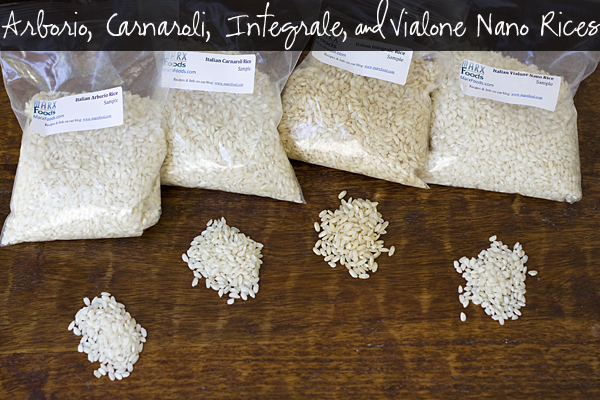 When I received the rice samples I decided to make a simple risotto, but use some Japanese flavors.  I made a sweet potato ginger risotto with each rice variety and then sat with a spoon and notebook and carefully sampled each variety.  Here's what I learned: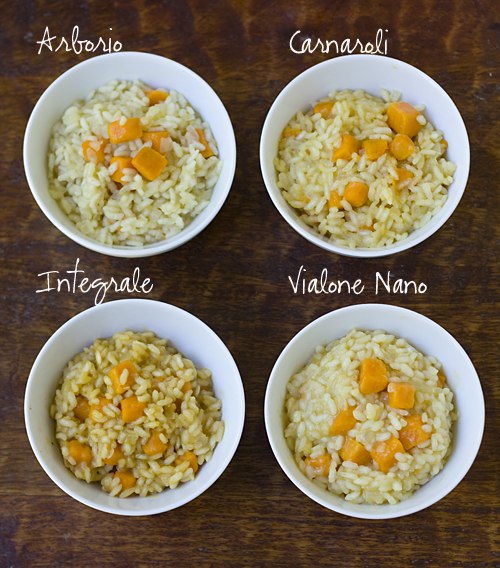 Italian Arborio rice is a starchy Italian white rice that is most often thought of when cooking risotto.  It is short, fat and slightly oval-shaped (kind of like a football!), and has a pearly white exterior.  This rice is easy to use and makes a great risotto.  A huge plus to arborio is that it's cheaper than the other varieties.  The risotto I made with Arborio turned out as I expected it to—good flavor and creamy.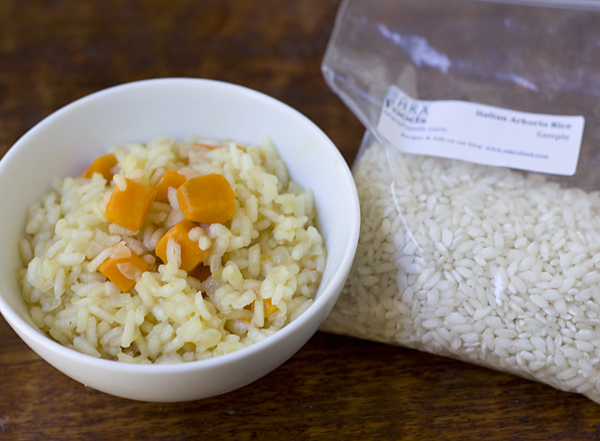 Like Arborio, Italian Carnaroli rice contains more starch than other rice varieties, though, it retains liquid and holds its shape better than Arborio rice and has a larger grain, making for a more textured dish.  Carnaroli is considered by many to be the best of the risotto rice varieties and has been nicknamed "the caviar of rice."   I found the risotto made with the Carnaroli to be very creamy and more "fluffy" than sticky.  Being able to see the individual grains so well also made this risotto particularly beautiful.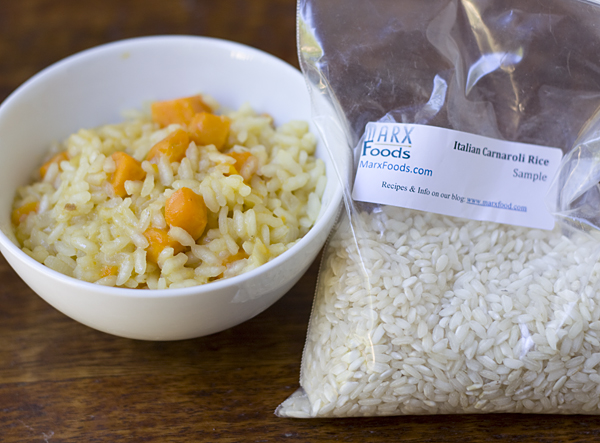 Out of the four varieties I tried, the Italian Integrale rice was the most unique.  It is an Italian brown rice (whole grain/unpearled rice).  The outer bran is left on, instead of being polished off, which gives the added benefit of more nutrients and fiber.  The outer bran also gives this rice a darker color and nuttier flavor.  The risotto I made with the Integrale was definitely slightly nuttier, and it was also slightly more chewy.  It also required more time to cook, and thus also required more dashi to finish.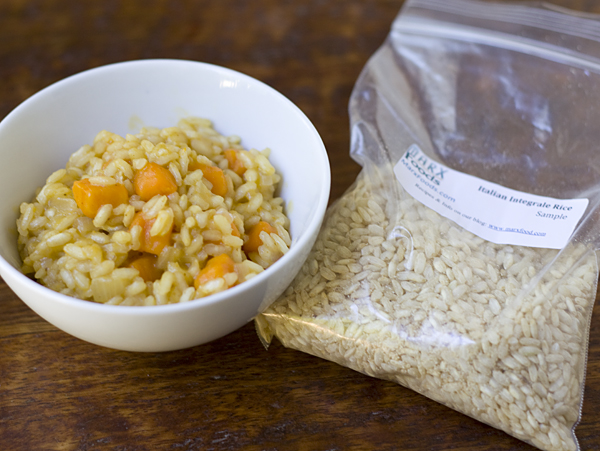 Although I loved them all, my favorite of the four was the Italian Vialone Nano rice.  It is shorter and fatter than the other varieties.  It also absorbs liquids better and release more starch than the other risotto rices.  After sampling each of the 4 risottos multiple times, I kept coming back to the risotto made with the Vialone Nano rice.  It was so creamy and decadent!  After doing my test I did some research on the different rices and learned that Vialone Nano is regarded by many Italians to be the finest risotto rice.  I'm not surprised!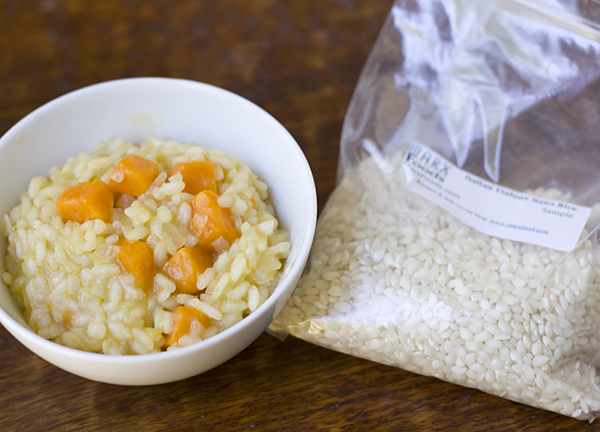 The "Ins and Outs" of Risotto Making
I love the "magic" of risotto making.  Although it requires you to be present in the kitchen, tending a pot of rice for about 30 minutes, it is really easy to make, and produces a  such fabulous results that the attention required is worth it! Using a risotto appropriate rice variety is very important, because short-grain rice varieties have a higher starch content, which allows them to easily absorb liquid and gives risotto its characteristic thick consistency. To make the magic happen, you start out by sauteing some minced onion in oil, and then you add the uncooked rice grains and cook them until they brown slightly.  This step adds a wonderful nutty taste and helps to jumpstart the warming of the rice.  Keeping that rice warm is a very important part of the risotto process because it helps maximize the amount of starch you can coax out of the grains, which will give you a creamier finished risotto.  Because of this, one of the most important risotto "rules" is to always add liquids slowly, and to make sure that they are warm when added.  If added to quickly, you are depriving the grains of continuing to let go of their starch.  By adding your liquids slowly, you are continually coaxing that starch out.  If liquids are added cold, this will stop the cooking process and prevent your risotto from coming to its full creamy potential.   The final trick to coddling those grains so that they turn into wonderfully creamy risotto is constant stirring.  The agitation of the grains aids in the process of pulling the starch out.  Risotto is prepared al dente, which means that it should be slightly firm to the bite.
This sweet potato ginger risotto uses dashi (Japanese sea stock) instead of broth.  Fresh ginger adds warmth and cubes of sweet potato had creamy flavor, color, and all kinds of great vitamins and antioxidants.  Whether it be for a nice dinner or to nurse a bad cold, this risotto is a fabulous choice!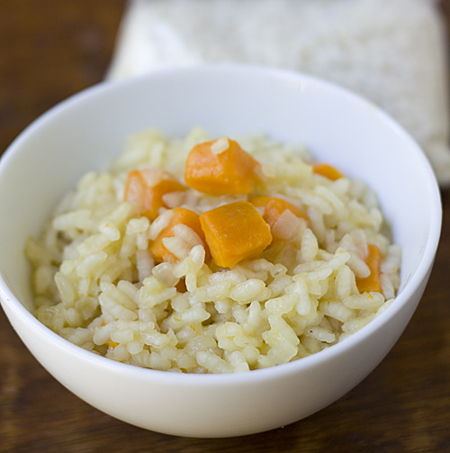 Print This Recipe
Sweet Potato Ginger Risotto
Makes 3 – 4 servings
1/4 cup olive oil
1 small onion, minced
1 cup rice
4 to 6 cups warm dashi
salt
1 cup sweet potato cubes (1/2-inch cubes)
1 tablespoon minced fresh ginger
1 tablespoon unsalted butter
1. Heat the olive oil in a large sauce pan over medium heat. Add the onions and cook until they are translucent. Add the rice, stirring continually until the grains start to brown slightly and are well coated with oil. Continue stirring constantly to prevent the onions and rice from burning.
2. Reduce the heat to low and carefully add in 1/2 cup of dashi while stirring continually. Season with salt and then stir in the potato cubes.  Cook until almost all the liquid has evaporated, then add another 1/2 cup of dashi.  Continue adding dashi, 1/2 cup at a time, stirring until liquid is absorbed before adding more. Repeat this process until the risotto is al dente (aproximately 30 minutes).
3. Once the rice is creamy and al dente, remove the saucepan from the heat, add additional salt if necessary, stir in the butter, and serve immediately.