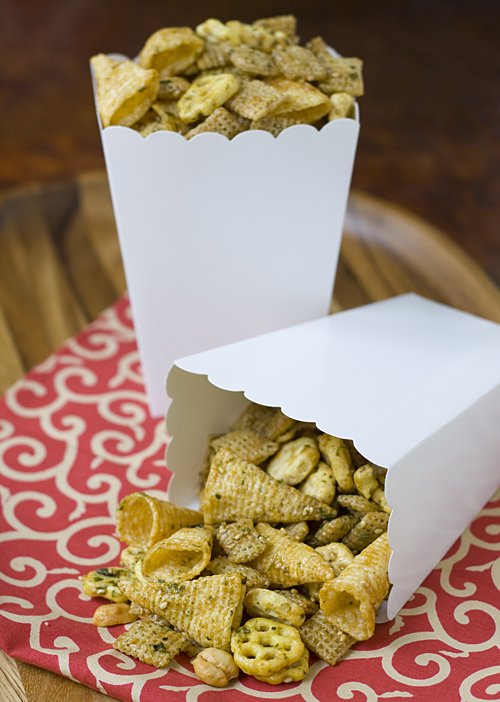 Earlier last year a new family built a house on my MIL's street.  When they moved in she went over to meet them and during the conversation Erin, the wife, asked my MIL if she by any chance knew Fuji Mama.  You can imagine my MIL's surprise!  She responded that in fact she did and that I was her DIL and then asked how she had made the connection.  Erin explained that she had been looking for recipes online recently and stumbled upon my blog.  A picture in one of my posts looked strangely familiar.  So she went out and checked and realized that it had to have been taken in their new neighborhood and it looked like it had been taken from my MIL's house looking up the street.  What a small world!
In June, Mr. Fuji went to Japan on a business trip, and I drove up to Utah with the girls to my MIL's house.  She and my FIL watched the girls while I went to meet up with Mr. Fuji in Japan at the end of his business trip.  One day my MIL was outside with the girls and Erin saw them and asked my MIL if they were Squirrel and Bug.  (Squirrel and Bug, you're famous!!)
When we got back from Japan I knew I wanted to meet Erin.  So Mr. Fuji and I went to visit her and her husband's restaurant/boutique in town.  Isn't this story awesome?  FOOD PEOPLE!!  The restaurant is called Food For Thought and is in a fabulous old house in Draper, Utah.  Mr. Fuji and I ordered some wonderful fresh salads and then finished off our meal with a mini princess cake (just like the ones I was commissioned to make for the bridal shower back in April of last year).  After we had paid and were about to leave, I asked the waitress if Erin was at the restaurant, and we got lucky because she had just walked in with her husband and kids.  Mr. Fuji and I got to meet them all and were delighted that they were as wonderful as we had hoped they would be.
Last month my MIL and I went over to Erin's house to deliver some holiday treats that we had made them (I contributed toffee, of course!).  Erin sent us home with a box of what she called Crispix Arare, which disappeared so quickly that when I went to snap a picture of it the next morning, there was hardly any left!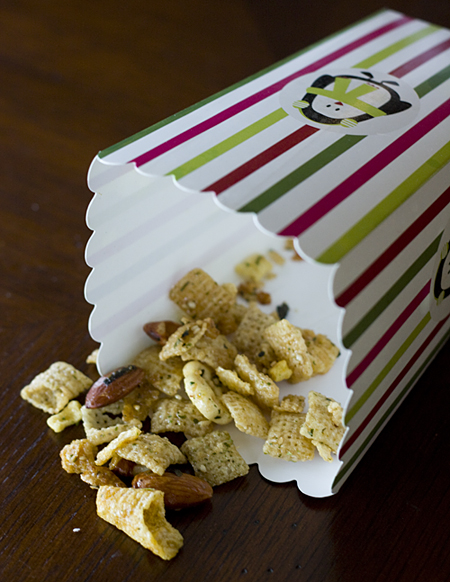 Erin also invited us to come over on New Year's Day because she and her family were going to be cooking a traditional Japanese New Year's feast.  Oh, did I forget to mention that Erin and her family are Japanese? I told you this story was awesome!  So New Year's Day Mr. Fuji and I stopped by their house and ended up staying for the meal and coming home with bento boxes filled with treats to share.  We were SPOILED.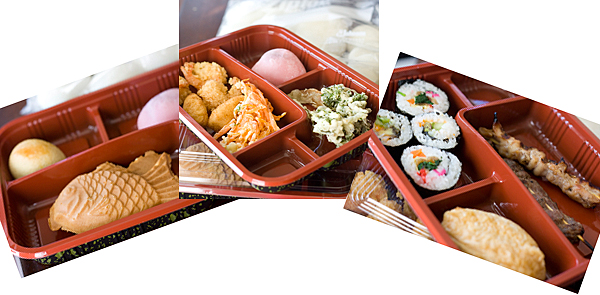 While we were there, I also made sure to ask Erin if she would be willing to share her recipe for Crispix Arare with all of you, because it was so addictively good.  The day before we left to drive home, she dropped off a recipe card with the recipe.  So here we are!  Arare means "hailstones" in Japanese and refers to little rice crackers that come in a variety of flavors, both savory and sweet.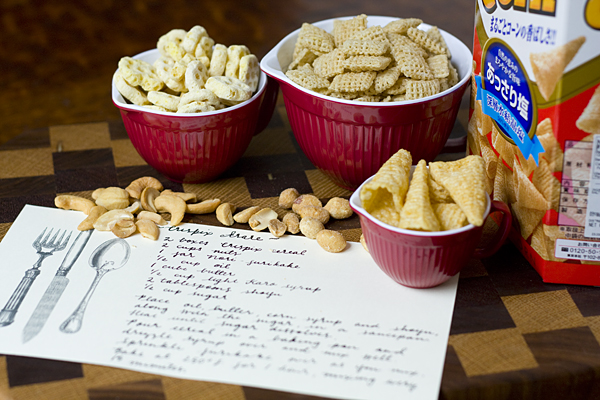 This recipe takes the oh-so-popular American snack of Chex Mix and combines it with the flavors of Japanese arare to make a very successful and addicting snack.  The mix is both sweet and salty, which I'm always a sucker for.  I loved Erin's combination of rice chex (to keep it authentic!), Honeycomb cereal, and Bugles, but you can use whatever combination you love (just make sure you use the same total number of cups)!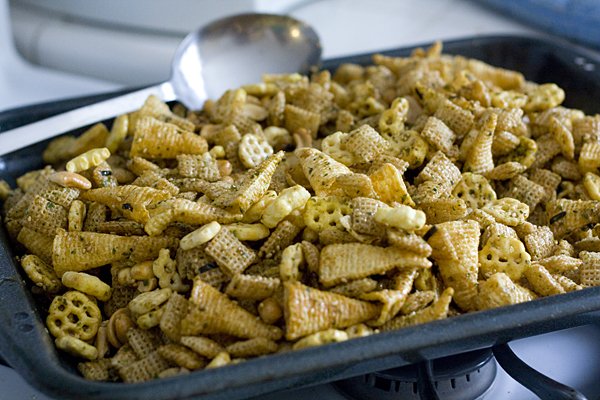 The variety of shapes, textures, and flavors made the mix that much more exciting.  The final touch in the mix is the use of Nori Komi Furikake
, a Japanese seasoning made of seaweed, sesame seeds, salt and sugar.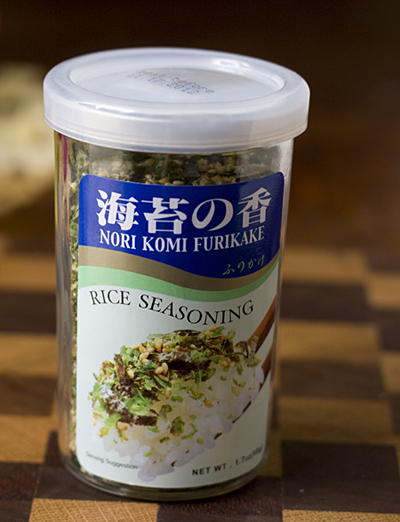 I know it might sound weird, but I'm going to go out on a limb here and say that you are going to be pleasantly surprised if you give it a try!  And as you reach the bottom of the bowl way too quickly, don't blame me, blame Erin!!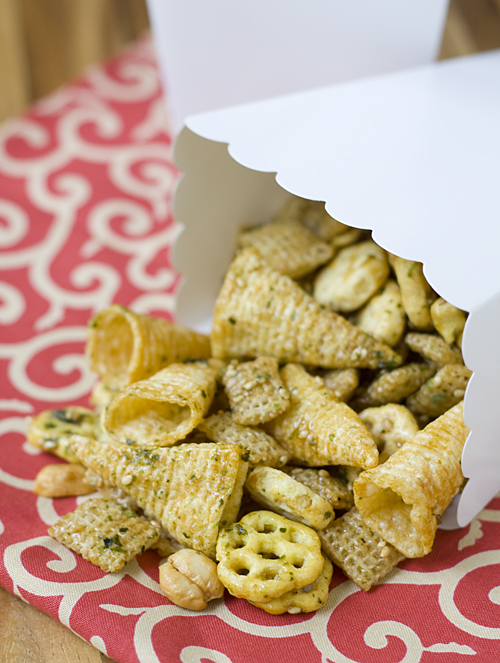 Print This Recipe
Chex Mix Arare
Adapted from Erin's (Food For Thought) recipe
Makes about 14 cups of snack mix
Recipe Notes: You can use whatever cereals or snacks that you love in your Chex Mix.  Just make sure you use a total of 13 cups!  I used a combination of cashews and peanuts, but again, use a total of 1 cup of whatever nuts you love.
1/4 cup vegetable oil
1/4 cup butter
1/4 cup light corn syrup
1 tablespoon soy sauce
1/4 cup granulated sugar
7 cups Crispix rice cereal
3 cups Honeycomb cereal
3 cups Bugles
1/2 cup salted roasted cashew pieces
1/2 cup salted roasted peanuts
1/4 cup nori komi furikake
1. Preheat the oven to 250 degrees Fahrenheit.
2. Place the oil, butter, corn syrup, soy sauce, and sugar in a medium saucepan. Heat over medium-low heat until the butter melts and sugar dissolves.
3. Pour the Crispix, Honeycomb, Bugles, and nuts into a large baking pan. Drizzle ¼ of the syrup over the cereal mix and mix well. Sprinkle ¼ of the furikake over the mix. Continue adding syrup and furikake and mixing until all ingredients have been added and the cereal mix is evenly coated.
4. Bake for 1 hour, stirring the chex mix every 15 minutes.  Spread on paper towels to cool, about 15 minutes. Store in an airtight container.
* If you are ever in the area, you shouldn't miss a stop at Food For Thought, even if it's just to pick up a couple of treats to take home!
Food For Thought
12640 Fort Street
Draper, UT 84020-9362
(801) 576-9161
Business Hours: Monday — Saturday, 9am — 4pm