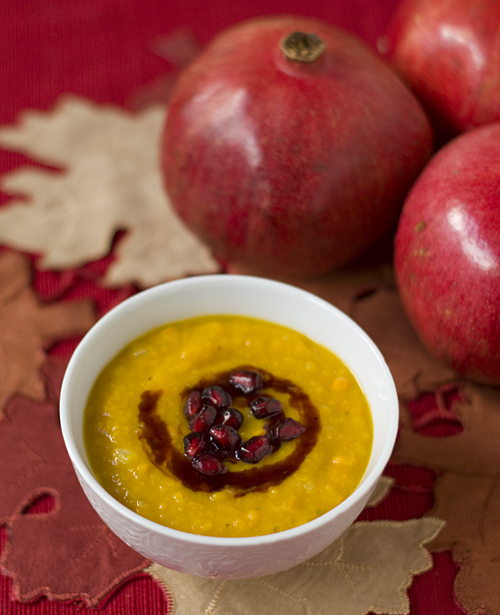 Creamy kabocha sweet potato pomegranate soup.  Does it sound good?  I hope so, because it is.  I have been trying to write about this soup for a good week now.  Yesterday I struggled through putting together the post, and then went to add pictures and got an error screen.  When I tried to refresh and then return to my previous page, the only evidence of my work was the title of my post.  I tried everything I could think of to find the post, because I had been saving it periodically as I was writing, but it was just gone.  I took it as a sign and turned off my computer.  So here I am again, feeling a sense of deja vue as I try and find something to say.  I realized this morning that the source of my writer's block is life in general.  I am tired, and getting the cogs in my brain to move is like convincing Squirrel that ice cream isn't a breakfast food—impossible.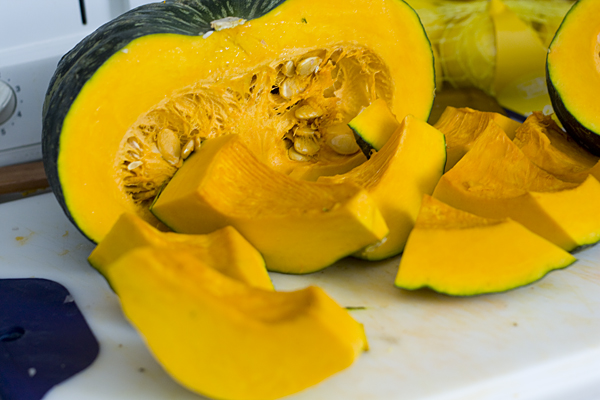 Tuesday we made the long drive from Salt Lake City back home to Southern California.  The time spent with my in-laws for Christmas and New Years was wonderful, but didn't go quite as planned.  When we arrived, my adorable little 8-month old nephew had a bad cold, and things seemed to go downhill from there.  Family members were dropping like flies.  I finally took Bug to urgent care at one point because her cough sounded so terrible.  Life has just been tough for cute little Bug, because after being poked, prodded, swabbed, and x-rayed, she came away with a diagnosis of strep throat and pneumonia.  A couple of days later, several other members of the family, including me, were back with diagnoses of strep throat and ear infections.  So our vacation was filled with even more family time as all of us laid around the house being miserable together.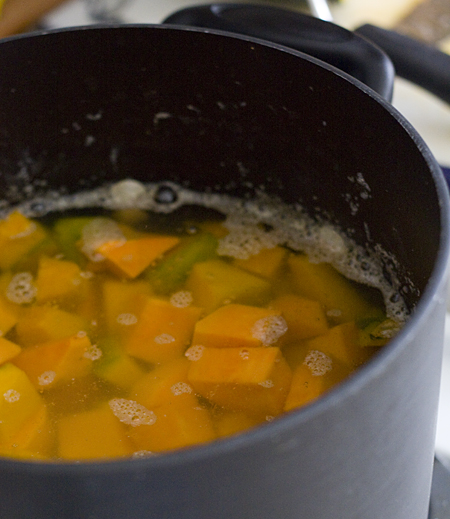 So instead of telling you some interesting story about how this soup ended up on my POM Dinner Party menu, or about how kabocha is one of my all-time favorite foods, I'm going to get straight to the point before my brain freezes up on me again.  Creamy Kabocha Sweet Potato Pomegranate Soup.  If your family has been hit by the illness train like mine, then this soup is a great meal addition.  Not only is it easy to make, but it's delicious and good for you.  It's hearty and filled with good things like vitamins and antioxidants.  A drizzle of pomegranate molasses takes an awesome everyday soup to new heights by added a tangy rich brightness.  Some of the molasses will slowly sink to the bottom of the bowl, making the last bite of soup a wonderful treat.  My last wise thought for the day? Just make it.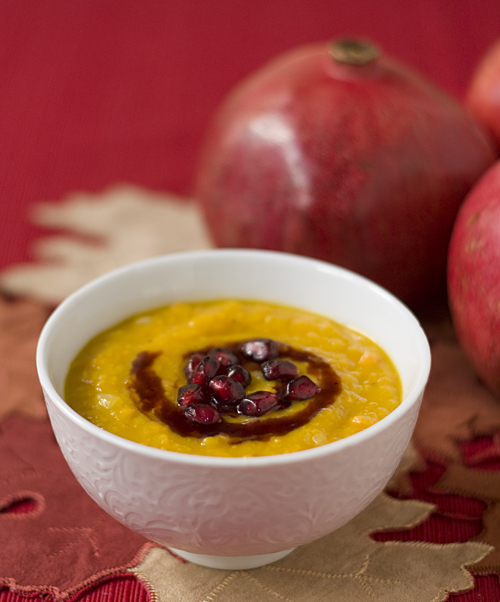 Print This Recipe
Kabocha Sweet Potato Pomegranate Soup
Adapated from Elizabeth Andoh's "Ohisama No Wan" Recipe (p.80), An American Taste of Japan
Makes 4 servings
1/2 tablespoon butter
3 tablespoons minced shallots
1 tablespoon all-purpose flour
1/4 teaspoon salt
1/4 teaspoon freshly ground black pepper
3 cups chicken stock
2 tablespoons freshly grated ginger
1/3 kabocha squash, peeled and seeded
1 sweet potato, peeled
Pomegranate molasses and fresh pomegranate arils, to garnish (optional)
1.In a large saucepan, saute the shallots in the butter over low heat until wilted (about 4 minutes).  Sprinkle the flour over them and cook them for about 2 minutes, while stirring constantly with a wooden spoon.  Season the shallots with the salt and pepper and add 1/2 cup of the chicken stock and whisk until smooth.  Continue to cook while stirring with the whisk, until the  mixture thickens considerably.  Whisk in 1 1/2 cups more chicken stock and the freshly grated ginger.  Let the soup simmer while preparing the vegetable mash. The soup should simmer for at least 10 minutes and up to 15.
2. Prepare the vegetable mash: Cut the squash and sweet potato into 1- to 2-inch cubes.  In a medium saucepan, bring several cups of salted water to a boil and cook the squash and sweet potato in it for 5 to 6 minutes or until just tender.  Drain the vegetables, then add the cup of remaining chicken stock.  With a potato masher, mash the vegetables into a rough puree.
3. Add this puree to the simmering soup and stir well to combine.  Heat the soup through over medium heat.   Serve the soup hot with a drizzle of pomegranate molasses and a sprinkling of fresh pomegranate arils on top (optional).