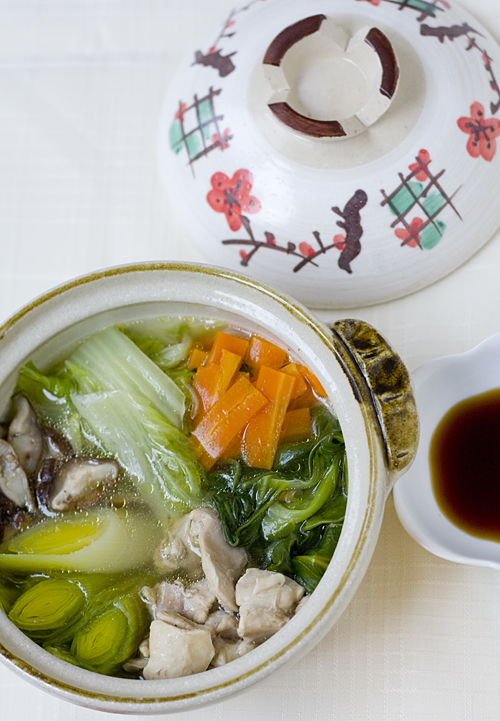 It's wintertime and I've got nabemono on the brain.  Nabemono, or nabe, are Japanese "hot pots" (usually soups or stews) prepared in large earthenware pots (donabe) or heavy cast iron pots (tetsunabe) tableside, set in the middle of the dining table for communal eating so that everyone can easily refill their bowls.  This also makes for a wonderfully social meal.  Nabes make great winter meals.  They are hearty and filling, and the steam rising from the pot helps warm the room.  Nabe is really more a style of cooking, so the variations are virtually endless.  Nabes are made by poaching a variety of ingredients in broth in one big pot. Not only are you only using one pot (less cleanup!), but nabes cook very quickly (usually in less than 30 minutes)!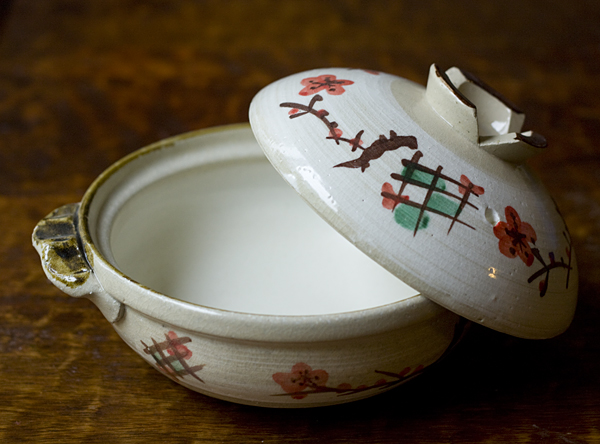 The pots traditionally used to cook nabe evenly conduct and spread heat, and the lid has a small hole in it that releases steam during cooking.  If you don't have a nabe you can use an enameled cast-iron or cast-iron pot, which conducts and spreads heat in the same fashion.  If you've got a Le Creuset pot, you've got a great nabe pot just waiting to be used!  Just make sure you leave the lid open a tiny bit to allow steam to escape.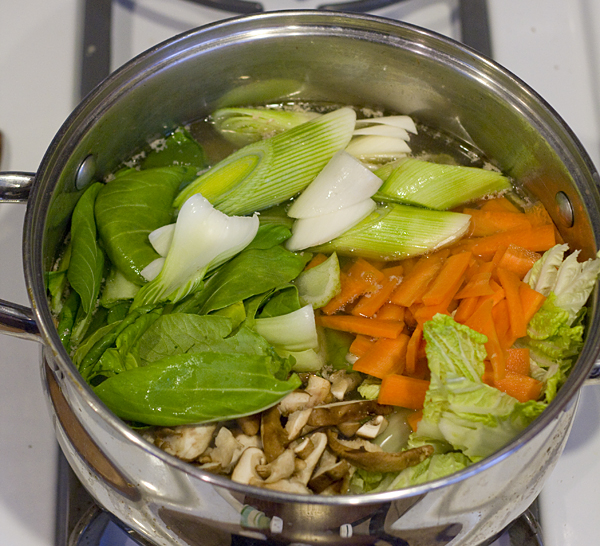 If you don't have this type of pot, you can still use another type of pot—so no excuses!  When cooking a nabe, make sure to keep a close watch on it.  You want the nabe to stay at a nice and steady simmer, and you may need to adjust the heat accordingly.  If the nabe starts boiling too rapidly, this will cause the ingredients to break down and fall apart.  Also make sure that you skim off any "scum" that floats to the surface while the nabe is cooking.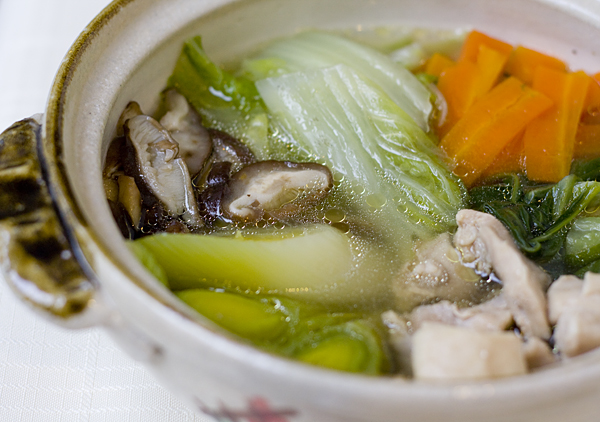 I can't believe that I've never really written about this fundamental style of Japanese cooking here on LFM.  It's one of my favorite things to eat and cook, and always a big hit with my family.  I'm finally rectifying that glaring omission with a simple recipe for tori no mizutaki (chicken and vegetable hot pot).  I had some free range chicken thighs in my freezer, sent to me by U.S. Wellness Meats (remember my Brussels Sprouts Bacon Slaw? Mmmm…) that I had tagged to be used in some sort of nabe.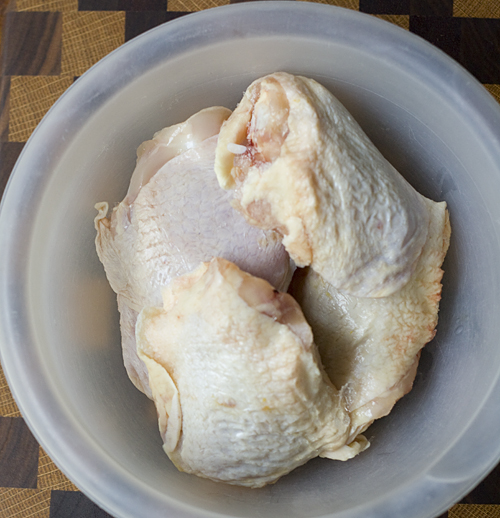 Making nabe is a fantastic way to use up things sitting in your pantry and refrigerator.  I recently had the need to do a good fridge cleaning, so I finally pulled it out the chicken thighs to thaw, then went pawing through my refrigerator, pulling anything out that might be a good addition.  I came out with some leaks, fresh shiitake mushrooms, napa cabbage, carrots, and baby bok choy.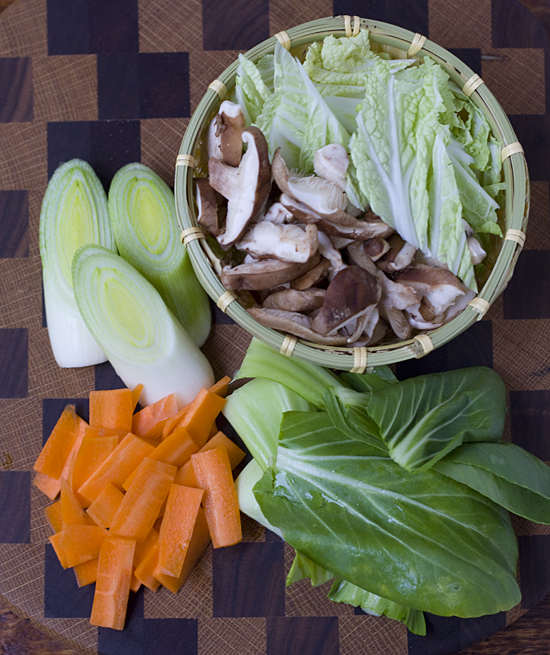 I love napa cabbage.  In a nabe it becomes tender and sweet (but not mushy!), soaking up flavor from the broth and other ingredients like a sponge.  I'm also a huge fan of Japanese greens like mizuna and shungiku, though they can be hard to find (unless you grow them yourself during the summer like I do!).  Since I don't have any in my garden because the weather is too cold right now, I decided to use some baby bok choy instead.  Tofu is usually added to this style of hot pot, but I didn't have any, so I omitted it.  For nabe I usually use firm tofu because it can hold up to the long simmering required in this type of dish.  I used ponzu as a garnish—the sweet, savory, and tart flavors it added were the perfect complement to the flavorful tender chicken.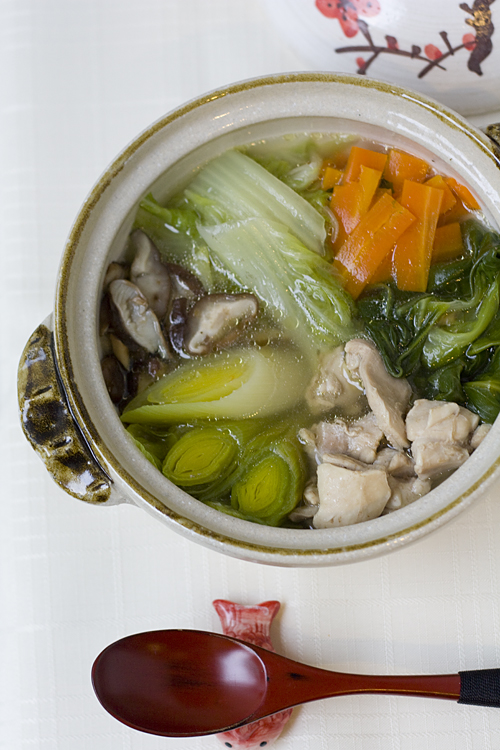 Print This Recipe
Tori No Mizutaki—Chicken & Vegetable Hot Pot
Makes approximately 6 servings
Recipe Notes: If you can't find shiitake mushrooms, you can use your favorite mushrooms instead.  For a heartier meal, serve this nabe with steamed rice or noodles.
8 cups water
1 large piece of kombu (about 30 square inches) (optional)
4 boneless, skinless chicken thighs, cut into 1-inch pieces
2 leeks, white and light green parts, sliced on an angle into 2-inch pieces
1/4 small head napa cabbage, cut into bite-size pieces
4 ounces shiitake mushrooms, sliced
1/2 medium carrot, peeled, cut into 2-inch pieces, and thinly sliced lengthwise
2 teaspoons salt
2 heads baby bok choy, cut into bite-size pieces
ponzu
1. Put the water and kombu (if using) in a Japanese nabe, or other pot,  and heat over medium-high heat.  Just before the water starts to actually boil, remove the kombu.
2. Add the chicken and simmer over medium heat for 3 minutes.
3. Add the cabbage, baby bok choy, carrot, mushrooms, and leaks, arranging each ingredient in a separate, neat bunch. Sprinkle the salt over the ingredients in the pot.
4. Cover the pot and bring the liquid to a simmer. Simmer for 8 to 10 minutes.  If the nabe starts boiling too rapidly, reduce the heat to maintain a simmer.  Skim off any scum that may float to the surface while the nabe is cooking.
5. Transfer the hot pot to the dining table. Serve the ingredients together with the broth in small bowls. Each person can add ponzu as desired.