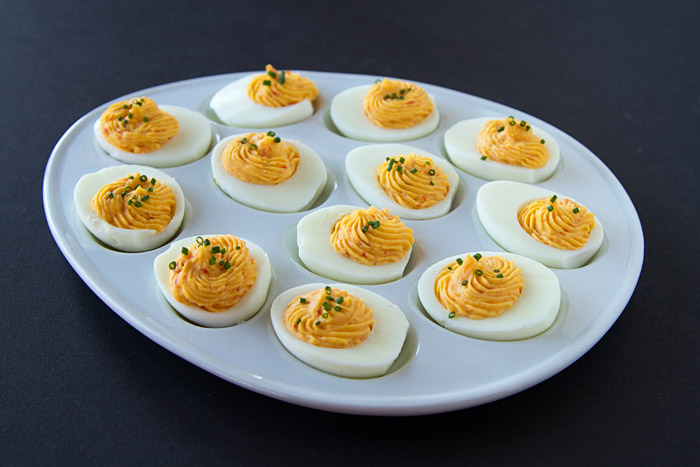 With October 31st quickly approaching, we're in a full blown Halloween frenzy in the Fuji household.  We went to a church Halloween party this past Tuesday, we have a family Halloween party on Saturday, and all sorts of fun in between.  The girls are counting down the seconds until they get to go house to house and fill their bags with candy.  Sugar high here we come!  In the meantime, I've had fun dreaming up some All Hallow's Eve treats that are less mind-numbingly sweet.  One of the concoctions I came up with was for my Darling Dozen Safest Choice Eggs recipe this month.  We were challenged to come up with our own take on deviled eggs.  If you're not already familiar with them, deviled eggs are eggs that are hard-boiled, then cut in half and filled with a mixture made from the egg's yolk, and things like mayonnaise and mustard, although there are many variations on this mixture.  They usually start making appearances as the holiday season starts, since they make a fantastic appetizer.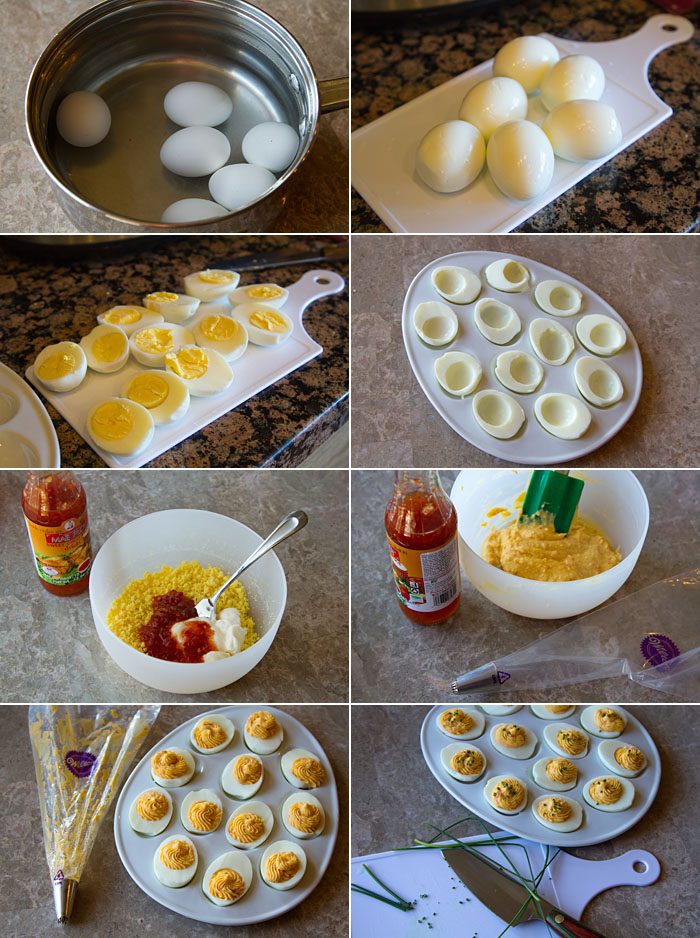 Although I adore classic deviled eggs, I'm kind of in love with this little twist I tried last week.  I paired down the ingredients considerably and came up with a version that uses only four ingredients, or five if you include the chive garnish!  You mash up the egg yolks with mayonnaise, salt, and Thai sweet chili sauce to make a creamy filling that is slightly sweet, tangy, and a bit spicy.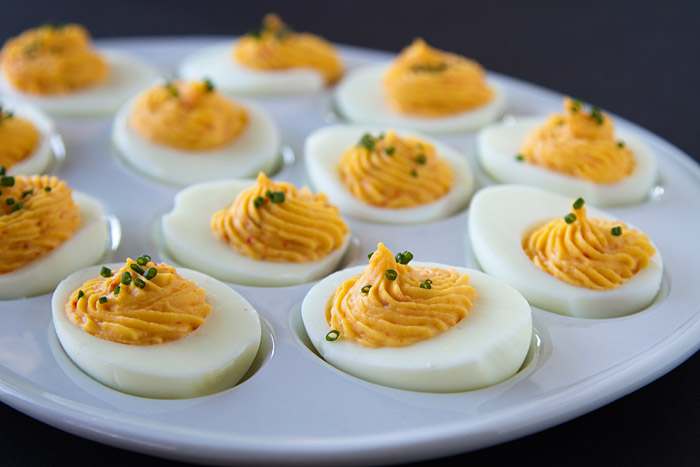 The chili sauce helps turn the filling a lovely orange color flecked with red, making it great for the fall/Halloween season.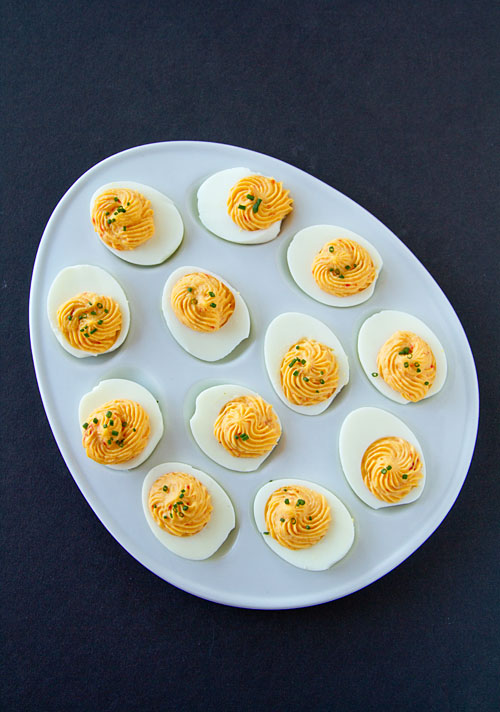 Print This Recipe
Sweet & Spicy Deviled Eggs
Makes 12 pieces
* Recipe notes: If you are transporting your deviled eggs, make the filling and take it with you, then fill them when you arrive. They will be much prettier!
6 large eggs
3 tablespoons mayonnaise
2 tablespoons Thai sweet chili sauce
1/4 teaspoon salt
Chives, thinly sliced, to garnish
1. Place the eggs in a single layer in a saucepan and cover the eggs with cold water. Heat the saucepan over high heat until the water begins to boil, then cover the saucepan, turn off the heat, and let the eggs sit for 14 minutes. Then rinse the eggs under cold running water for 1 minute.
2. Carefully peel the eggs under cool running water, then gently dry them with paper towels. Slice the eggs in half lengthwise, remove the egg yolks and put them in a medium-size bowl. Put the egg whites on a serving platter.
3. Mash the yolks with a fork. (Push the yolks through a fine wire sieve if you want your mixture to be smooth.) Add the mayonnaise, sweet chili sauce, and salt, and mix until smooth and incorporated.
4. Spoon the mixture into a piping bag fitted with a star tip, then pipe the mixture into the depressions in the egg whites. Garnish with sliced chives.
=========================================
* Disclosure: I was compensated for recipe development and writing this post as part of my ambassador work as one of the Darling Dozen for Safest Choice Eggs.  All opinions are my own.