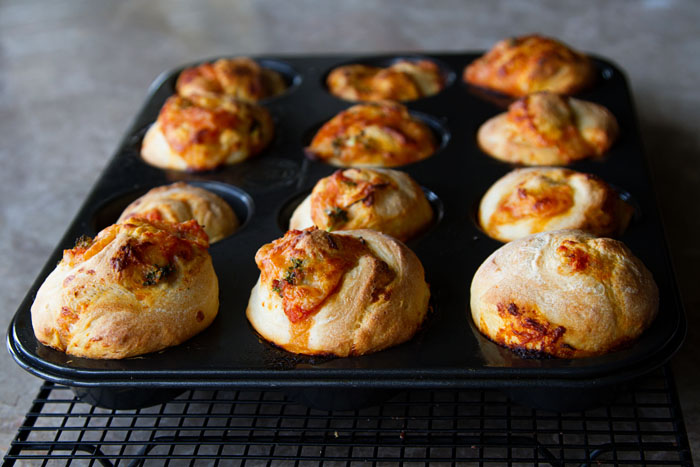 In her newest book, Weelicious Lunches, Catherine McCord covers just about every possible hurdle you might face in packing a lunch for your kids to take to school.  Not only does she go over her "principles of the perfect lunch," but she addresses how to stock your pantry to be better prepared to pack those lunches, how to use leftovers from other meals so that you're working smarter not harder when packing those lunches, strategies for "picky" eaters, packing your way around food allergies, and even how to decide what kind of lunchbox to buy.  On top of all that information is packed more than 160 recipes for things that can be packed into your kiddos' lunchbox.
The recipes are broken up into 10 sections: Salads, Soups, Sandwiches, Pizza, PB&J, Main Events, Veggies, Dips & Spreads, Snacks, and Desserts.  Over the past few weeks I've made at least one recipe from each section, and each has been checked off as one that I will be making again.  Not only did the kids love them, but Mr. Fuji and I did as well.  The book is a veritable treasure trove of information and ideas for anyone facing the sometimes/often daunting task of putting together a portable lunch for their children to take and eat at school each day.  Weelicious Lunches is easily the best book I've come across to date on the topic of making lunch for kids.  Whether you're facing the task of packing school lunches for a child for the first time or you're a seasoned lunch maker and lunchbox packer, there is information in this book for you!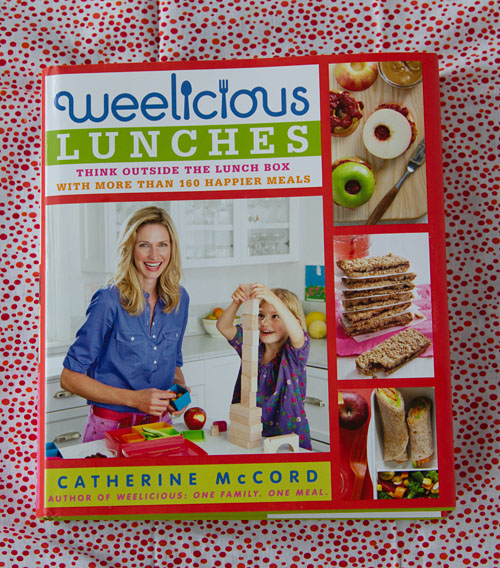 One of the recipes we tried was the recipe for Stuffed Pizza Rolls.  Catherine describes these pizza rolls as her "savory version of a sweet roll—instead of being filled with cinnamon and sugar, they're stuffed with mozzarella cheese, marinara sauce, and broccoli (or your family's favorite pizza topping).  We ate some of the rolls immediately, because they smelled so heavenly, then I set aside one for Squirrel's bento (Japanese style packed lunch) the next day, and put the rest in ziploc baggies and threw them in the refrigerator.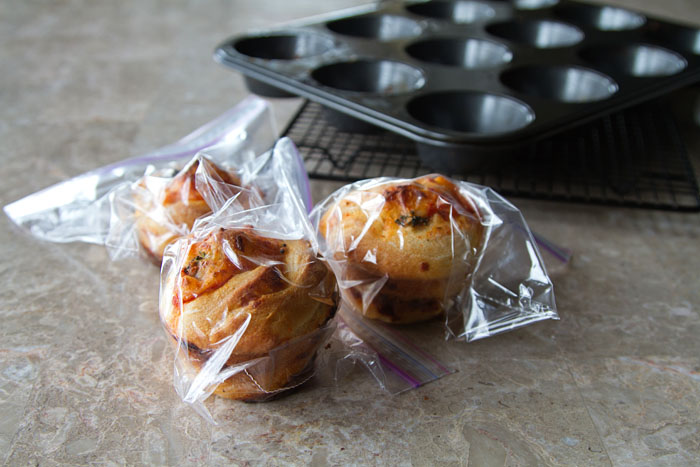 I've been pulling one out about once a week and packing it in Squirrel's bento that day.  I pack it frozen—by lunchtime it has perfectly thawed out without drying out.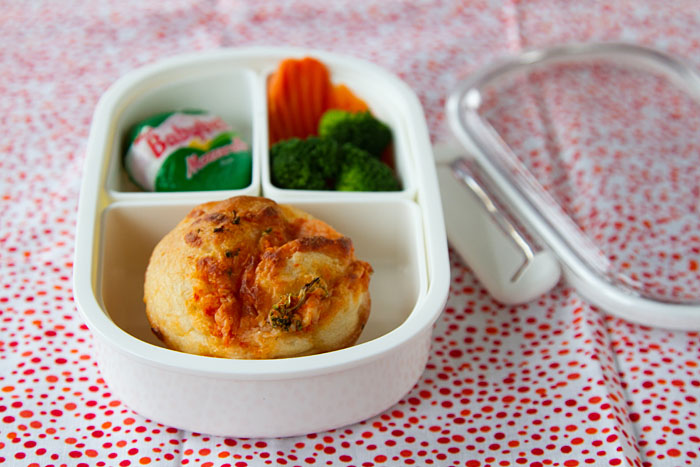 Two of the ingredients called for in the recipe are pizza dough and pizza sauce.  The book contains recipes for both—a White Wheat Pizza Dough recipe and a Veggie-Heavy Pizza Sauce Recipe.  I used both recipes, and they were crazy easy.  The pizza sauce recipe makes 4 cups of sauce, which leaves lots of leftovers.  I used some the leftovers one night to whip up a homemade ragu alla bolognese to serve over pasta.  The rest is going to be used in a casserole I'll be making over the weekend.  It is wonderfully versatile!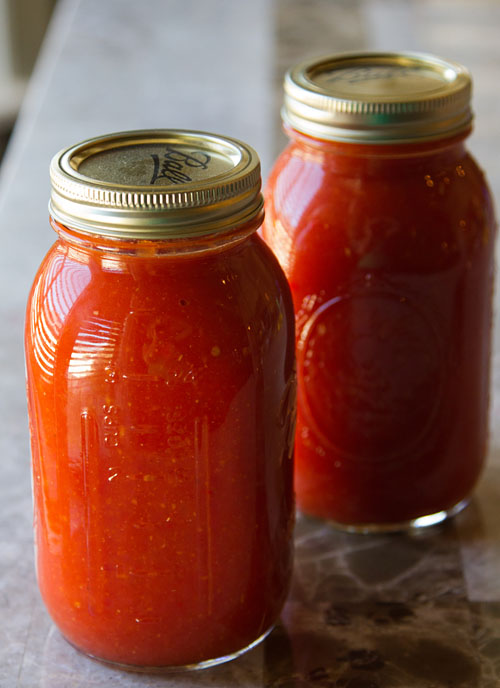 Once you have all the ingredients, the Stuffed Pizza Rolls are a cinch to make.  You roll out the dough, spread pizza sauce over it, and then sprinkle shredded cheese and chopped broccoli over the sauce.  Then you roll it up tightly and cut the roll into slices which you then place in muffin cups and bake.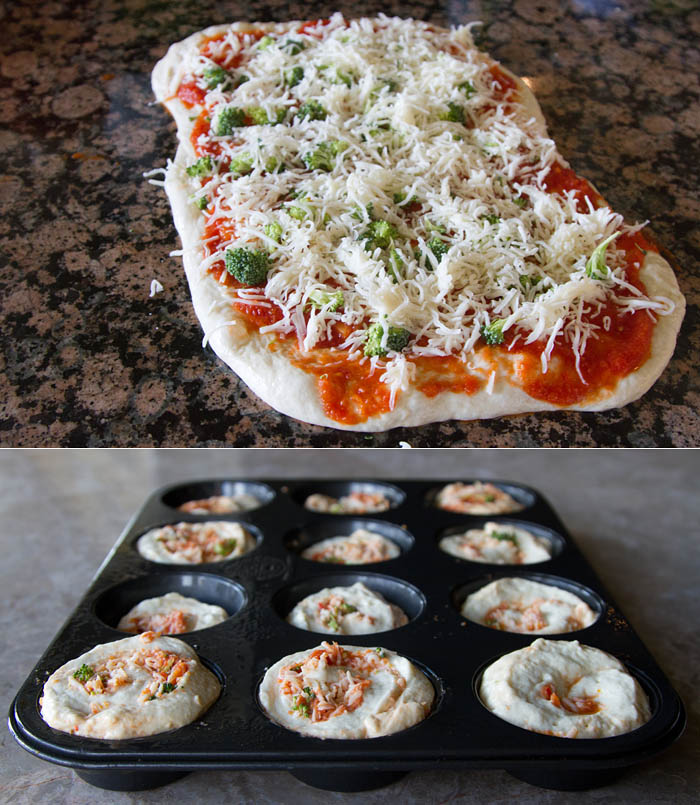 I'm sharing the recipe here today, but if you want her fabulous recipe for White Wheat Pizza Dough or Veggie-Heavy Pizza Sauce that are also in the book, you can enter for a chance to win a copy of the book (see details after the recipe), or buy a copy for yourself!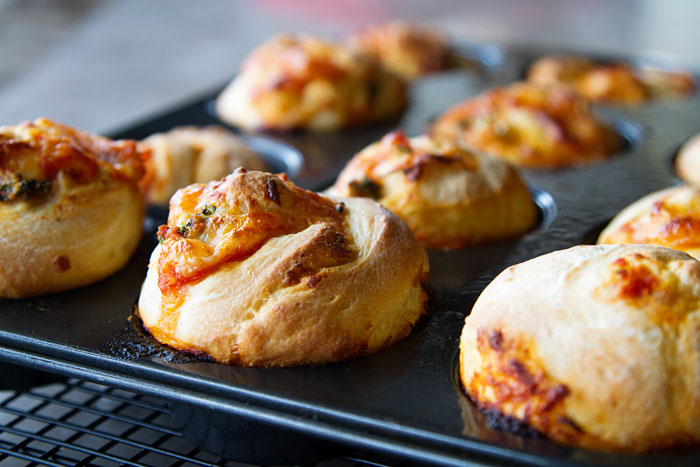 Print This Recipe
Weelicious Stuff Pizza Rolls
Reprinted with permission from Weelicious Lunches, by Catherine McCord
Makes 10 rolls
Olive oil
1 pound prepared pizza dough, at room temperature
3/4 cup pizza sauce
1 cup grated mozzarella cheese
1/2 cup chopped broccoli (or your favorite topping)
1. Preheat the oven to 400 degrees Fahrenheit and grease 10 muffin cups with olive oil.
2. Roll out the pizza dough to 1/4 inch thick, making a 10 x 20-inch rectangle.
3. Spread the marinara sauce in a thin layer across the surface of the dough. Sprinkle with the cheese and broccoli (or your favorite topping).
4. Roll up the dough lengthwise to form a 20-inch log and pinch the seam together.
5. Slice the log into 2-inch pieces.
6. Place the pizza rolls in the muffin cups and pat down slightly. (You can also place the rolls directly on a baking sheet—they'll hold together.)
7. Bake for 25 minutes (20 minutes if using a baking sheet), or until golden and bubbly and the center of the dough is cooked through.
8. Immediately remove to a cooling rack to cool, and serve.
=======================================
Weelicious Lunches Book Giveaway
There will be two (2) lucky winners who will receive a copy of Catherine McCord's, Weelicious Lunches.
Rules: The giveaway will close Friday, October 25th, 2013 at 12:00 am PST.  The giveaway is open to readers with a US mailing address. The winners will be chosen randomly and notified by email. The winner will have 48 hours to respond before another winner is chosen.  To enter, please follow the steps below.
*Disclosure: I was sent a copy of the book for review, but I was not required to write about the book, nor was I compensated for writing this post.  All opinions are my own.  This giveaway is provided by William Morrow Publishers.