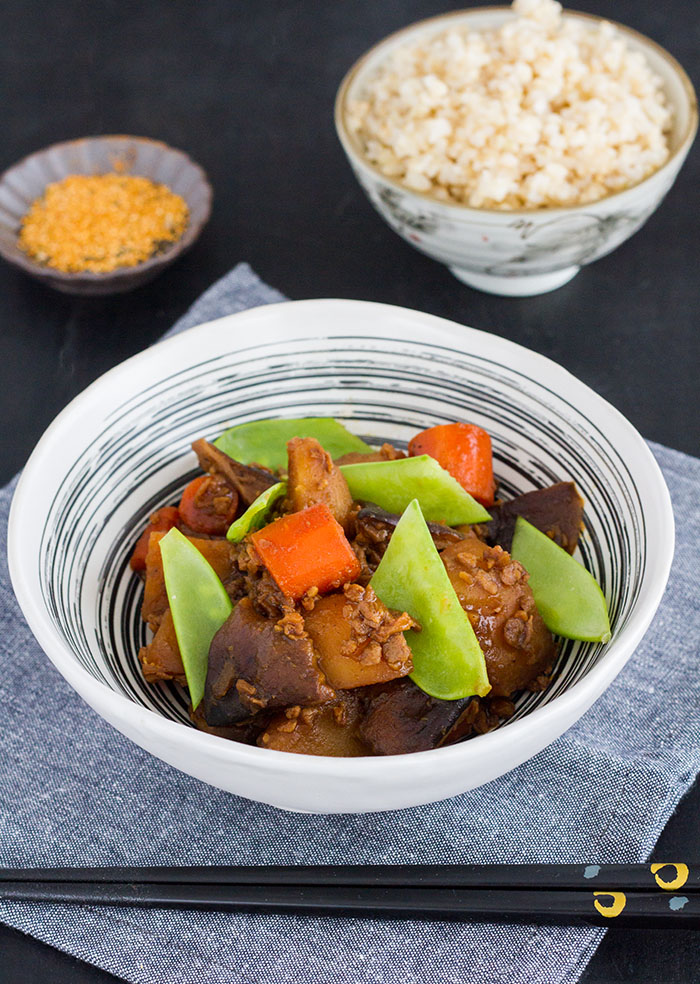 Nikujaga ("nee-koo-jyah-gah") is a classic Japanese comfort food, something that every household makes a bit differently so that everyone craves the way their mom makes it.  Nikujaga literally translates to mean "meat-potato" or meat and potatoes.  It's a dish of meat and potatoes cooked in a sweetened soy sauce.  Variations abound.  Beef is generally used, but some parts of Japan use pork.  Sometimes carrots and/or onions are included and sometimes shirataki noodles are included.  Some people like it sweeter and some people like it less sweet.  It's one of those dishes that once you make it once, you can then customize it to fit your own taste.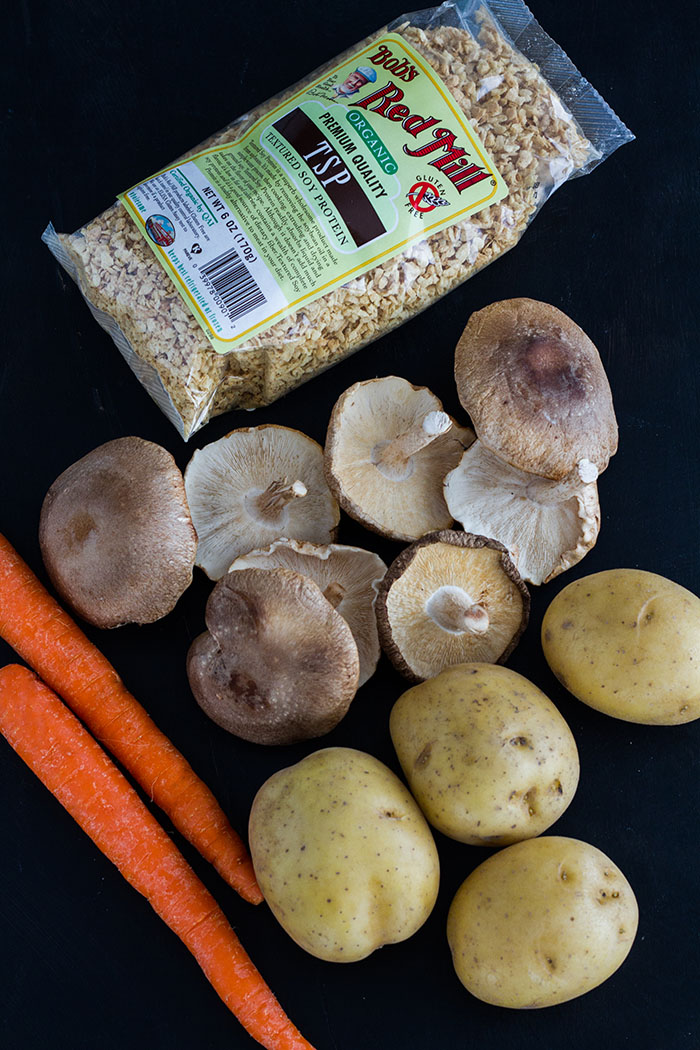 I have been craving nikujaga, so decided to come up with a veganized version.  I am super happy with the results.  Squirrel has taken leftovers to school in her bento for lunch on two different days.  I think she's happy with the results too.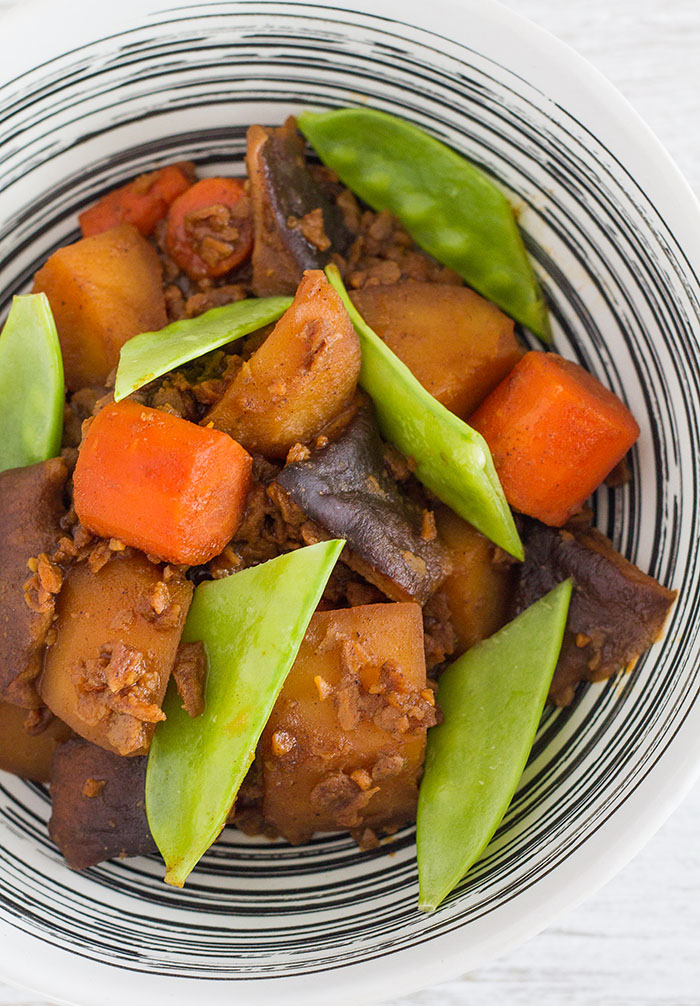 To make this vegan nikujaga you start out by soaking some TSP (textured soy protein) (you can use TVP, textured vegetable protein, if you can't find TSP) in water to rehydrate it.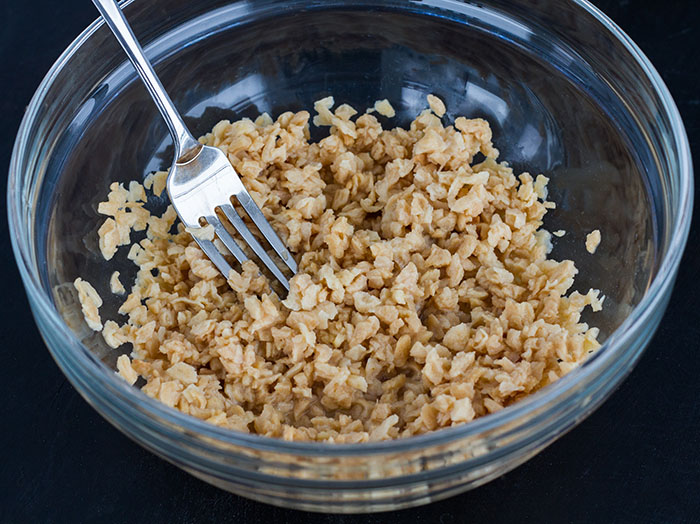 While that's happening you chop up your potatoes and carrots and simmer them briefly in some dashi or water, then you add some shiitake mushrooms, the rehydrated TSP, and the sauce ingredients and let everything simmer away until the potatoes and carrots are tender and most of the liquid has evaporated.  At this point you can throw some snow peas in, stick the lid back on, and cook for another minute, or just garnish it with thinly sliced scallions before serving it with a side of steamed rice.  I also love serving it with shichimi togarashi (Japanese seven spice).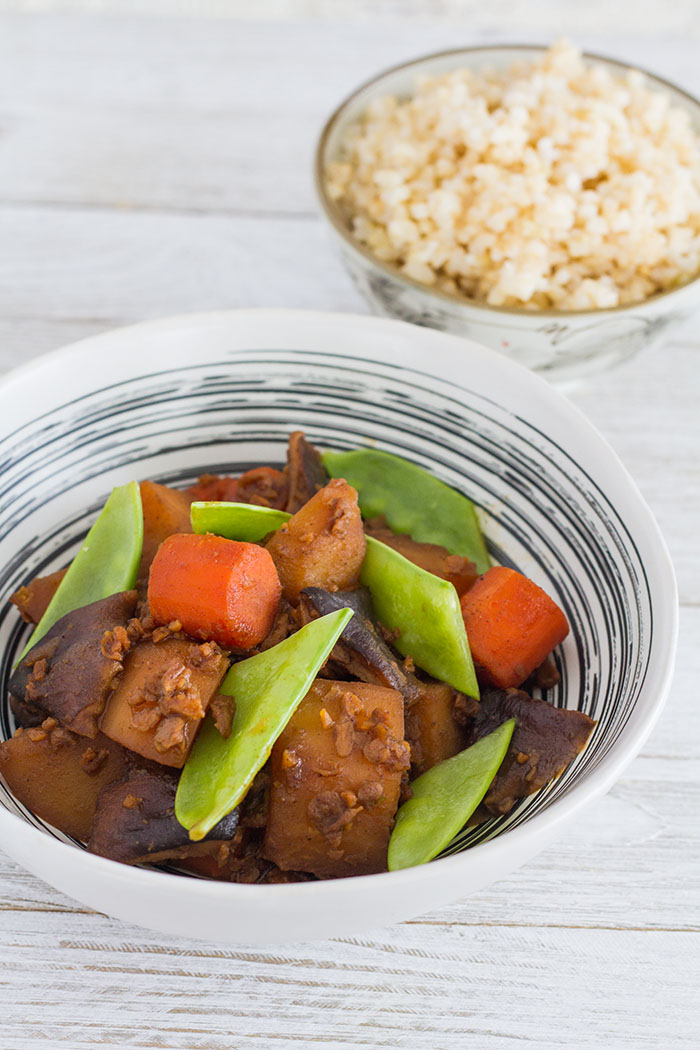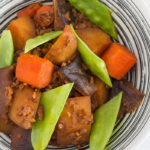 Vegan Nikujaga
A veganized version of nikujaga, Japanese meat and potatoes. One of my family's favorite comfort foods! It's even better if you make it a day ahead.
Ingredients
3/4

cup

TSP (textured soy protein)

You could also use TVP (textured vegetable protein), but my favorite is TSP

3/4

cup

boiling water

4

medium golden potatoes (something like a Yukon gold)

2

medium carrots, cut into 1-inch long pieces

1

cup

kombu shiitake dashi

You can also use water.

8

large, fresh (not dried) shiitake mushrooms, stemmed and quartered

1/2

cup

reduced sodium soy sauce (or gluten-free tamari)

1/3

cup

mirin

2

tablespoons

date sugar, or your sugar of choice

4

teaspoons

nutritional yeast

3

cloves

garlic, minced

10

snow peas, cut in half

Shichimi togarashi, to garnish
Instructions
Put the TSP and boiling water in a medium-size bowl and stir them together. Set the bowl aside and let it sit for 10 minutes to allow the TSP to rehydrate. Before using, give it another stir.

Place the potatoes, carrots, and dashi (or water) in a pot, cover, and cook for 5 minutes over medium-high heat.

Add the rehydrated TSP, mushrooms, soy sauce, mirin, date sugar, garlic, and nutritional yeast and gently stir everything together. Then partially cover the pot with the lid (this slows evaporation down slightly), and simmer until the potatoes and carrots are tender and most of the liquid has evaporated.

Add the snow peas and simmer for another minute, then remove the port from the heat. Serve with a sprinkling of shichimi togarashi (optional) and a side of steamed rice.