"Winter is the time for comfort, for good food and warmth, for the touch of a friendly hand and for a talk beside the fire:  it is the time for home."  — Edith Sitwell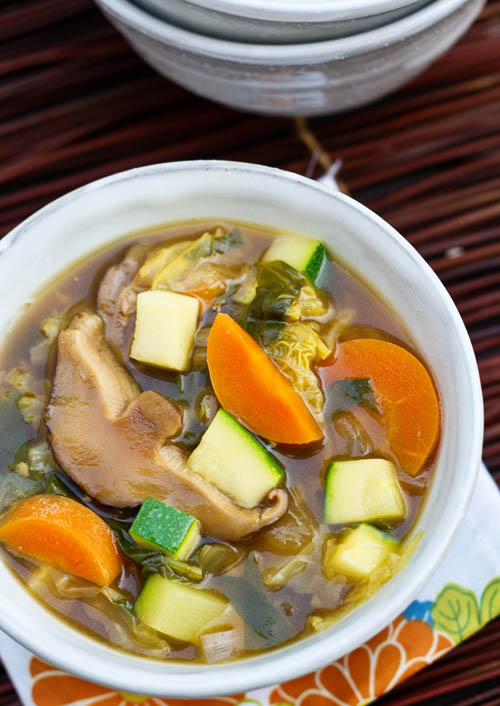 I'm convinced that I have some Ursus californicus mixed into my human DNA, because when winter hits I start getting the urge to swath myself in large soft blankets, make cups of steaming hot herbal tea, and sit with a good book.  In short, I hibernate.  Combine this tendency with my love for soup, and I bet you can guess what I make a lot of during the winter months.  To me soup is total comfort food, no matter the time of year, but winter has me reaching for healthy, hearty concoctions.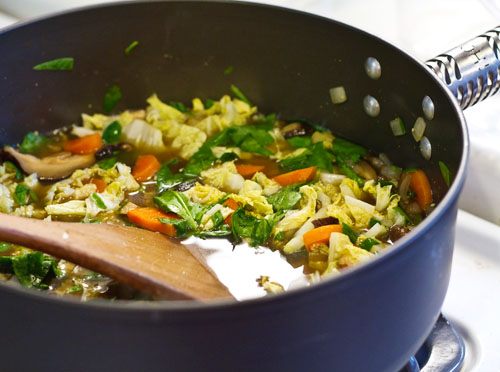 I recently made a vegetarian chowder that is so healthy you could eat the contents of the entire soup pot without feeling the slightest twinge of guilt.  I've been using vegetarian dashi (Japanese style stock) more than my traditional dashi recently, and this chowder is no exception, sporting a kombu and shiitake dashi as its base.  Once the stock is made, the shiitake mushroom caps are sliced and used along with a variety of vegetables to make this flavorful guilt-free chowder.  Embrace your inner ursus and come hibernate with me by enjoying a pot of this chowder!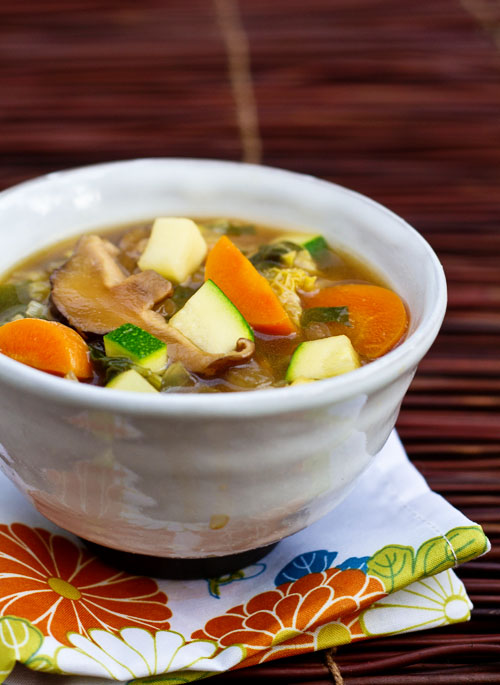 Print This Recipe
Garden Vegetable Chowder
Makes 3 to 4 servings
For the mushroom stock:
3 1/2 cups water
1/2 ounce dried shiitake mushrooms
1 piece kombu (approximately 6-square inches in size)
For the chowder:
1 tablespoon olive oil
1 medium-size carrot, sliced
1/4 cup diced onions
2 garlic cloves, minced
2 teaspoons grated fresh ginger
2 tablespoons soy sauce
1 tablespoon mirin
1 cup chopped green cabbage
1 cup chopped spinach
1 cup diced zucchini
1. Make the mushroom stock: Place the dried shiitake mushrooms and kombu in a pot with the water. Bring the water almost to a boil and then turn down the heat to maintain a simmer. Simmer for 5 minutes. Remove the pot from the heat and let the stock stand for 3 minutes. Squeeze the mushrooms to release the stock they have soaked up, then strain the stock through a fine-mesh strainer and set aside. Cut off and discard the shiitake stems and then slice the caps into thin slices and set aside.
2. Make the chowder: Heat the olive oil in a large saucepan. Saute the carrot, onion, garlic, and ginger over low heat until softened, about 5 minutes.
3. Add the broth, soy sauce, mirin, sliced shiitake mushrooms, cabbage, and spinach to the saucepan. Bring to a boil then reduce the heat. Simmer, covered, for 15 minutes. Stir in the zucchini and then cook for 4 more minutes. Remove from heat and serve.