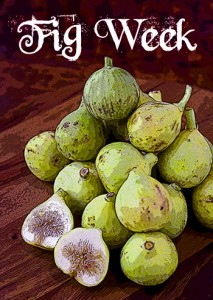 Although I love eating fig preserves on crackers with cream cheese, or simply spread on a slice of toasted and buttered bread (especially brioche!), fig preserves also make excellent additions to other dishes.  Whether it be using the preserves to make a glaze for a pork roast or adding the preserves to a yogurt parfait, the preserves are versatile and delicious.  I used some of my preserves to make mini fig and white chocolate mascarpone cream tarts.  These tarts are perfect for party finger food.  Not only are they delicious, but they are super easy to make and the components can be made ahead of time.  They are also the perfect size to be slipped into mini cupcake papers and packaged up to be given as a special treat to someone.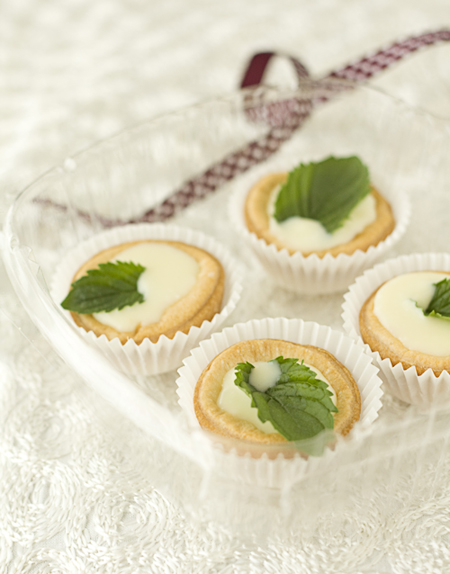 I started out by making the mini tart shells.  I made the dough, then rolled it out, and cut out 24 circles using a 2.25″ circle cutter.  Then I pressed the circles of dough into a mini muffin pan (1 1/2-inch muffin cups).  I used a wooden tart tamper to make these go a bit quicker, but you can totally do the same thing using your fingers and pressing the dough into the muffin cups.  Then I pricked the dough with a fork and baked the shells until the edges had turned a golden brown.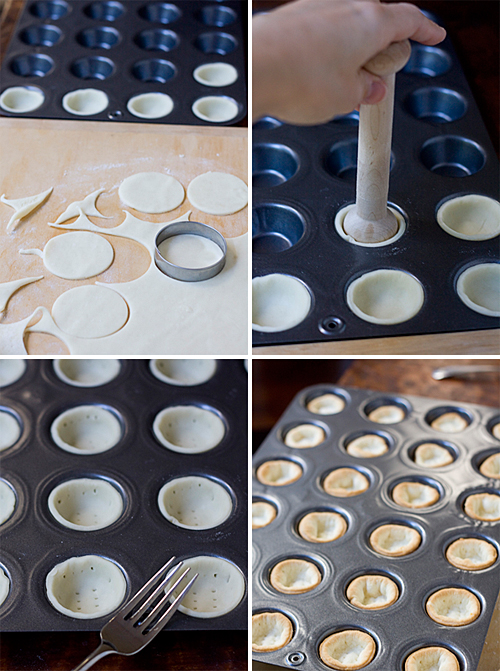 When the shells had cooled, I spooned a bit of the fig preserves into each shell, topped them off with white chocolate mascarpone cream, and garnished them with a fresh mint leaf.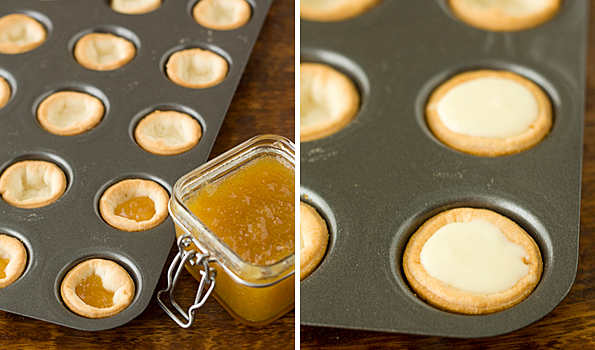 The tarts were wonderful.  It's a good thing that I had lots of people to share them, because it limited the number of times I could pop "just one more" into my mouth.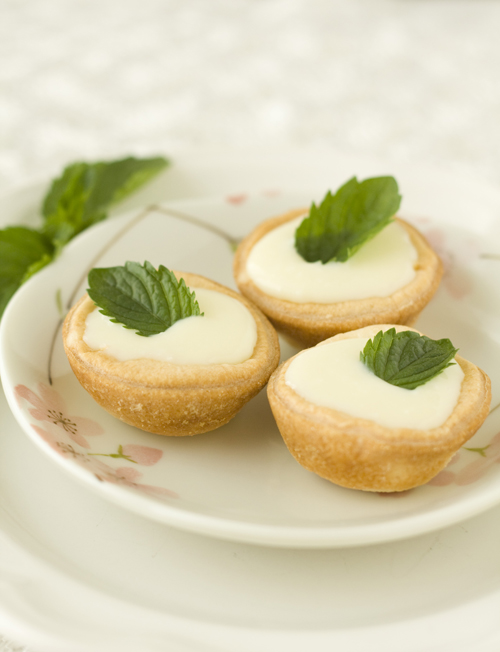 Print This Recipe
Mini Fig & White Chocolate Mascarpone Cream Tarts
Makes 24 mini tarts
For the Tart Crust:
3/4 cup unbleached all-purpose flour
1/4 cup cake flour
1/2 teaspoon salt
3 ounces (3/4 stick) chilled unsalted butter, diced
2 tablespoons chilled vegetable shortening
1/4 cup ice water, plus a few drops more if needed
For the White Chocolate Mascarpone Cream:
3 ounces white chocolate, chopped into small pieces
1/4 cup milk
3 ounces mascarpone cheese
1/4 teaspoon vanilla extract
6 – 8 tablespoons fig preserves
24 fresh mint leaves1. Make the tart shells*: Place the all-purpose flour, cake flour, and butter in a food processor.  Pulse 5 or 6 times in short bursts to break up the butter.  Then add the shortening, turn on the food processor, and immediately pour in the ice water, pulsing 2 or 3 times.  At this point the dough should be a mass of smaller lumps and just hold together when pressed together.  If it is too dry, add a couple drops of water and pulse 2 or 3 more times.  Gather the dough into a ball, then flatten the ball into a disk, wrap in plastic wrap, and chill for at least 2 hours (or up to 2 days).**
2. Preheat the oven to 450 degrees Fahrenheit.  Have an ungreased mini-muffin pan (1 1/2-inch cups) ready (you will need 24 muffin cups to accommodate this recipe).  On a lightly floured surface, roll the dough out until it is 1/8-inch thick, working quickly so that the dough warms up as little as possible.  Use a 2.25 or 2.5-inch circular cookie/biscuit cutter*** to cut 24 circles of dough.  Gently press the circles of dough into the muffin cups.  Poke the bottom and sides with a fork.  Bake the shells in the oven for 6 to 8 minutes until the edges of the shells are golden brown.  Remove the shells from the oven and let them cool completely.****
3. Make the white chocolate mascarpone cream: Place the white chocolate in a small mixing bowl.  In a small saucepan, gently bring the milk just to a boil.  Immediately remove the milk from the heat and pour it over the white chocolate.  Let the mixture stand for 30 seconds to melt, then gently whisk it until it is smooth.  Whisk in the mascarpone cheese and vanilla.  Cover the mixture and refrigerate for at least 2 hours.
4. Assemble the tarts: Place 3/4 to 1 teaspoon of fig preserves in the bottom of each tart shell.  Fill the rest of the tart shell with white chocolate mascarpone cream.  Garnish each tart with a mint leaf.*****  Refrigerate the finished tarts until ready to serve.
* The mixture of all-purpose flour and cake flour results in a more tender crust.  If you have pastry flour, you can substitute 1 cup of pastry flour in place of the all-purpose flour and cake flour.
** You can also freeze the tart dough for several months if it is wrapped tightly in plastic wrap.
*** I actually used a Wilton circular fondant cutter to cut my dough.
**** The shells can be made 1 to 2 days ahead of time.
***** Garnish variation: Toasted sliced almonds, toasted pine nuts, and fresh raspberries would also be delicious garnishes.
=================================================