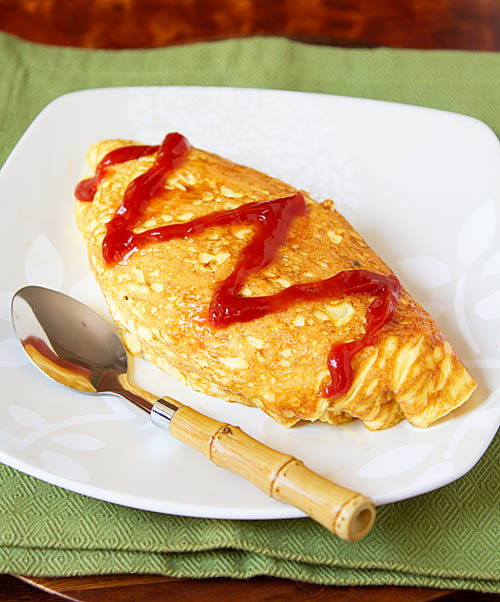 With the arrival of Spring and the approach of Easter Sunday, eggs are everywhere.  As I was preparing to write this post, all of the eggs I was seeing in stores and decor got me to thinking about the versatility of the egg.  If you think about it eggs are one of the most versatile ingredients we have in our cooking arsenals.  They can stand on their own (hard-boiled eggs), be a feature in a dish (egg salad sandwich), or be a simple ingredient (eggs used to make cookies).  Eggs can be eaten at any time of day, whether it be in an omelette for breakfast, in a potato salad for lunch, poached and eaten with a pasta dish for dinner, or used to make the custard base for ice cream for dessert.  Despite how prevalent eggs are in our day to day lives we seem to be woefully under-educated about their use.  In 2009, The Center for Science in the Public Interest (CSPI) released a report identifying the 10 riskiest foods regulated by the FDA and eggs came in at #2.  The CSPI linked 352 outbreaks and 11,163 illnesses.  Despite the danger that comes with improper handling or preparation, we continue to prepare our eggs how we like them, myself included.  My favorite eggs, either poached or soft-boiled, do not meet the requirements of a safe egg, which requires that the egg white and egg yolk be firm throughout and have no visible liquid remaining.  In addition to cooking time, the other danger is that of cross-contamination—salmonella from raw eggs can spread to any surface that has come in contact with the raw egg.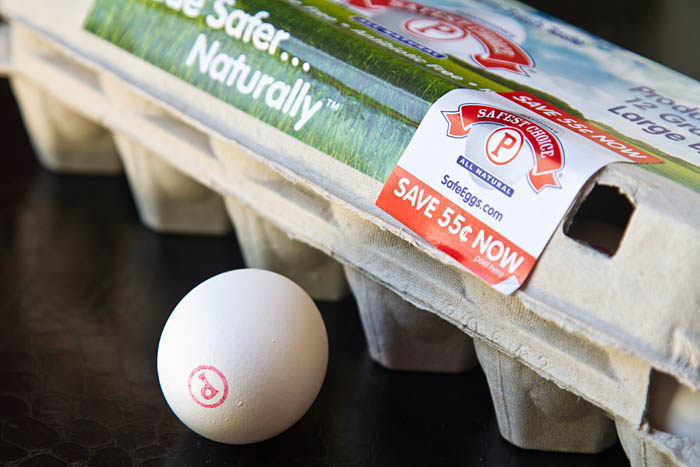 So how to we continue to enjoy our eggs the way we like them while also playing it safe?  Both the CDC and the FDA talk about using pasteurized eggs as one of the ways of keeping Salmonella contamination from eggs out of our homes.  This is why I chose last year to work with Safest Choice Eggs as one of the Darling Dozen.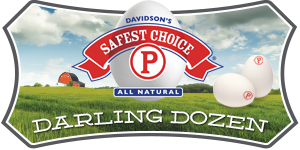 Safest Choice Eggs are pasteurized eggs from vegetarian-fed hens that are hormone and antibiotic free.  Their eggs go through a system of warm water baths that destroy harmful bacteria without cooking the eggs or changing their flavor, texture, or nutritional profile.  I have enough to worry about as the mother of two young children, and it's nice not having to worry about the safety of the eggs I'm serving my family.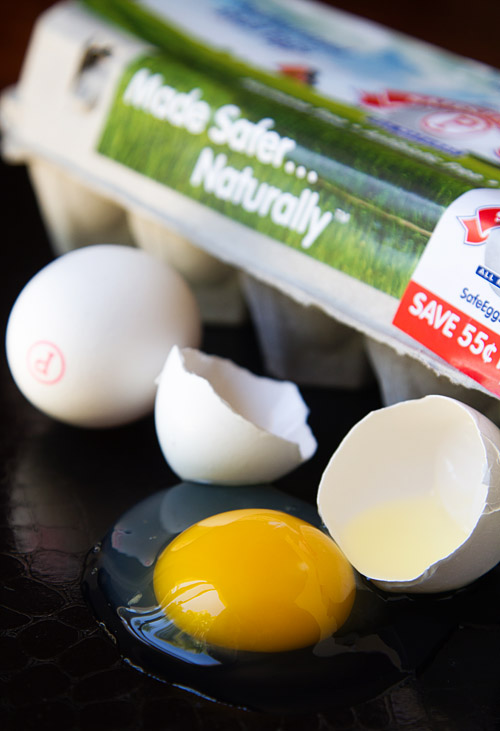 One of my kids' favorite egg dishes is omurice.  Omurice (オムライス, "omuraisu" ), a combination of the words omelette and rice, is an omelette wrapped around fried rice and garnished with ketchup.  Omurice is a classic Japanese take on a Western dish (this concept is called yoshoku), and a favorite among children and those seeking comfort food.  You start by making fried rice (my kids prefer it with chicken).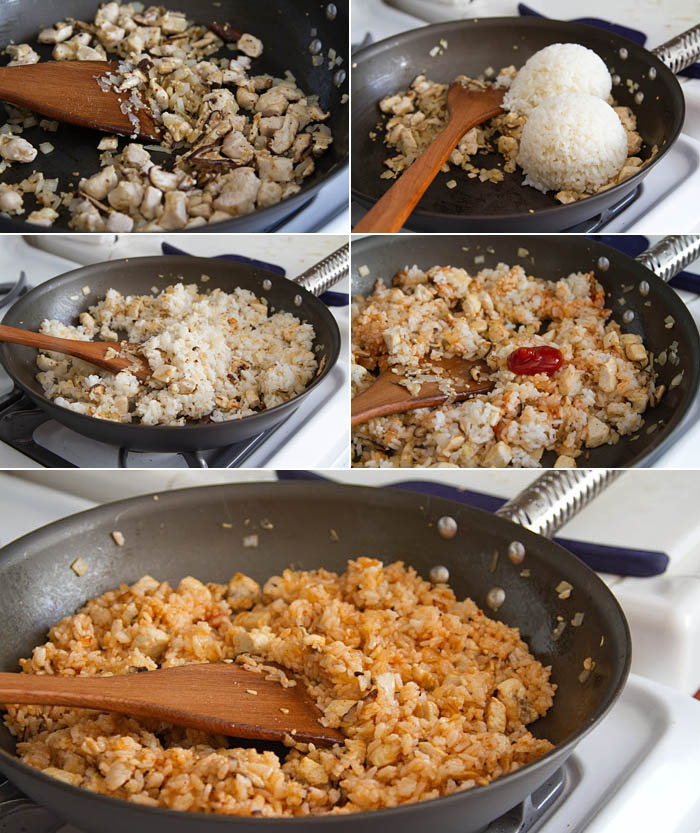 Once the rice is done you make thin sheets of omelette which you then fill with the fried mixture, flip onto a plate, and garnish with ketchup.  My girls love it when use the ketchup to draw them pictures or write messages on their omelettes, but you can keep it simple with a ketchup squiggle.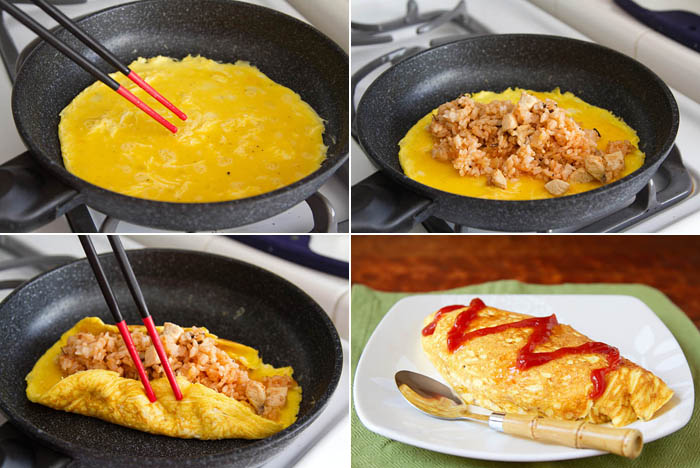 Squirrel recently told me that omurice is like Easter egg because it's an egg on the outside and there's a surprise on the inside, so it seems fitting that I share this recipe right before Easter.  Happy Easter and Spring to you all!  To celebrate, I have teamed up with Safest Choice Eggs to send one of you a year's supply of pasteurized eggs (details after the recipe)!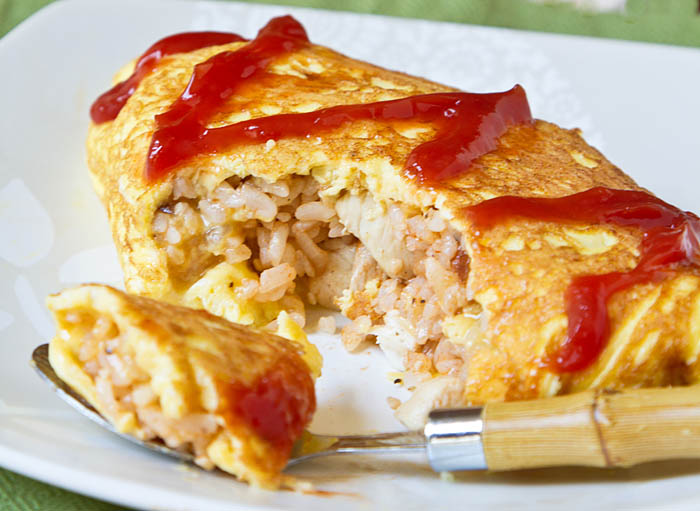 Print This Recipe
Omurice
Makes 4 servings
For the chicken fried rice:
8 ounces chicken, diced
1/2 teaspoon salt
1/2 teaspoon freshly ground black pepper
1 1/2 teaspoons canola oil
1 small yellow onion, diced
4 cloves garlic, minced
4 fresh shiitake mushrooms, thinly sliced
4 cups steamed Japanese rice
1/3 cup ketchup, plus more for garnish
For the omelette:
8 large eggs
4 teaspoons milk
Salt
Freshly ground black pepper
4 teaspoons canola oil
1. Make the chicken fried rice: Toss the chicken in the salt and freshly ground black pepper and set aside.
2. Heat the canola oil in a large frying pan over medium-high heat. Add the diced onion and saute until soft. Add the garlic and shiitake mushrooms and saute until fragrant. Then add the chicken and continue cooking until the chicken is cooked through.
3. When the chicken is cooked through, add the cooked rice to the pan and mix everything together, adding additional salt and pepper if needed. Stir fry the ingredients for about 2 minutes, until the rice has dried out slightly, then turn off the heat and add the ketchup and mix until it is well-incorporated into the rice mixture. Set the chicken rice aside.
4. Make the omelettes: Beat 2 of the eggs together in a bowl with 1 teaspoon of the milk, and a pinch of salt and pepper. Heat 1 teaspoon of canola oil in a frying pan over medium heat, then pour the egg mixture into the heated pan and tilt the pan to spread the egg mixture across the bottom of the pan. Cook the omelette until the edges have set, but the middle is still slightly runny.
5. Spoon 1/4 of the chicken rice filling in the middle of the omelet, carefully fold the sides of the omelette over the filling, then carefully flip the omelette out onto a plate. Garnish with additional ketchup.
6. Repeat steps 4 and 5 with the remaining ingredients to make 3 more filled omelettes.
=================================
Win a Year's Supply of Safest Choice Eggs!
There will be one (1) lucky winner who will receive a year's supply of Safest Choice Eggs in the form of 52 coupons for 1 dozen free Safest Choice Eggs (1 coupon per week of the year). Rules: The giveaway will close Friday, April 5th, 2013 at 12:00 am PST.  The giveaway is open to readers with a US mailing address. The winner will be chosen randomly and notified by email. The winner will have 48 hours to respond before another winner is chosen.  To enter, please follow the steps below.  

* Disclosure: I am being compensated for this post as part of my ambassador work as one of the Darling Dozen for Safest Choice Eggs.  Safest Choice Eggs is sponsoring this giveaway.  All opinions are my own.