* Find out how you can help to save the life of my friend's little boy. *
=================================================================
A couple of weeks ago I got an email from Lauren, the talented creative force behind Celiac Teen.  She explained that she was taking an online foods course for school, and that one of the projects they had to do for the international cuisine credit was a "field trip," where they studied a country, it's culture, and it's cuisine and then put together a presentation about what they had learned.  Lauren chose to study Japan and asked if I would be willing to be a part of her field trip.  A chance to share my love of Japan and Japanese cuisine with one of my favorite people?  This was an offer I couldn't refuse!  Lauren needed to make and try 3 different dishes from her chosen country, and so I sent her some ideas and then we decided upon our menu.  We decided that we would both make the dishes and then get on Skype and talk about them and Japan.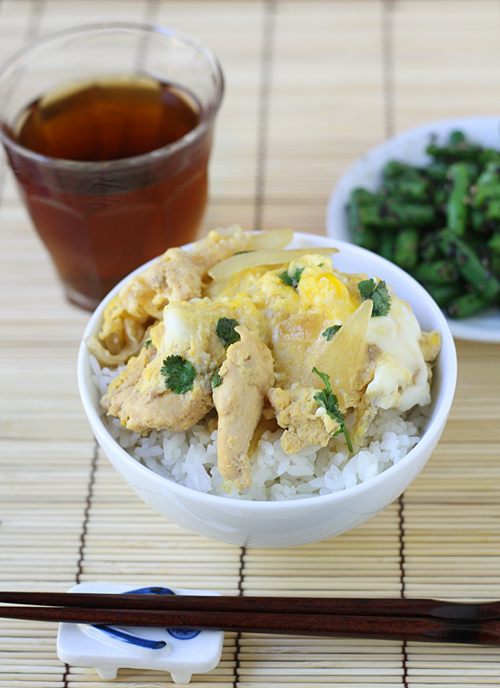 This past Tuesday we both cooked and then "met" on Skype for a chat.  On the menu:
Ingen no goma-yogoshi (String Beans with a Black Sesame Dressing)
Oyako Domburi (Chicken and Egg Rice Bowl)
Yatsuhashi (Mochi triangles traditionally filled with sweet red bean paste)
Unfortunately when I went to make the yatsuhashi, I realized I was out of mochiko, the glutinous rice flour that I would need to make it, so I was unable to to make these.  But the rest of the meal went without a hitch and we sat down to dinner with Lauren and her family via Skype.  It was fun to hear about Lauren's experience making the dishes and then talk to her about my experience in Japan, and how I changed because of that experience. (Go check out Lauren's post about our adventure!)
In planning the project with Lauren, I realized that I hadn't shared a recipe for oyakodon yet here on LFM.  It is time!  Oyakodon is one of my favorite Japanese comfort foods.  It is simple, filling, delicious, and easy to make.  Oyakodon is a donburi or rice bowl.  Oya means "parent" and ko means "child."  In this dish parent and child are represented through the presence of chicken and eggs combined into a moist omelet poached in a flavorful broth.  In my favorite recipe, thinly sliced pieces of chicken and thin wedges of onion are are stewed in a seasononed broth,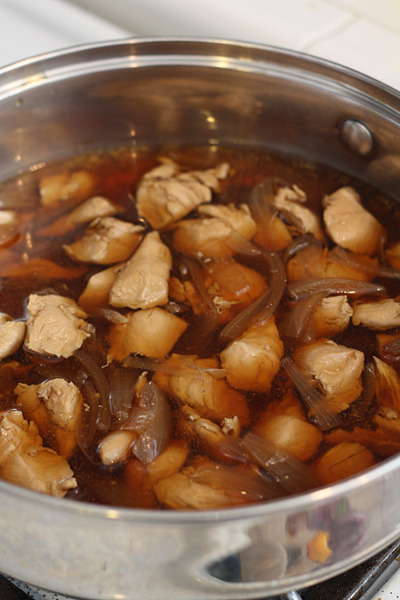 and then beaten eggs are poured into the center of the stewing mixture and cooked.
This is slightly different from the method used in many other recipes, as most recipes instruct you to pour the egg over the chicken and onion.  I like this method, as the entire dish stays extremely moist as the egg poaches in the liquid and still manages to bind the chicken and onion together.  One of the best things about the dish, besides the fact that it is delicious, is the fact that it is very quick to make.  If you make the rice ahead of time, it takes about 5 minutes of prep time, and then about 10 minutes of total cooking time.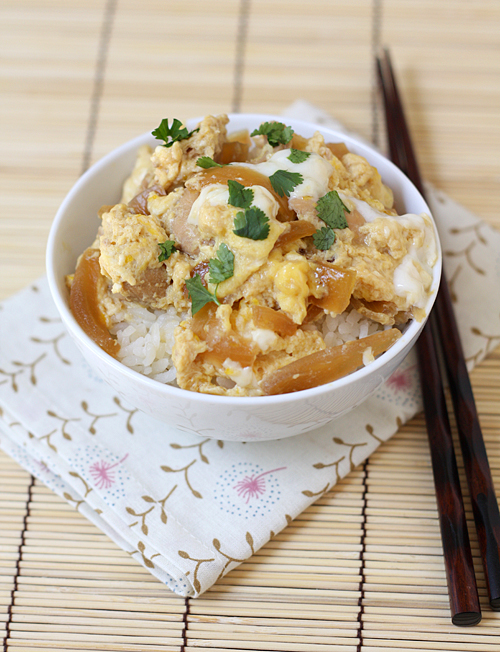 Print This Recipe
Oyakodon
Adapted from At Home with Japanese Cooking, by Elizabeth Andoh
Makes 4 servings
1/2 pound boneless chicken breast
1 medium onion
2 cups dashi
1/4 cup soy sauce
3 1/2 tablespoons granulated sugar
4 large eggs
1/3 cup chopped cilantro (mitsuba would be more authentic, if you can find it)
3 cups cooked Japanese rice
1. Remove any skin or fat on the chicken breast and then slice it in half lengthwise.  Then slice those pieces into smaller thin pieces by cutting across the width of the piece of chicken with your knife at a 45-degree angle.  Peel and slice the onion into thin verticle wedges.
2. Heat the dashi in a small saucepan over medium heat until it is simmering, then add the soy sauce and sugar and stir until the sugar has dissolved.  Then add the chicken and onion and cook, uncovered, for 3 to 4 minutes, or until the onions have wilted and the chicken is cooked through.  While this is cooking, gently beat the eggs very well.
3. Pour the cooked onion and chicken mixture into a skillet and heat it over medium-heat until it is simmering.  Pour the beaten eggs into the center of the skillet and cook until the edges of the omelette begin to set.  Simmer for 3 to 4 minutes, then garnish the top with the chopped cilantro, and cook for an additional minute.
4. Divide the rice among 4 bowls and then place one quarter of the omelet over the rice in each bowl.  Pour any seasoned broth that may remain in the skillet over the omelets and serve.