Hinamatsuri
! I hope you are all having a wonderful day!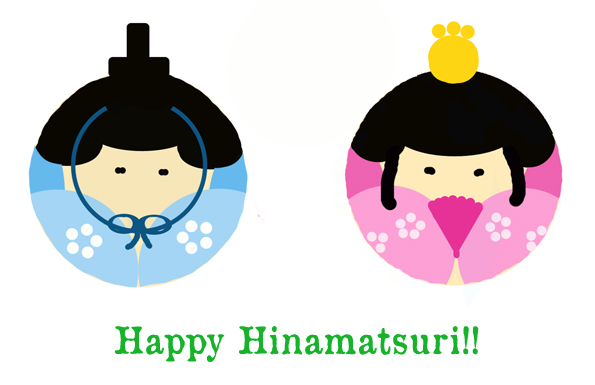 One of my guilty pleasures is reading オレンジページ (Orange Page), one of my favorite Japanese magazines.  I was recently flipping through the February 17, 2010 issue and saw a section on using yakisoba noodles to make a variety of dishes.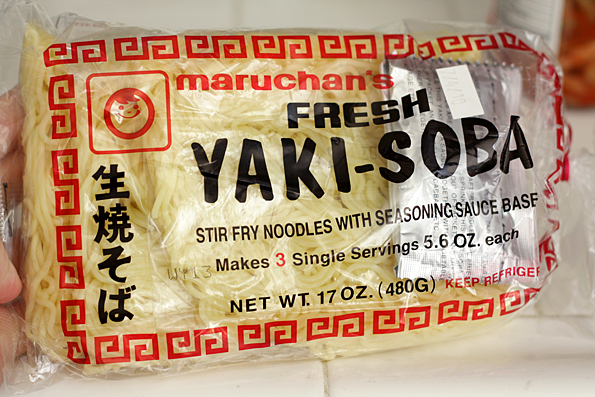 One of the recipes caught my eye—a recipe called ピリ辛そばめし (Spicy Sobameshi).  Sobameshi is like yakisoba with rice–a combination of fried noodles and fried rice. "Soba" indicates "chukamen"–the noodles used to make yakisoba, and "meshi" means cooked rice is in the dish.  It looked so good.  A mixture of yakisoba noodles, leftover rice, kimchi, and pork all topped with a fried egg.  The recipe screamed total comfort food to me.  This past Sunday when I was at the height of the cold crud, I whipped up a batch of my own spicy sobameshi.  This dish is SO easy.  I got all of the ingredients at a regular chain supermarket.  The whole thing took about 10 minutes to make.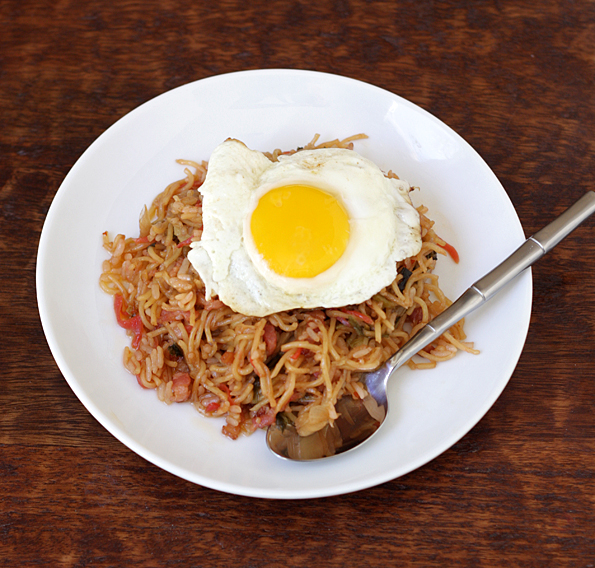 To prepare the yakisoba noodles you take the block of noodles and cut it into 1-inch sections.
The rest of the "work" consists of frying the ingredients in the pan, starting with some bacon, and then slowly adding in the other ingredients.  This tastes like a spicier version of the yakisoba I loved getting at the matsuri (festivals) in Japan.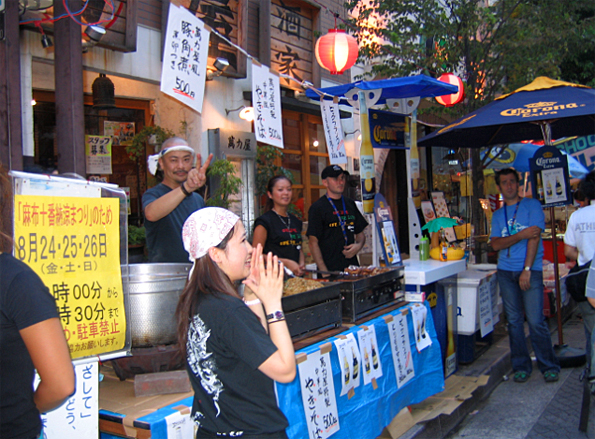 Note that this will only be as spicy as the kimchi that you use.  So the spicier the kimchi, the spicier your finished dish will be.  The addition of a fried egg on top is an extra bonus.  I love breaking the yolk and getting a bit of the creamy yellow liquid in each bite.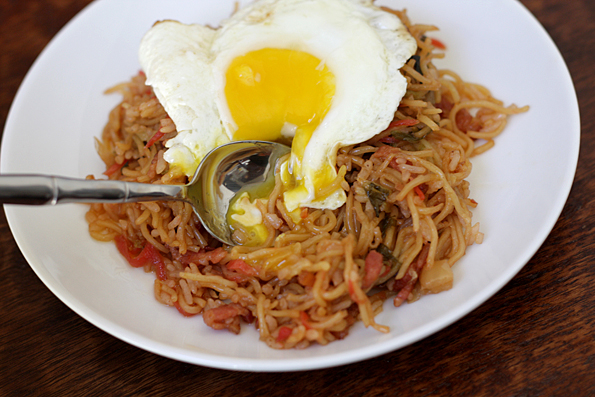 Print This Recipe
Spicy Sobameshi
Inspired by the Spicy Sobameshi recipe in Orange Page, February 17, 2010, p. 35

Makes 2 servings

1 1/2 tablespoons soy sauce
1 tablespoon mirin
1 teaspoon oyster sauce
2 teaspoons vegetable oil
4 ounces (1/4 pound) bacon (I like thick sliced), cut into lardons (small strips)
3. 5 ounces (a generous 1/2 cup) kimchi, chopped
2 tablespoons beni shoga (thinly sliced pickled ginger)
1 package (5.6 ounces/160 grams) fresh yakisoba noodles, cut into 1-inch pieces
3/4 cup steamed Japanese rice (short grain white rice)
2 fried eggs

1. Make the sauce: In a small bowl, whisk the soy sauce, mirin, and oyster sauce together.  Set aside.

2. In a 10-inch frying pan, heat the vegetable oil over high heat.  Add the bacon lardons being careful to shield yourself from splattering oil, and cook them until they are cooked through and starting to brown.  Add the kimchi and beni shoga, again being careful to shield yourself from splattering oil, and stir-fry for about 30 seconds.

3. Add the yakisoba noodles and steamed rice, and toss to mix.  Then add the sauce to the frying pan made in step 1, and continue to stir fry the contents in the frying pan for about 2 minutes.

4. Divide the sobameshi between 2 plates and top each with a fried egg.  Serve.

Happy