Inevitably when I make a pot of rice to go along with dinner we don't eat it all.  More often than not, the rice that is left over isn't enough to accompany another meal.  So what to do with that little bit of leftover rice?  This conundrum presented itself the other day after we had zakkoku mai with our roast chicken.  I had a little less than a cup and a half of rice left.
So I did what I always do with leftover rice–I made onigiri (Japanese rice balls).  There are many different ways to make onigiri, but I went with a simple no fuss method and made small onigiri.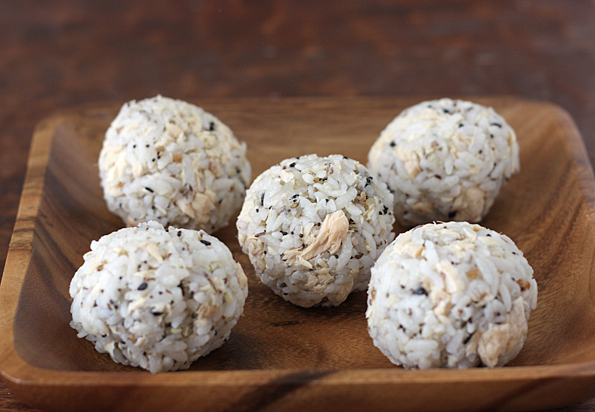 How to make Zakkoku Mai Onigiri
To use this method, you will need:
1/4 cup measuring cup
a sheet of plastic wrap
a clean spray bottle filled with water
salt
leftover zakkoku mai (or steamed Japanese rice)
leftover salmon/tuna (or you can use canned salmon/tuna)
1. Add some leftover salmon to the rice (just eyeball it),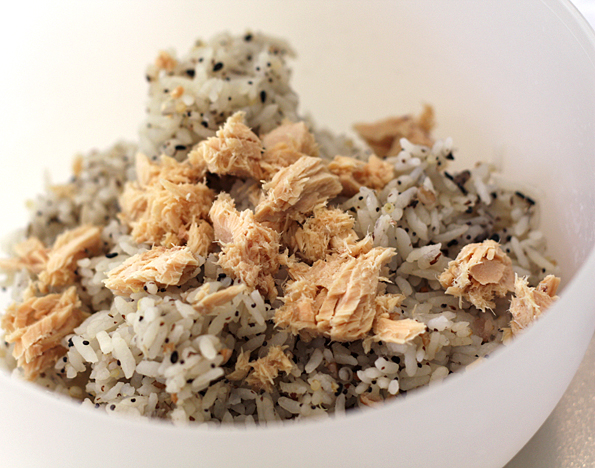 and then mix it with a fork so the salmon becomes evenly mixed throughout the rice.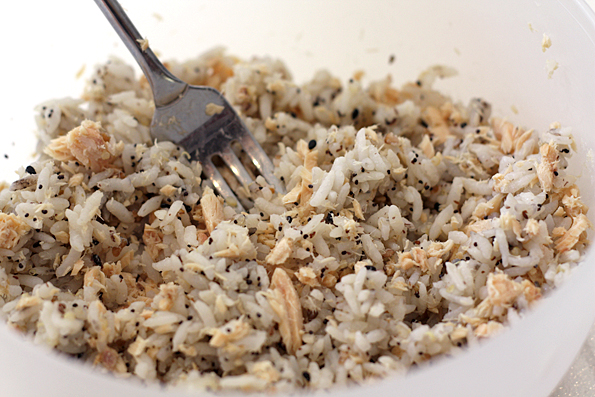 2. Then cut a large square of plastic wrap and rest it over the measuring cup.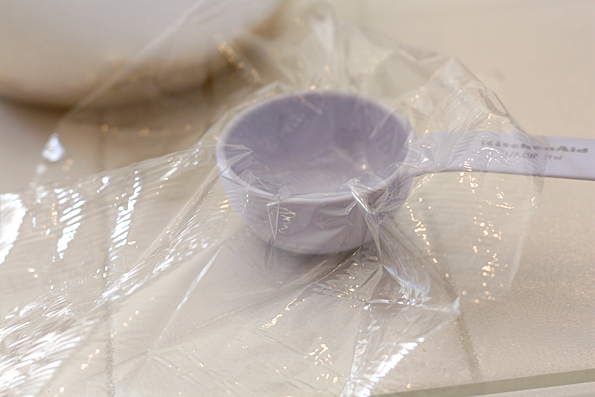 3. Lightly spray the plastic wrap with the water bottle, and then sprinkle it with a bit of salt (the water helps the salt stick).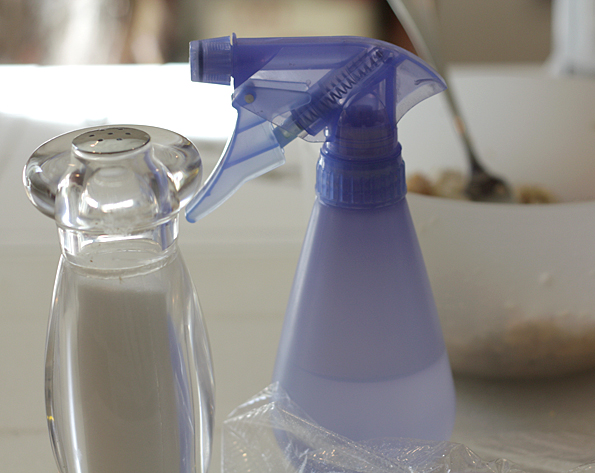 4. Then spoon some of the rice mixture into the cup (roughly 1/4 cup of the mixture).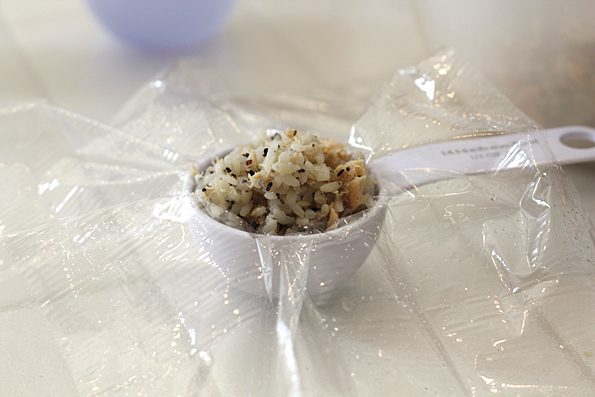 5. Gather the plastic wrap up around the rice.
6. Then twist the plastic wrap, sealing the rice inside, and firmly press the rice into a ball shape (don't press too hard or you'll turn everything into zakkoku mai mash . . . eeeeew!).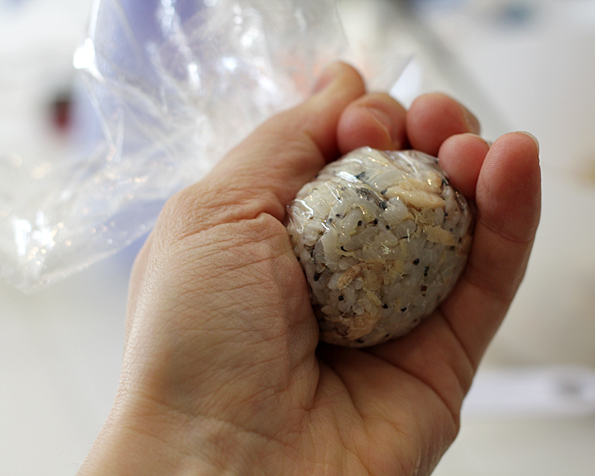 7. Unwrap the ball, set it on a plate and repeat the process with the rest of the rice mixture!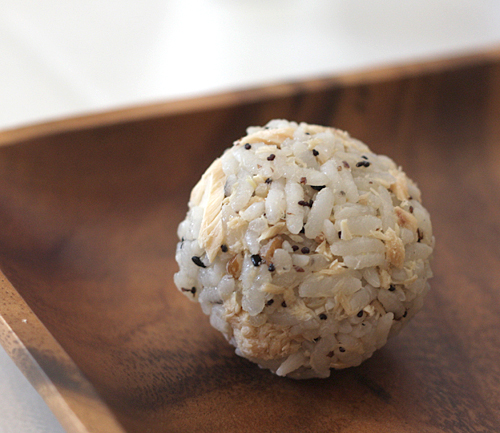 You can eat the onigiri plain or wrapped in nori (sheets of seaweed), or however you darn well please.  Squirrel likes them both ways, but chose to eat hers au naturel this time around.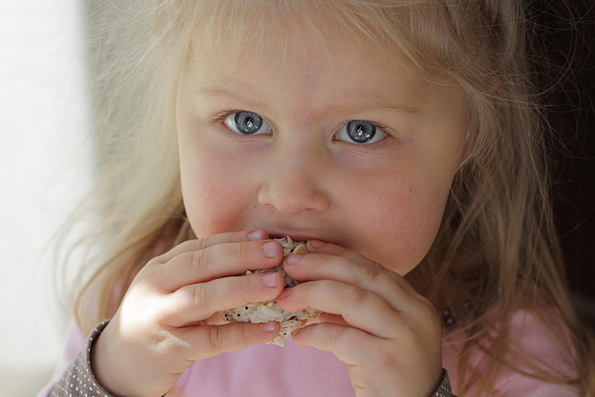 Onigiri make great snacks, or lunches.  You can keep them wrapped in saran wrap and add them to a bento lunch.  Just make sure you use Japanese rice (shorter grain rice).  Using a long grain rice won't work because the grains of rice won't stick to each other.  By spraying the plastic wrap with water and sprinkling it with salt, the salt sticks to the rice when you form the balls.  This helps add a bit of seasoning to the balls, which makes it so you don't have to add any extra salt to the rice or fillings that you add.  I find that they are a fabulous way to use up leftovers, and to sneak more vegetables into a child's meal.  You can add chopped up steamed veggies, leftover roast chicken, the sky is the limit!
========================================================
NEXT WEEK IS ALL ABOUT MISO SOUP!
Do you use those packets of instant miso soup? How about dashi granules to make your stock for miso soup? Or do you think it's too hard all together and you get your miso soup at a Japanese restaurant?  It is TIME TO REFORM!  Next week we'll be demystifying miso soup by talking about all of the ingredients needed to make miso soup from scratch (FOUR if you include water), HOW to make it, and different ideas of what to put in it!