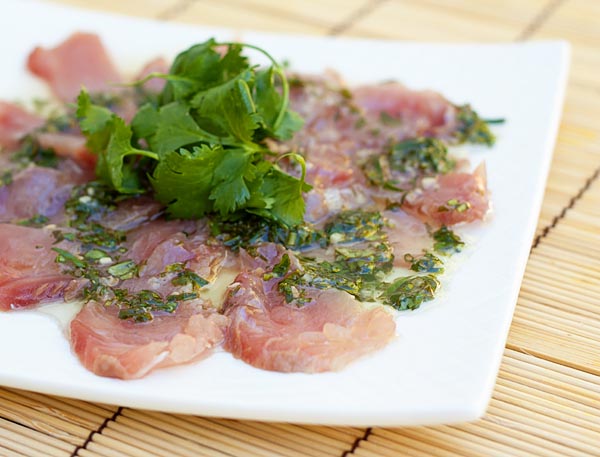 Kaikaya By The Sea is a small little seafood restaurant tucked into a corner of Shibuya in Tokyo that features seasonal Japanese-French fusion dishes.  We ate at Kaikaya for the first time a little over 5 years ago after a colleague of Mr. Fuji suggested we go there.  We've been going back at every possible opportunity ever since.  During my most recent trip to Tokyo we made our traditional pilgrimage to Kaikaya with some friends and ordered an assortment of our favorite dishes.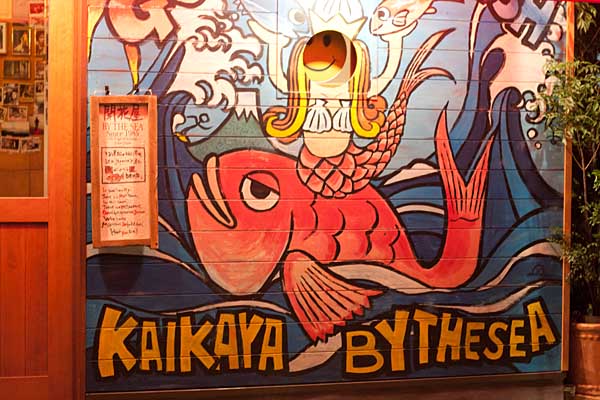 I was pleased to see that in the year since my last visit, Kaikaya had bought the neighboring building and expanded the restaurant.  It's still small, but much better able to accomodate the crowds of people that frequent the restaurant.  The restaurant is cozy, and if you don't like your dining companions, then you're in trouble, because you'll be dining elbow to elbow with them.  But this is part of Kaikaya's charm.  The restaurant is packed with a quirky variety of seafood pictures and fishing paraphenalia, and guests have a view of the chefs in action thanks to an open kitchen.  Not only is the ambiance warm and inviting, but the food seals the deal.  You can taste the love, care, and pride put into every dish.  I put together a short video so that you could have a peek at what a trip to Kaikaya is like, followed by a recipe for Hamachi Carpaccio inspired by my trip.
One of our favorite dishes at Kaikaya is their Kampachi Carpaccio, the 1st dish we ate during our last dinner there.  When I came home I was going through "Kaikaya Withdrawals" so I decided to whip up a Fujified version of the Carpaccio.  Carpaccio is a dish made up of raw fish (or meat) that is sliced thin (or pounded thin) and served as an appetizer.  I had some gorgeous hamachi fillets from I Love Blue Sea that were perfect for the job.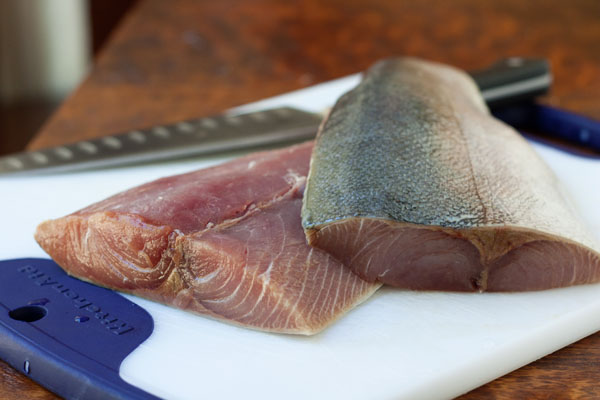 Hamachi ("yellowtail") is usually a fish to avoid, and thus makes a good stop on our ongoing Sustainable Seafood Tour.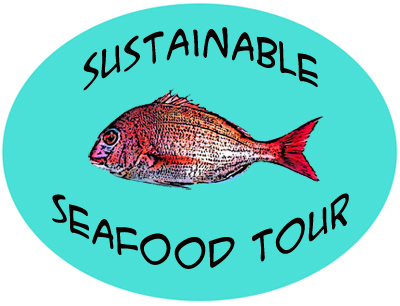 Despite its rich buttery flavor and texture, the hamachi industry is rife with problems such as parasites and negative impact on the surrounding environment.  There are four species of yellowtail farmed around the world, which further complicates the issue.  So basically, unless the fish in question has been approved by Greenpeace and Seafood Watch, avoid it.  I Love Blue Sea provides a domestic alternative—a species of hamachi called seriola lalandi that is wild-caught using hand lines off the cost of Southern California.  They deliver that same creamy buttery flavor and texture without the damage to the environment, or the possible risks to your health.  Phew.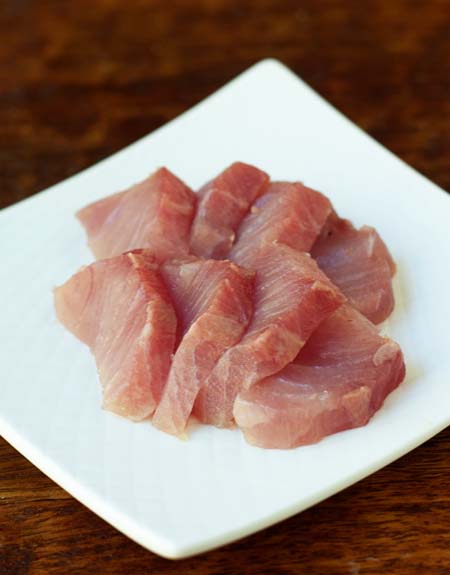 Once you have your fish, the carpaccio is simple to make.  Slice the fish into paper-thin slices, arrange it on a serving platter and put it in the refrigerator to chill.  Then whip up a simple dressing using lemon juice, olive oil, garlic, basil, and chives and drizzle it over the fish, garnishing the finished platter with sprigs of fresh cilantro, and serve!  If you're really short on time, you can substitute your favorite pesto for the dressing.  The creaminess of the fish tastes fabulous with the bright tang of the lemon juice and the sweet herbiness of the basil.  This makes a wonderful light appetizer or side dish to a meal.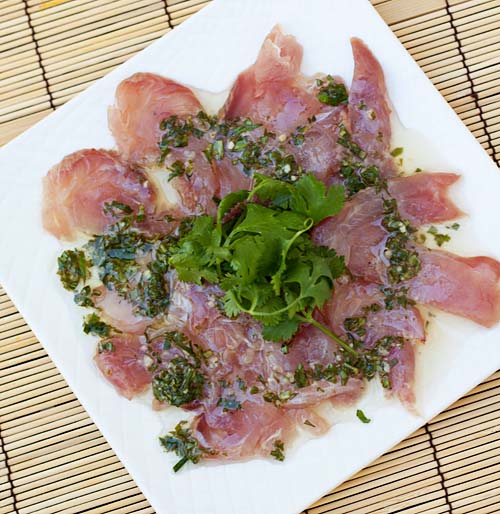 Print This Recipe
Hamachi Carpaccio
Makes about 4 servings
4 ounces thinly sliced fresh hamachi
juice of 1 large lemon
3 tablespoons extra virgin olive oil
3 garlic cloves, finely minced
2 tablespoons chopped fresh basil
1 tablespoon chopped fresh chives
salt & freshly ground black pepper, to taste
fresh cilantro, to garnish
1. Arrange the sliced hamachi on a serving platter and refrigerate.
2. Whisk together the lemon juice, olive oil, and garlic in a bowl. Stir int he basil and chives, then add salt and pepper to taste.
3. Drizzle over the fish just before serving. Garnish with sprigs of fresh cilantro.
=================================================
Kaikaya By The Sea
Address: 23-7 Maruyama-cho, Shibuya-ku, Tokyo, Japan
Phone number: 03-3770-0878
Hours:
– Lunch: Monday — Friday, 11:30 am — 2:00 pm
– Dinner: Open 7 days a week, 5:30 pm — Midnight (last orders, 10:30 pm)
– Making reservations is a good idea, and a necessity on the weekends.
Website: http://www.kaikaya.com/