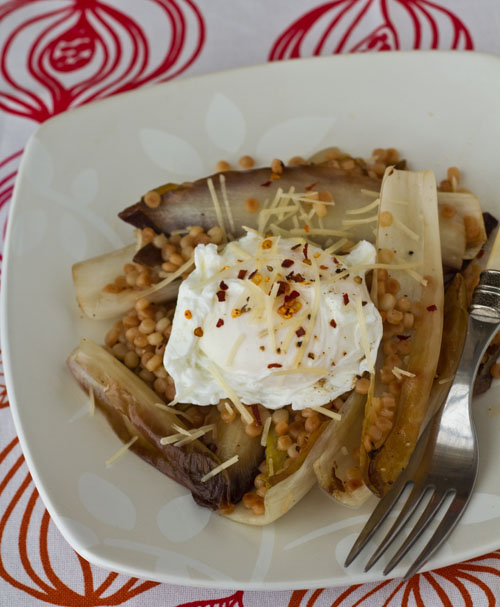 Lately I've been explaining some of the health benefits of various foods to Squirrel.  I love how she gets excited about whatever it is we're talking about and asks for more of that item to eat.  I recently came up with a new creation featuring endive and told Squirrel that endive was good for her eyes.  She replied, "More endive please! I want my eyes to be strong so I can see!"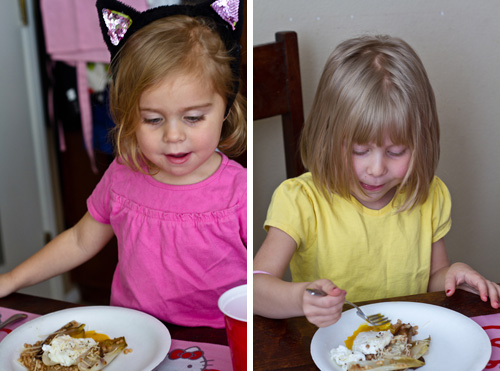 3.5 ounces of endive contains a whopping 72% of your recommended daily allowance of Vitamin A, an essential vitamin to help with maintaining good eye health and vision.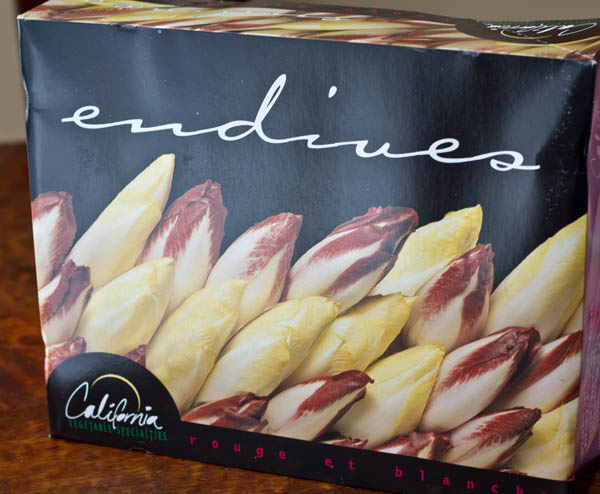 You may recall me mentioning in a post last month that I'm currently working with Discover Endive as one of their new "OnDivas" as a brand advocate to highlight California endive and educate consumers about this versatile, nutritious and delicious vegetable.  Today I'm kicking off what I'm calling the  "Twelve Days of Endive." (12 for 2012!)  Over the next 12 days I'll be sharing recipes, random facts, and all kinds of great information about endive.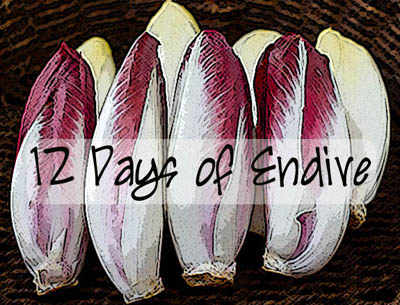 Today I'm sharing my recipe for Sautéed Endive with Toasted Israeli Couscous and Poached Eggs that got Squirrel scarfing down her endive, so that you too can fill up on your Vitamin A!  One serving contains 5 ounces of endive.  That delivers 102% of your RDA of Vitamin A!  But the best part is that this dish is just plain delicious.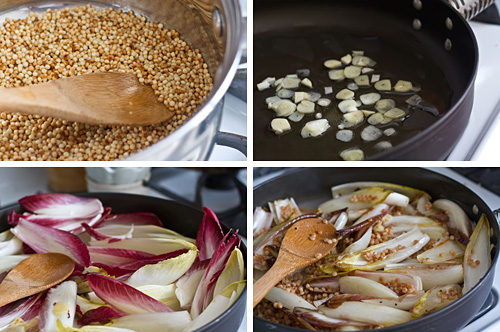 Endive leaves are sauteed with thinly sliced garlic in olive oil until they begin to wilt, reducing the bitterness of the leaves and bringing out their natural sweetness.  This is combined with toasted Israeli couscous (also called pearl couscous) and topped with a poached egg and some shredded Parmesan cheese.  The couscous adds a wonderful nutty flavor.  I'm a sucker for a good runny poached egg, so that's just icing on the cake for me!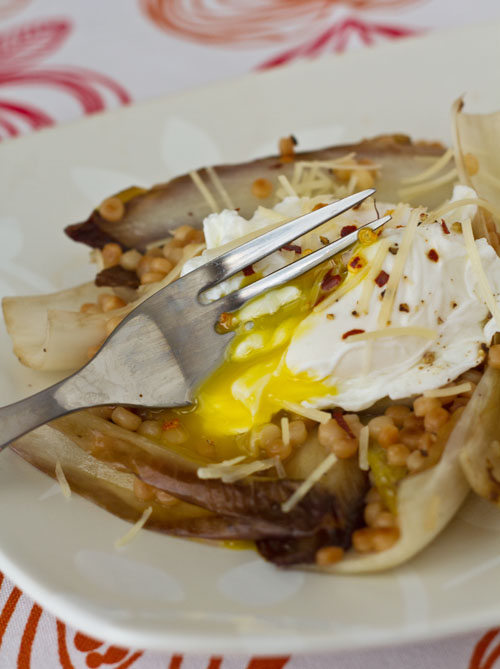 But don't take my word for it, ask my family—I barely got any because they inhaled it so fast!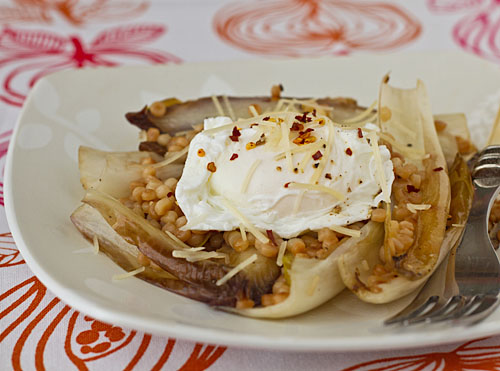 Print This Recipe
Sautéed Endive with Toasted Israeli Couscous and Poached Eggs
Makes 4 servings
1 cup Israeli couscous
5 tablespoons olive oil, divided
1/4 teaspoon salt
3 garlic cloves, thinly sliced
1 1/4 pounds California endive (or Belgian endive), hard ends trimmed, leaves separated
1/2 cup chicken broth
1/2 teaspoon freshly ground black pepper
1/4 cup distilled white vinegar
4 large eggs
1/2 cup finely grated Parmesan cheese
1. Toast the couscous in 1 tablespoon of the olive oil in a large saucepan over medium heat, stirring occasionally. Toast until the couscous is mostly golden (about 7 to 8 minutes). Add 1/4 teaspoon salt and 2 cups of water. Bring to a boil, then cover, reduce the heat to low, and simmer until barely tender, about 8 minutes. Drain.
2. Heat the remaining 1/4 cup of olive oil in a large saute pan over medium heat. Add the sliced garlic and cook until softened, but still pale (about 2 to 3 minutes). Add the endive leaves and cook until it begins to wilt (3 to 4 minutes).
3. Add the couscous and stir to coat, then add the broth and freshly ground black pepper and cook for an additional three minutes. Taste and add additional salt and pepper as needed. Keep warm.
4. Fill a 3-quart saucepan three-quarters full of water, add the vinegar, and heat over high heat until bubbles start to barely break the surface. Reduce the heat to medium-low, then carefully crack the eggs into the water, one by one, and give the water a gentle stir to make sure the eggs aren't sticking to the bottom of the saucepan. Cook the eggs for 3 minutes, then remove with a slotted spoon and transfer the eggs to paper towels. Season with a pinch of salt and pepper.
4. Divide the endive mixture among 4 plates and top each with an egg. Sprinkle with Parmesan cheese and serve.
* Disclosure:
I was compensated for recipe development and time as part of my work as an
OnDiva
for
Discover Endive
.  As always, all opinions and thoughts are my own!