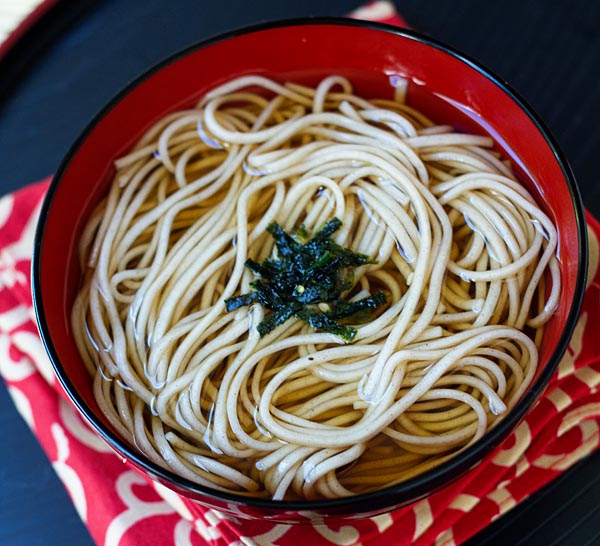 Toshikoshi soba, long buckwheat noodles served in broth with a variety of noodles, is the traditional evening meal eaten late on New Years Eve in Japan, while waiting for the New Year to make its arrival.  "Toshikoshi" roughly translates to mean the end of the old year and the entering of the new year, or "year bridging."  So as we enjoy these last moments of 2011 and look forward to the arrival of 2012, I thought it would be appropriate to share my recipe for toshikoshi soba with you as a transition into the coming year.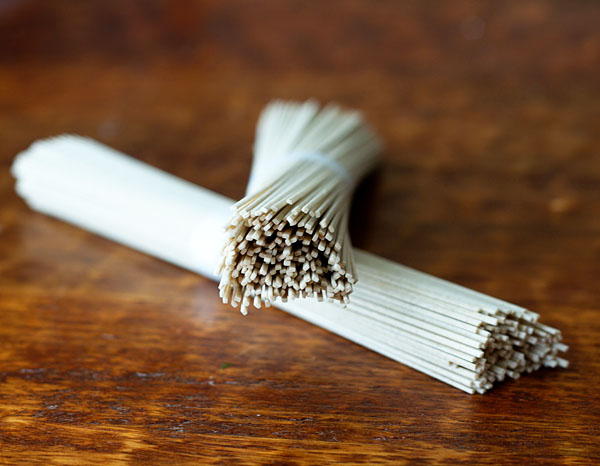 As we move forward into 2012, I'm looking forward to all of the hatsu—a list of "firsts" that the Japanese observe during the first two weeks of each new year.  Some of these are:
Hatsu-dori: The year's first cockcrow.
Hatsuhinode: The year's first sunrise.  Some people gather in places known for having beautiful sunrises and celebrate the arrival of the New Year with the rising of the sun and pray for good health during the coming year.
Hatsu-mode: The year's first shrine or temple visit.  People pray for a variety of things during this visit, like good health throughout the year or safety for their family.
Hatsuyume: The year's first dream. The dream, seen the night of January 1st, foretells the luck of the dreamer in the coming year. If you dream about Mt. Fuji, hawks, or eggplant this means luck and happiness for your future!
Kakizome: The year's "first writing."  On January 2nd each member of a family takes a turn inscribing a favorite poem or proverb with a brush and ink on a long strip of paper.
Goyohajime: The year's first day of business.
I wonder which hatsu you'll enjoy?  Do yourself a favor and whip up a batch of these delicious noodles for omisoka (New Years Eve).  Make sure you don't cut your noodles, as the long thin noodles represent a wish for long happy life.  I hope your transition into the New Year is a wonderful one, and your hatsu are enjoyable and full of good fortune!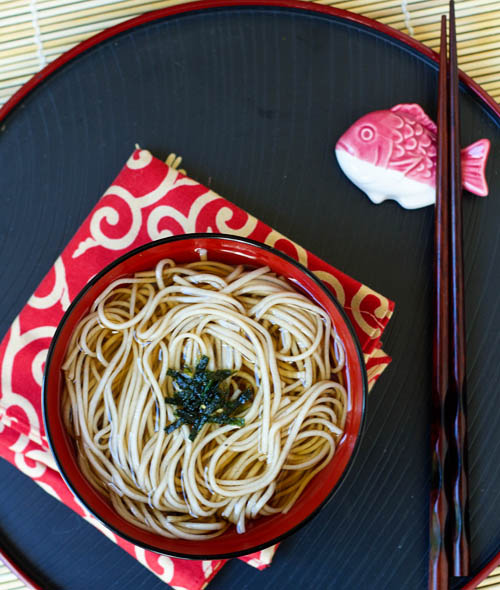 Print This Recipe
Toshikoshi Soba
Makes 5 to 6 servings
6 cups dashi
3 tablespoons mirin
2 teaspoons granulated sugar
1/3 cup soy sauce
9 to 10 ounces soba noodles, cooked according to package directions
Shredded nori (seaweed)
Additional toppings as desired
1. Mix the dashi, mirin, and sugar together in a 2-quart saucepan. Bring to a boil over medium heat, then reduce the heat to medium-low and let the mixture simmer for 3 minutes. Add the soy sauce and slowly heat the sauce through, stirring, making sure that it doesn't boil.
2. Place the noodles in bowls and pour the hot broth over the noodles. Top with shredded nori and additional toppings as desired.